British cuisine is still traditional in many terms. Menu items like Sunday Roast, Potato Mash, Fish & Chips, Shepherd's Pie are all too famous. A Christmas Dinner is an elaborate affair, enjoyed with family and friends. The Christmas dinner spread is no longer a strictly British affair and includes international cuisines like Chicken Tikka Masala- a takeaway from Britain's colonial past and also a British favorite. A few weeks ago, I had written about Fish & Chips Recipe in this column. Today, I am coming back to another famous recipe- Shepherd's Pie.
Shepherd's Pie (made with lamb meat) is similar to Cottage Pie (made with beef). Both the dishes probably originated as a means to use left over meat. Many different ways have evolved in which to make the Shepherd's Pie. However the most popular recipe continues to be the traditional recipe of baking minced meat with a lining of mashed potatoes on the top. The mashed meat may include your choice of vegetables like carrots and peas. It looks absolutely awesome and tastes equally great. It takes some time to cook, but you would definitely enjoy the whole process. Just go ahead and use this Shepherd's Pie Recipe to enjoy yet another British favorite.
Ingredients (Serves 2)
Olive oil - 4 tbsp
Garlic - 1 tsp (chopped)
Onion - 1/2 cup (chopped)
Carrot - 1/2 cup (chopped)
Dried mixed herbs - 1 tsp (I used rosemary, basil and parsley)
Minced lamb - 250 gms
Salt to taste
Black pepper powder - 1/2 tsp
Tomato puree - 2 tbsp
Meat stock - 1 & 1/2 cup
Potatoes - 2 to 3
Cream - 2 tbsp
Butter - 2 tbsp
Peas - 1 cup (boiled)
How to Make Shepherd's Pie
Heat 2 tbsp olive oil in a pan.
Add garlic and fry for a minute.
Add onion and fry till translucent.
Add carrot and fry for a minute.
Add minced lamb and cook on high heat for 2 to 3 minutes.
Add tomato puree, mixed dry herbs and fry for a minute.
Add meat stock, cover and simmer on low heat for about an hour.
Remove the cover and cook till the liquid dries up. Keep aside.
Boil the potatoes, peel and mash.
Mix cream and butter and mash well.
Pre heat the oven to 400º F.
In a baking tray, line the minced meat preparation and top it with mashed potatoes.
Drizzle with olive oil.
Bake for about 30 to 40 minutes.
Serve with boiled peas.
Summary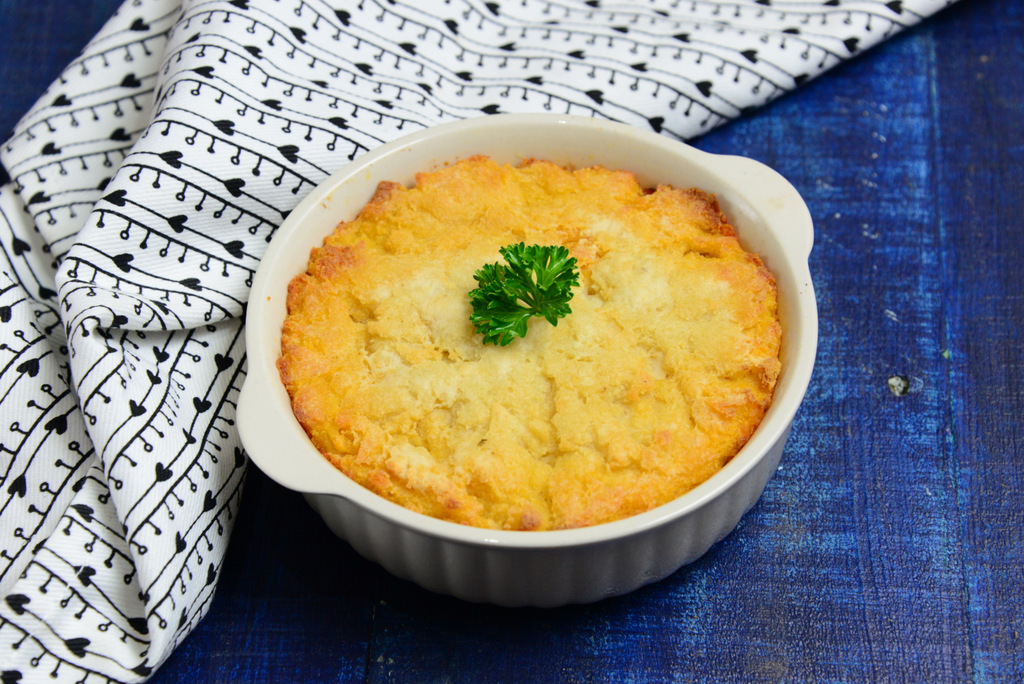 Recipe Name
Published On
Preparation Time
Cook Time
Total Time
Average Rating
Based on 3 Review(s)
Published On:
Monday, December 1st, 2014