Whenever France comes to my mind, I always think about its great cuisine. Even in the modern times, French chefs are the most sought after and anyone visiting this beautiful country talks about numerous street side restaurants and cafés serving French cuisine. Some of the common French dishes include entrées such as onion soup, foie gras, and bisque and then plat principal (main course) such as pot-au-feu, boeuf bourguignon, and confit de canard along with various salads and finally the scrumptious desserts such as crepes and quiche. The meals are served along with breads, such as baguette, and a variety of cheese and wines. French cheese is famous all over the world and it's a common sight to see cheese shops selling local specialties.
For today's recipe, I have picked Ratatouille – not the movie for sure but a traditional French stewed vegetable dish that comes from the city of Nice. This vegetable stew is prepared with tomatoes mixed with vegetables such as zucchini, eggplant, onion, garlic, and herbs. Ratatouille can be served as a main course or a side dish and goes well with rice or bread. I love this recipe and have tried it many times. Here I am sharing this Ratatouille Recipe with you; I'm sure you would also love it.
Ingredients
Olive oil - 4 tbsp
Egg plant - 1 cup (cut in small pieces)
Zucchini - 1 cup (cut in small pieces)
Red bell pepper - 1/2 cup (cut in small squares)
Yellow bell pepper - 1/2 cup (cut in small squares)
Onion - 1/2 cup (thinly sliced)
Garlic - 1 tsp (chopped)
Tomato - 1/2 cup (chopped)
Tomato puree - 2 tbsp
Vegetable stock - 1 cup
Black pepper powder - 1/4 tsp
Salt to taste
Red wine vinegar - 2 tsp
Dried rosemary - 1/2 tsp
Dried parsley - 1/2 tsp
How to Make Ratatouille
Heat 1 tbsp oil in a frying pan, lightly fry eggplant, and then keep that aside.
Similarly, fry zucchini, red and yellow bell peppers, onions, and garlic and keep them aside.
Mix all the fried vegetables in a deep pan.
Add tomato, tomato puree, vegetable stock, black pepper powder, salt, red wine vinegar, dried rosemary, and parsley.
Cover and cook till the stock is reduced.
Serve hot.
Summary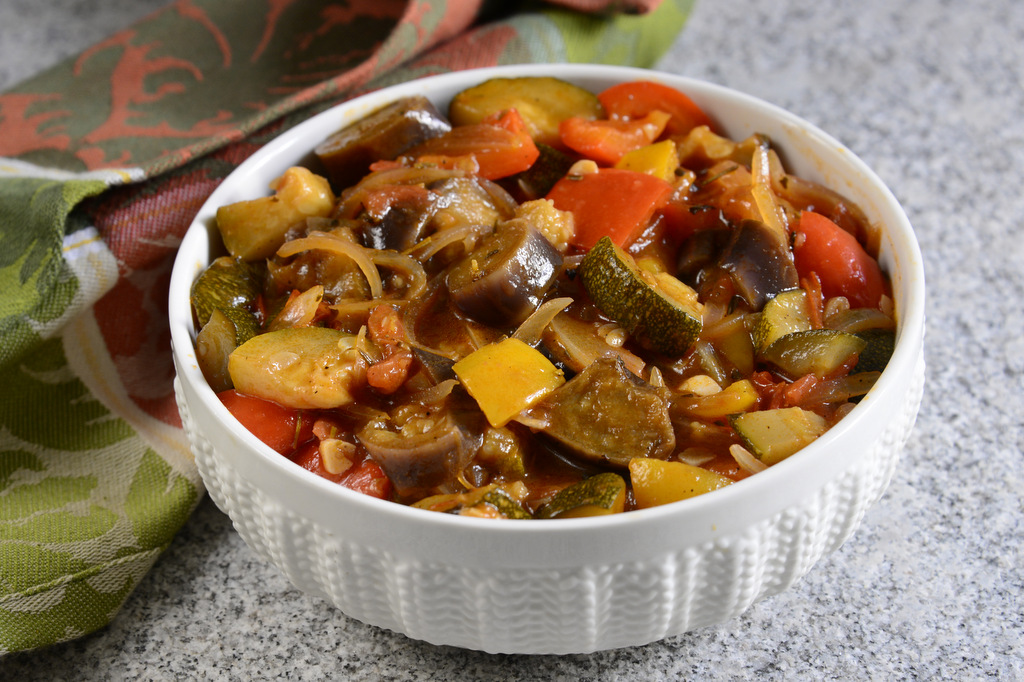 Recipe Name
Published On
Preparation Time
Cook Time
Total Time
Average Rating
Based on 0 Review(s)
Published On:
Sunday, July 5th, 2015