Chinese cuisine is one of the most diverse cuisines. Apart from the eight regional varieties, it is also enjoyed throughout the world in localized forms. The eight regional varieties of this cuisine include Fujian, Hunan, Szechuan, Cantonese, Anhui, Jiangsu, Shangdong and Zhejiang coming from different parts of China, while the American Chinese, Indian Chinese, Singaporean Chinese are the international versions, which may include some dishes not much common in China. What is common, however, is the use of rice, noodles and strong aromatic sauces in the preparation. Chinese is one of the most enjoyed cuisines in the world and people world over love the restaurants run by Chinese expatriates.
For this column today, I picked up one such recipe that is very common in the American Chinese cuisine and also served in countries like India, Hong Kong and United Kingdom. Chow Mein basically means stir-fried noodles, which are generally served either as a vegetarian dish or topped with meats like Chicken, Prawns (Shrimps), Beef and Pork. The noodles are either steamed and stir-fried with vegetables, meats and soy sauce or deep fried to a crispier version also known as Hong Kong style Chow Mein.
Some other common dishes from international Chinese cuisine include General Tso's Chicken, Chop Suey, Sesame Chicken, Kung Pao Chicken (also served in Pork & Beef), Fried Wontons, Peking Duck etc.
For today's recipe, I used vegetables and Prawns (Shrimps) to make Prawn Chow Mein. You can use your choice of vegetables, generally it is served with cabbage, carrots etc., I used broccoli, carrots and bell peppers. I mixed the noodles (boiled) with Prawns, Vegetables and Soy Sauce and used a wok to bring in an authentic flavor. It's pretty easy to make this dish at home. Simply follow this Prawn Chow Mein Recipe and enjoy an American Chinese taste.
Ingredients (serves 3 to 4)
Egg Noodles (200 gms)
Oil – 3 tbsp
Garlic – 4 to 5 cloves (chopped)
Carrot – 1 medium-sized (shredded)
Broccoli florets – 1 cup
Red bell pepper – 1 (cut in slices)
Prawns – 250 gms (about 12 to 15)
Soy Sauce – 2 tbsp
Oyster Sauce – 1 tsp
Salt to taste
Black pepper powder – 1/2 tsp
How to Make Prawn Chow Mein
Take water in a pan and bring it to a boil.
Once it comes to a boil, dip the noodles and cook till soft.
Drain the water and keep the noodles.
Heat oil in a wok, add garlic and stir-fry for 1 to 2 minutes.
Add all the vegetables and again stir-fry for 1 to 2 minutes.
Add prawns, salt and black pepper powder and stir fry for 1 to 2 minutes.
Add soy sauce, oyster sauce and noodles and stir-fry for 1 to 2 minutes with constant mixing.
Summary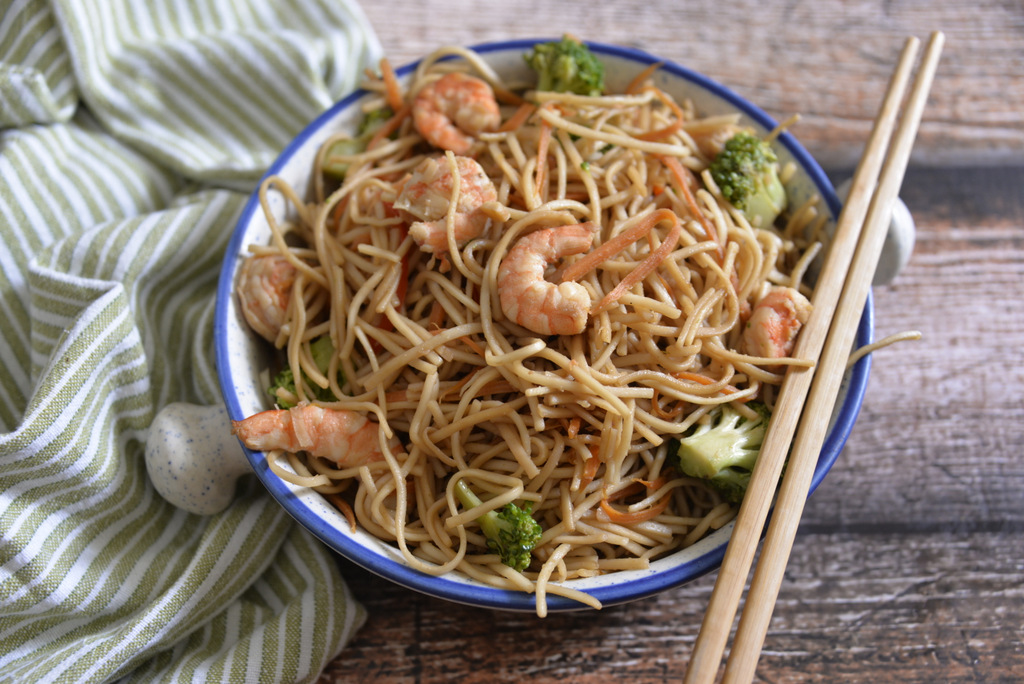 Recipe Name
Published On
Preparation Time
Cook Time
Total Time
Average Rating
Based on 0 Review(s)
Published On:
Saturday, August 15th, 2015