Iran was a key center for ancient civilizations and its culture and cuisine got influenced through history. High usage of herbs like parsley & spices like cinnamon & saffron with fruits like pomegranate, plums and apricots along with meat and rice mark the modern Iranian or Persian cuisine. Few well known dishes from this region of the world include Persian Kebab's, Shirin Pilaf (sweet rice), Sholeh Zard, Fereni, Ash-e-Anar (pomegranate soup), Berian, Kofta Tabrizi, Baklava, Gaz and a variety of Biryani and Naan etc.
Since Iranian/ Persian cuisine uses fruits like pomegranate, I thought of making this recipe known as Persian Pomegranate Chicken. The recipe uses pomegranate molasses, which is extensively available in the middle eastern countries. However since I could not get it, I made it on my own. Its fairly easy, however does take some time. Since the region also uses a lot of dry fruits, I used walnuts in this recipe. The chicken is cooked in the molasses, walnut powder using cinnamon and nutmeg spices. The meat soaks in the flavor wonderfully and comes out in a very unique taste. It best goes with some rice and tastes absolutely delicious. I'm sure you would love this making and eating this dish. So here is Persian Pomegranate Chicken Recipe.
Ingredients (serves 3 to 4)
Oil - 4 tbsp
Onion - 2 cup (thinly sliced)
Curry cut chicken - 1 kg
Walnuts - 1 cup
Pomegranate juice - from 5 to 6 fruits
Sugar - 3 tbsp
Lemon juice - 1 tsp
Chicken stock - 2 cup
Salt to taste
Pepper - 1/2 tsp
Cinnamon powder - 1/4 tsp
Nutmeg powder - 1/4 tsp
Parsley for garnishing
Pomegranate seeds for garnishing
Persian Pomegranate Chicken Recipe
Mix pomegranate juice, sugar and lemon juice in a bowl and cook on low heat till the mixture thickens to form molasses. Constantly stir the mixture while cooking.
Dry roast the walnuts in a pan. Keep aside for cooling.
Once cooled, grind to make a fine powder.
Heat oil in a pan and fry the onions till translucent.
Add chicken and fry on high heat for about 5 minutes.
Add molasses, walnut powder and chicken stock, salt, pepper, cinnamon powder and nutmeg powder.
Cover and cook for about 45 minutes.
Garnish with parsley and pomegranate seeds.
Serve over a bed of rice.
Summary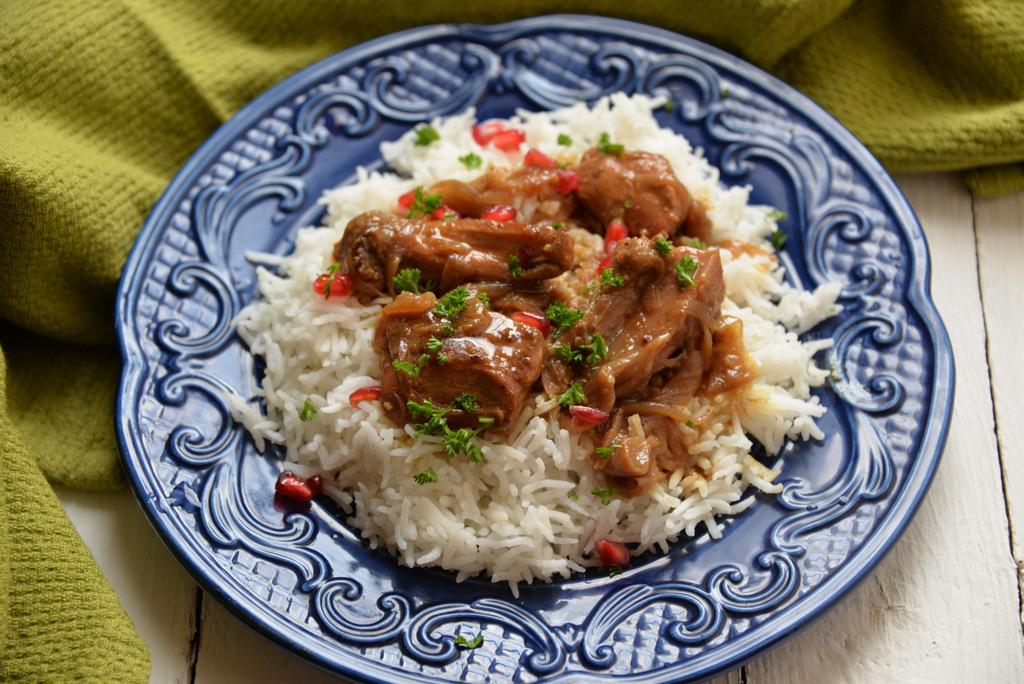 Recipe Name
Persian Pomegranate Chicken Recipe
Published On
Preparation Time
Cook Time
Total Time
Average Rating
Based on 4 Review(s)
Published On:
Tuesday, March 3rd, 2015