El Salvador is the smallest country in Central America on the Pacific coastline, it still has its unique presence on the world cuisine map. Dishes like Carne Asada and Carne Guisada are available in the mainland USA as well. Some of the other well known dishes in Salvadoran cuisine include Pupusa (corn or rice flour tortilla filled with cheese, re-fried beans, meats and loroco), Yuca Frita, Panes Con Pollo, Pasteles De Carne, Pacalla, Tamales and Pescado Empanizado etc. Two of the famous desserts from this country include Maria Luisa and Pastel De Tres Leches.
For this recipe I made Pastel De Tres Leches, which in English means a cake made with three kinds of milks. We use evaporated milk, condensed milk and cream (made with milk) in the preparation. You can decorate it with your choice of fruits and toppings, as in this recipe I used chocolate sprinkles and strawberries. It does take some time to make this cake, however the final product is absolutely awesome in taste. Try out this Pastel De Tres Leches Recipe and enjoy a Salvadoran taste.
Ingredients
For the sponge
Cake flour - 150 gms
Baking powder - 1 tsp
Salt - 1/4 tsp
Unsalted butter - 200 gms
Sugar - 125 gms
Eggs - 5
Vanilla extract - 2 tsp
For soaking
Condensed milk - 1/2 cup
Evaporated milk - 1/2 cup
Full fat cream - 1/2 cup
Rum - 2 tbsp
For frosting
For Decoration
Strawberries - 5 to 6
Chocolate sprinkles
How to Make Pastel De Tres Leches
For the sponge
Pre-heat the oven to 350F.
Prepare a 9inch pan by greasing it and lining with parchment paper. Keep aside.
Mix cake flour, baking powder, salt in a bowl and keep aside.
Whisk butter and sugar till light an fluffy.
Add eggs one at a time and mix well after each addition.
Add the vanilla extract and mix well.
Add flour mixture and mix gently.
Pour the batter in the prepared pan.
Bake the cake for 20-25 minutes till a toothpick comes out clean.
Remove from oven and cool.
For soaking
Mix evaporated milk, condensed milk and cream in a pan.
Bring the mixture to a boil, simmer the heat and let it cook for 15 to 20 minutes.
For assembly
Keep the cake in serving platter.
Brush the cake with milk mixture.
Refrigerate for 2 to 3 hours.
Cover the cake with whipped cream.
Decorate with chocolate sprinkles and strawberries.
Serve.
Summary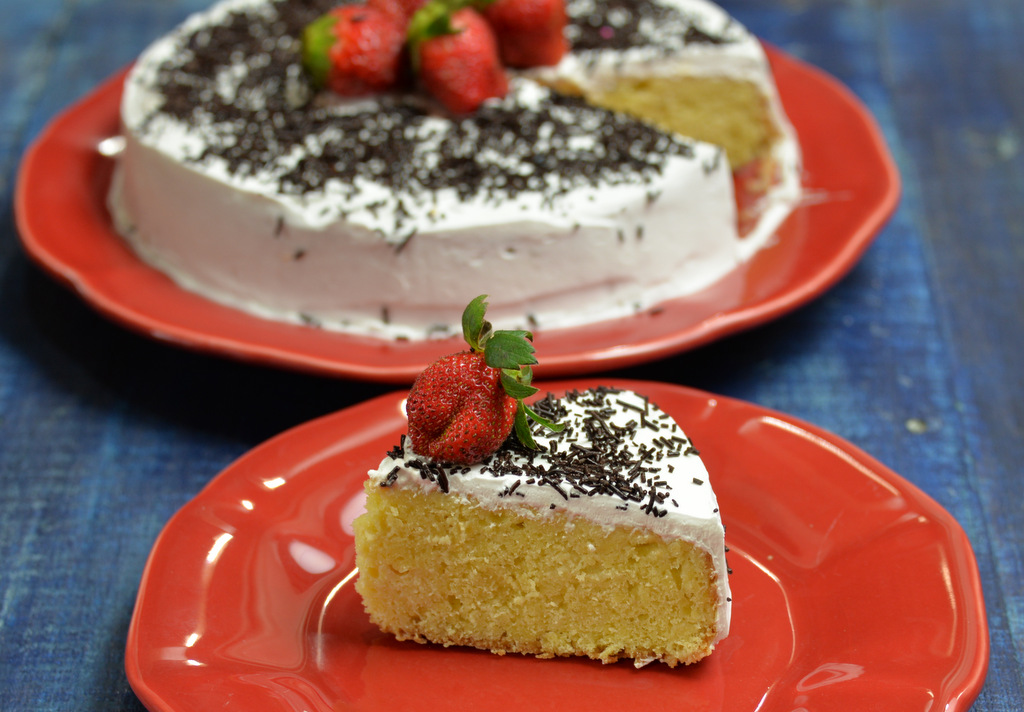 Recipe Name
Published On
Preparation Time
Cook Time
Total Time
Average Rating
Based on 1 Review(s)
Published On:
Tuesday, January 13th, 2015