Pakistan got independence from the British rule in 1947. The land area however has seen a number of big empires and has been under constant study by the historians. The country has had cultural influences both from its eastern Indian sub continent neighbors and the western areas of Asia. The oldest studied Mohenjo-daro and Harappa civilizations which prospered in this region of the Indus valley cultivated various spices which still continue to be used. Modern day Pakistan is a much diverse along the cultural and ethnic lines. The cuisine hence is also diverse with the eastern side using more spices while the western states prefer milder use of the spices. Some of the common spices used include nutmeg, cardamom, cinnamon, cloves, black pepper, mace, coriander, garam masala, turmeric etc.
Pakistan which comprises mostly of Muslim religion followers only consumes halal food which prohibits the usage of pork and alcohol and food cooked strictly according to the Islamic laws. The country hence uses all other meats like chicken, beef, lamb along with vegetables and fruits. Some of the main dishes include kebabs, tikka, salan, biryani, nihaari, pulao, kofte, keema served in lunch and dinner main course with breads such as naan, bakharkhani, kulcha, taftan and roti. Some of the delectable desserts include sheer kurma, falooda, kheer, rasmalai, shahi tukra and zarda.
To bring the taste of Pakistan I picked up one of the eastern region dishes for preparation called the Peshawari Karahi Gosht. This dish is made with goat meat/ mutton using a lot of spices and oil and comes out with a great aroma and flavor. I served it along with some naan bread in the main course and loved every bit of it. The meat needs to be cooked slowly so it retains the moisture and gets cooked thoroughly. Use this Peshawari Karahi Gosht Recipe and enjoy the taste of spices in the curry.
Ingredients (serves 4)
Mutton - 600 gms (curry cut)
Clarified butter - 2 tbsp
Oil - 2 tbsp
Cloves - 5 to 6
Cinnamon - 1 inch stick
Black cardamom - 1
Black peppercorn - 8 to 10
Green cardamom - 6 to 8
Onion - 1 & 1/2 cup (grated)
Ginger garlic paste - 2 tsp
Green chili - 2 (finely chopped)
Tomato - 1 cup (finely chopped)
Whisked curd - 1 cup
Salt - 2 tsp
Red chili powder - 1 tsp
Turmeric powder - 1/2 tsp
Garam masala - 1 tsp
All purpose flour - 2 tsp
Fresh coriander leaves for garnishing
Peshawari Karahi Gosht Recipe
Heat clarified butter and oil in a handi or a pan.
Add all whole spices and crackle until a nice aroma starts to come.
Add onion and saute till golden brown.
Add ginger garlic paste, green chili, tomato and saute till you see the oil leaving the sides.
Add mutton and saute for 4 to 5 min on low to medium heat.
Add whisked curd and cook covered with a lid till the juices dry up.
Add salt, red chili powder, turmeric powder, garam masala and saute over low heat for 10 to 15 min adding little water as needed.
Add water, cover with a lid and cook on low heat till meat is well done.
Dissolve all purpose flour in water, add it to the meat and cook for another 5 min.
Garnish with fresh coriander leaves.
Serve hot.
Summary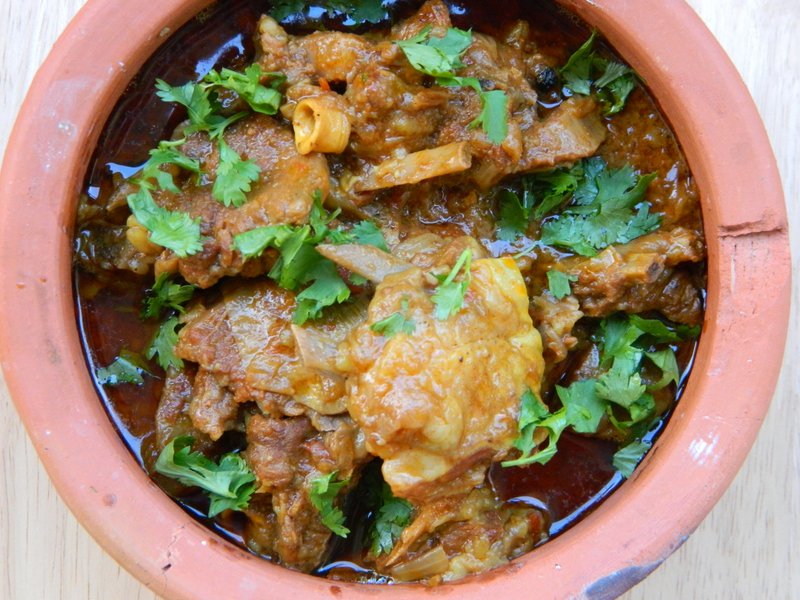 Recipe Name
Published On
Preparation Time
Cook Time
Total Time
Average Rating
Based on 14 Review(s)
Published On:
Saturday, April 19th, 2014