Spain has had many rulers since ancient history and the cuisine has grown through ages with each of them. Right from Roman Empire through the middle ages and modern day world, new ingredients, grains and spices were introduced. As it stands now, it has large regional variations which can be listed as many different cuisines in themselves. Gazpacho, a well known dish belongs to Andalusian cuisine known in the rural and coastal areas for its usage of olive oil. Other dishes in this cuisine would include Serrano Ham, Fried Fish etc. Aragonese cuisine includes Roast Lamb, Tronchon Cheese and Huesca. Asturian cuisine has its influence from Northern Europe and has dishes like Carne Gobernada, Rice Pudding etc. Valencian cuisine include dishes like Paella, Coffee Liquor etc. These is a host of other cuisines as well which are part of the country and have been researched widely.
For this recipe, I made Paella a meat and seafood based rice dish from the Valencian cuisine also considered as the national dish. If you like you can also add vegetables like red bell pepper, carrots etc to the preparation. Among the meats you can use chicken, duck, rabbit or seafood like mussels, shrimps, lobster etc. Generally short grain rice is used in the preparation. It was fairly easy to make the dish and it was delicious to eat. Use this simple Paella Recipe and enjoy a Spanish taste.
Ingredients
Chicken thighs - 2
Olive oil - 2 tbsp
Onion - 1/2 cup (thinly sliced)
Garlic - 3 to 4 cloves (chopped)
Tomato - 1/2 cup (chopped)
Chicken stock - 2 cups
Shrimps - 8 to 10
Salt to taste
Saffron - few strands
Black pepper powder - 1/4 tsp
Rosemary - few springs
Short grain rice - 1 cup
How to Make Paella
Rub the chicken with salt and black pepper powder on all sides.
Heat oil in a pan, once it is hot, fry the chicken until light brown on all sides. Remove and keep aside.
In the same pan, add onion and garlic and fry for about 2 minutes.
Add tomato and fry for about 2 minutes.
Add chicken stock, chicken, shrimps and cook for about 2 minutes.
Add rice, saffron and rosemary. Cover and cook till rice is done.
Summary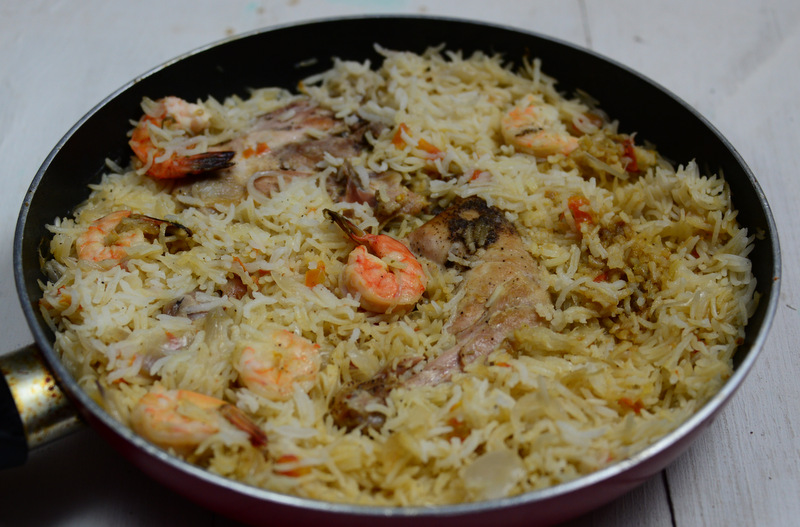 Recipe Name
Published On
Preparation Time
Cook Time
Total Time
Average Rating
Based on 4 Review(s)
Published On:
Tuesday, January 20th, 2015