The number of islands, small and large over the Pacific ocean form a part of culture called the Polynesian culture. These islands comprising of Hawaii, Fiji, Tonga and extending south up to New Zealand have influenced each other since the traditional ages. New Zealand in specific also shows some signs of influence from the southern Asian/ Australian communities of Thai and Australian mainland and of course from the British colonial period. It is primarily an agricultural based economy with local crops and the produce from the sea forming larger part of the cuisine. The Polynesian's brought what was called the Maori cuisine to the country which included crops like sweet potato and fernroot, while the British brought cheese, olives and fruits.
Modern day New Zealand has a mixture of traditional dishes (Kiwiana dishes) and more recent fish, pies and desserts. Some of the dishes from the country include fish & chips, meat pies, hamburgers and desserts such as custard and pavlova. Today I picked up one of these desserts for my preparation and made New Zealand Pavlova. It is interesting that even after nearly a century since this dish was first made, it is still debated whether this originated in Australia or New Zealand. Some of the modern studies finally concluded this originating in New Zealand, however it continues to be one of the key dishes in both the countries. What is however clear is that this dish seems to have been created to honor a ballet dancer by the name of Anna Pavlova from Russia.
Pavlova is created primarily with whisked egg whites and sugar (Meringue) and decorated with fruits such as strawberries, passion fruit and kiwis. The fruits could be set over the dish or macerated while I preferred the latter. The inside of Pavlova is like a marsh mellow, while the outside crust is crispy. It is served on major celebration and holidays through out the year. The Pavlova I made had a wonderful eye appeal and I can totally understand the love for it when I tasted the first bite. You can also bring this cuisine to your dessert table and enjoy it with this New Zealand Pavlova Recipe.
Ingredients (serves 8 to 10)
For Meringue
Egg white - from 6 eggs (at room temperature)
Castor sugar - 1 & 1/2 cup
Cornflour - 1 & 1/2 tsp
Vinegar - 1 tsp
Vanilla extract - 1 tsp
Boiling water - 1 tbsp
For Topping
Heavy whipping cream - 1 cup
Powdered sugar - 1/2 cup
Vanilla extract - 1/2 tsp
Strawberry - 1 cup (sliced)
Kiwi - 1/2 cup (chopped)
Lemon juice - 1 tsp
Sugar - 3 tbsp
How to Make New Zealand Pavlova
Preheat the oven to 110 C.
Pour the egg white in a bowl and whisk till sift peaks are formed.
Gradually add castor sugar and whisk on high speed for 5 to 6 min.
Add vinegar, vanilla extract and boiling water and whisk for another min. Keep meringue aside.
Draw a 20 cm. circle on a parchment paper.
Keep the parchment paper on a baking tray will pencil side down.
Pour the meringue over the circle and smooth-en using a spatula.
Bake for 90 min and let it cool in the oven.
For Topping
Mix strawberry, kiwi, sugar and lemon juice and cook for 5 min over low heat. Keep aside and let it cool
Whip heavy whipping cream to form soft peaks.
Add sugar and vanilla extract and whip till stiff peaks are formed.
Top Pavlova with whipped cream.
Pour the fruits mixture over the cream.
Cut in slices and serve.
Summary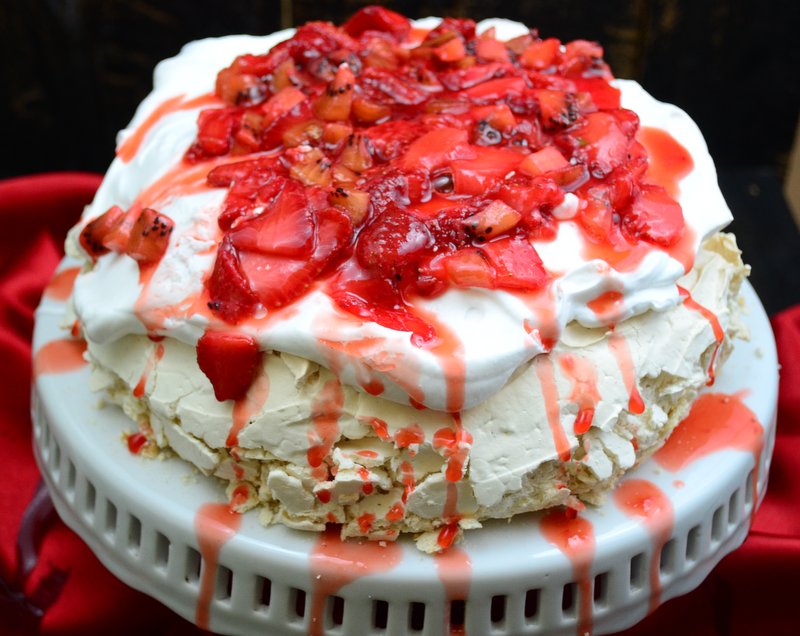 Recipe Name
New Zealand Pavlova Recipe
Published On
Preparation Time
Cook Time
Total Time
Average Rating
Based on 1 Review(s)
Published On:
Sunday, April 6th, 2014