Mexican cuisine is marked with extensive usage of herbs, spices, chili peppers, beans, corn, and fruits like avocado, pineapple, mangoes and guava. Traditionally it was greatly influenced by the Spanish empire in the 16th century while the modern day cuisine is very original and famous across the globe. It is easy to find Mexican food street shops and restaurants all over North American continent. Some of the common preparations include Burrito, Enchilada, Tostada, Chorizo, Chalupa, Pollo Asado, Pollo Picado etc along with very tasty dips (mole) like guacamole, mole poblano etc. Iced teas, Atole and coffee are common beverages in Mexico along with a wide selection of non-alcoholic drinks. In this section we have already seen recipes for Burrito and Enchilada, while today let's see a common preparation of rice from Mexico.
Mexican rice uses a selection of vegetables in the preparation as I used corn, carrots, peas, onion etc. It comes out with a really nice reddish color from the usage of Mexican chili pepper and gives a great visual appeal. The dish is good to go on its own, while you can also serve it along with other Mexican delicacies, this is an absolute must for a Mexican buffet. Use this simple Mexican Rice recipe to make it yourself and enjoy a true flavorful rice.
Ingredients
Olive oil - 2 tbsp
Garlic - 5 to 6 cloves (chopped)
Onion - 1 cup (chopped)
Long grain rice - 1 cup (washed)
Tomato - 1 cup (ground to a paste)
Mexican chili pepper powder - 1 tsp
Salt to taste
Black pepper powder - 1/2 tsp
Roasted cumin powder - 1/2 tsp
Vegetable stock - 2 cups
Corn - 1/4 cup
Peas - 1/4 cup
Carrot - 1/4 cup (chopped)
How to Make Mexican Rice
Heat olive oil in a pan, add garlic and fry for a few seconds.
Add onions and fry till translucent.
Add rice and fry for 2 to 3 minutes till light brown.
Add tomato paste and cook for about 2 minutes.
Add vegetable stock along with Mexican Chili Pepper powder, salt, black pepper powder, roasted cumin powder and cook for about 2 minutes.
Add corn, peas and carrot and cook under cover till rice is done.
Fluff with a fork and serve hot.
Summary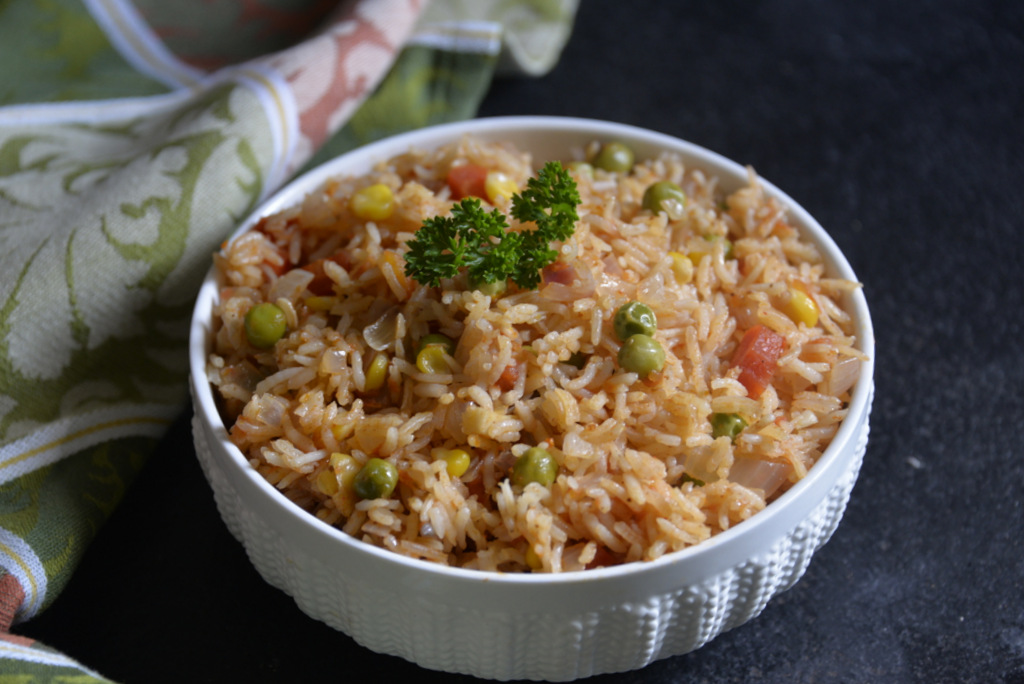 Recipe Name
Published On
Preparation Time
Cook Time
Total Time
Average Rating
Based on 5 Review(s)
Published On:
Monday, March 16th, 2015