Kenya is one of the countries in the central eastern Africa surrounded by Indian Ocean on the sea side and Tanzania, Somalia, Ethiopia & Uganda on the land side. Kenya is known for its vast wildlife hosting the big five animals of Africa, with tourists visiting the country from all over the globe. On the other side of the life spectrum, it has large number of traditional communities which define its modern day culture. The coastal Kenya is much developed and modern while in the interiors people still live the old traditional ways. Since the early days due to the major trade activities carried out from the coast and a lot of Indian laborers working in the country, it has strong Indian influence on its cuisine. Agriculture is still the major occupation and second largest contributor to the GDP of Kenya. Most of the crops grown in the country include tea, coffee, corn, wheat, coconut, pineapple, cotton and sugarcane. Diet of most of the Kenyan's is starch heavy with maize, rice and potatoes consumed in large quantities. Some of the main dishes made in this country include Ugali (a maize meal cake), Nyama Choma (charcoal grilled mutton or beef) , Sukuma Wiki (vegetables), Wali, Rice Pilau, Uji and more.
It was a pleasure making African cuisine from Kenya in my kitchen today. I picked up Wali which is rice cooked in coconut milk and mostly served with a chicken or fish curry, I went with the former. The chicken curry and rice complemented each other nicely and gave a great taste to my dinner. Kenyan's use nutmeg, cinnamon and dry ginger powder in the curry preparations very close to how the curries are made in India showing the cultural influence. The rice get's the taste from the coconut milk made from all abundant coconut's in the country. The recipe is fairly easy to make and you must try this amazing African cuisine. Here is a simple Wali with Chicken Curry Recipe for you.
Ingredients (serves 3 to 4)
For Wali
Medium thick coconut milk - 2 cups
Rice - 1 cup
Salt to taste
For Chicken Curry
Vegetable oil - 4 tbsp
Onion - 1 cup (chopped)
Tomato - 1 cup (chopped)
Coriander powder - 2 tsp
Dry ginger powder - 1/2 tsp
Roasted cumin powder - 1/2 tsp
Nutmeg powder - 1/2 tsp
Cinnamon powder - 1/2 tsp
Cayenne powder - 1/2 tsp
Turmeric powder - 1/2 tsp
Salt to taste
Garlic - 2 tsp (chopped)
Chicken - 1/2 kg (curry cut)
How to Make Wali with Chicken Curry
For Wali
Wash and soak rice in water for 30 minute.
Drain the water, add coconut milk and salt.
Cover and cook on low heat till rice is done.
For Chicken Curry
Heat oil in a thick bottom pan.
Add onions and fry till golden brown.
Add tomatoes and fry for another minute.
Add coriander powder, dry ginger powder, roasted cumin powder, nutmeg powder, cinnamon powder, cayenne powder, turmeric, salt and garlic cloves.
Fry for 5 minutes on high heat.
Add a cup of water and chicken and cook till it is done.
Serve hot Wali with Chicken Curry.
Summary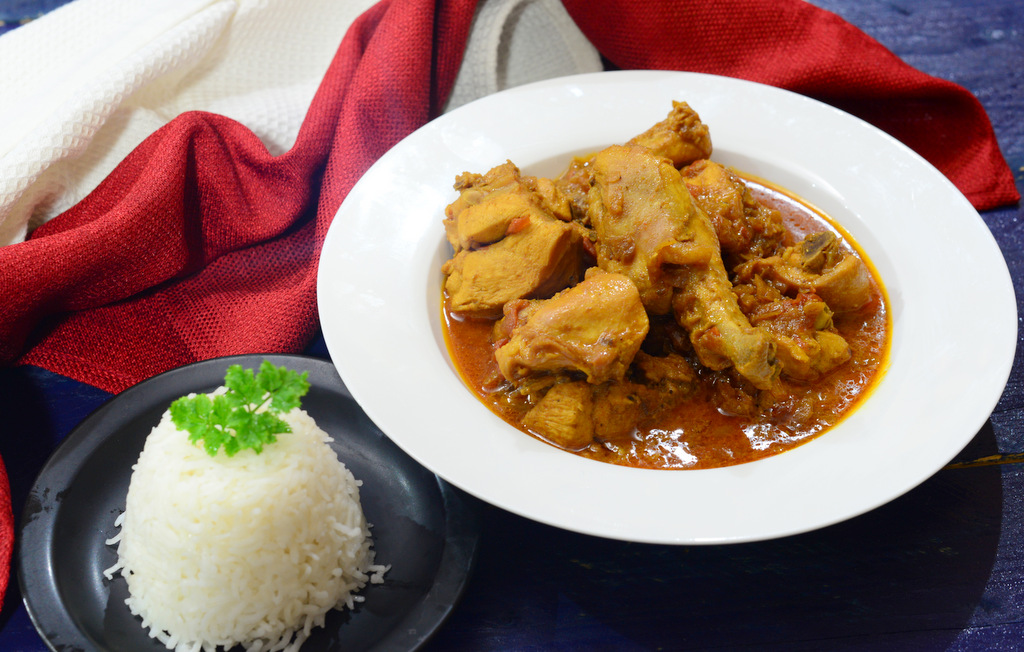 Recipe Name
Wali with Chicken Curry Recipe
Published On
Preparation Time
Cook Time
Total Time
Average Rating
Based on 4 Review(s)
Published On:
Sunday, June 1st, 2014