Jerk is a traditional Jamaican way of marinating and cooking the meat. The process originated in Jamaica a few centuries back and has been taken to various parts of the world by the original islanders. The Jerk technique of marination evolved as the islanders used to hunt wild boars and other animals and to preserve the meat for long days, they used this marinade. This technique has now become famous in Americas, Europe and UK, while Jamaica and in fact all Caribbean islands still have street shops selling Jerk chicken, pork and sea food.
The key to make the Jamaican Jerk Chicken and give an authentic flavor is in its marinade. The marinade is typically prepared with Scotch bonnet peppers and allspice powder as the main ingredients. Scotch bonnet peppers are very spicy form of chilies native to the Caribbean region, they are in fact multi-fold spicier than regular jalapenos. The allspice powder is derived from allspice berries of the pimento tree. The two are combined with thyme, cayenne peppers, soy sauce, olive oil, spring onion, garlic among other things to complete the marinade. While the other ingredients are pretty mainstream, if you are unable to get Scotch bonnet peppers, then you could substitute them with another variety of spicy chilies.
Once the chicken is marinated it is kept refrigerated for up to a day to let it soak the flavors, it is then cooked slowly on a low flame. Traditionally it was cooked over wood, again from the pimento tree which is still the case in many street shops in Jamaica. However in modern homes we could use a grill. The finished product is spicy and moist and is totally irresistible in taste.  The Jamaican Jerk Chicken can be served with some kidney bean rice or salad or potatoes on the side.
I used a with bone piece of leg and thigh of the chicken as it goes well with the marinade, however you can use any large cuts for the preparation. Once the marinade is made it is fairly simple to make this dish, you can follow this step by step Jamaican Jerk Chicken Recipe to make it at home.
Ingredients (serves 2)
Chicken legs with thighs - 2
Spring onion - 1/2 cup (green and white part)
Ginger - 1 inch piece
Garlic - 6 to 8 cloves
Onion - 1/4 cup (chopped)
Scotch Bonnet Chilies - 2 (if these are not available, you can use any other spicy chilly)
Dried thyme - 1/2 tsp
Lemon juice - 2 tsp
Soy sauce - 1 tsp
Olive oil - 1 tsp
Brown sugar - 1 tbsp
Allspice powder - 1 tsp
Red wine vinegar - 1 tbsp
Cayenne pepper - 1/2 tsp
Cinnamon powder - 1/8 tsp
Nutmeg powder - 1/8 tsp
Black pepper powder - 1/4 tsp
How to Make Jamaican Jerk Chicken 
For Marinade
Mix spring onion, ginger, garlic, onion and chilies and blend them to make a smooth paste.
Add all remaining ingredients and mix well. Keep aside.
For Marination 
Clean and put the chicken in a zip lock bag and pour the marinade in the bag.
Close the bag tightly and shake it to coat the chicken nicely in the marinade.
Refrigerate for 12 to 24 hours.
For Cooking
Heat the grill on a low flame.
Grill the marinated chicken from both sides until done. It would take about an hour to cook on low flame.
Serve hot with some kidney bean rice on the side.
Summary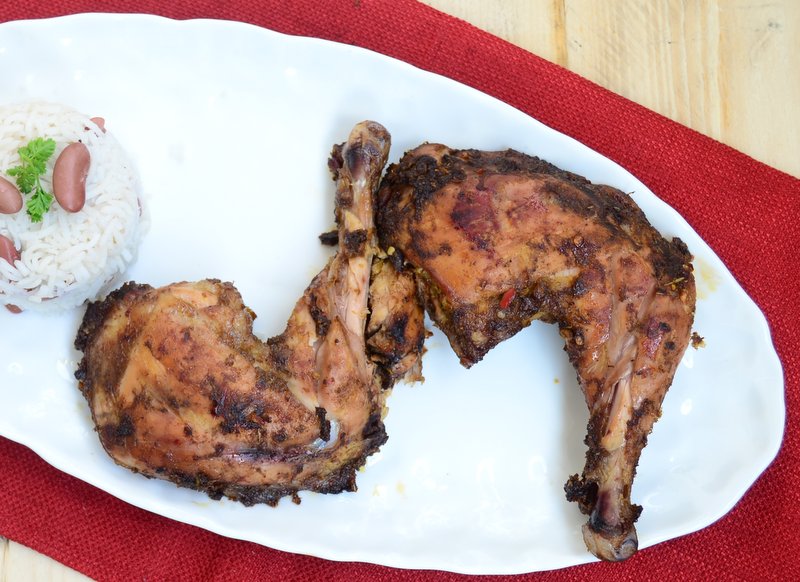 Recipe Name
Published On
Preparation Time
Cook Time
Total Time
Average Rating
Based on 1 Review(s)
Published On:
Sunday, January 19th, 2014