Greece has had one of the longest histories in the world and so has its cuisine which has been formed over generations. One can also say that Greek cuisine is one of the healthiest as well, with its extensive usage of Olive oil and wine along with lots of vegetables and herbs. Wheat, honey and nuts are the other ingredients used often for cooking. Meats like chicken, fish and lamb are used although not extensively. Cheese is also served along with wine and used in other dishes and some common varieties include Feta and Halloumi. Small dishes such as Kibbeh, Falafel, Hummus are usually served along with wine and meals and are called Meze. Some of the other common dishes include Pita and Lagana in breads, Greek Salad as a combination of vegetable and cheese, soups such as Patsas and Fasolada, vegetarian dishes like Fasolakia and Tomatokeftedes. Some of the non-vegetarian dishes include the all famous Gyros, Moussaka and baked lamb. Desserts like Baklava can definitely not be forgotten while writing about Greek cuisine.
For today's recipe, I made use of the greens and Feta cheese to make Greek Salad. It would be hard to find a Greek restaurant anywhere in the world which does not serve this signature salad. While I found it very easy to make, the taste comes out just delicious and its a very healthy diet for sure. If you wish you can alter the amount of oil and cheese used as per your personal taste, here is a perfect Greek Salad Recipe. Enjoy it any day with your family.
Ingredients (serves 3 to 4)
Cucumber - 2
Cherry tomatoes - 18 to 20
Lettuce - 200 gms
Olives - 15 to 20
Feta Cheese - 100 gms
Red wine vinegar - 2 tbsp
Olive oil - 2 tbsp
Freshly ground black pepper - 1/2 tsp
Salt - 1/2 tsp
How to Make Greek Salad
Cut cucumber in small square pieces.
Cut cherry tomatoes in half.
Pit and cut olives into halves.
Shred lettuce leaves in small pieces.
Mix all vegetables in a bowl.
Crumble Feta cheese and mix it with vegetables.
Mix olive oil, red wine vinegar, salt and pepper in a different bowl.
Just before serving, mix the olive oil dressing over the mixed vegetable and cheese and toss well.
Summary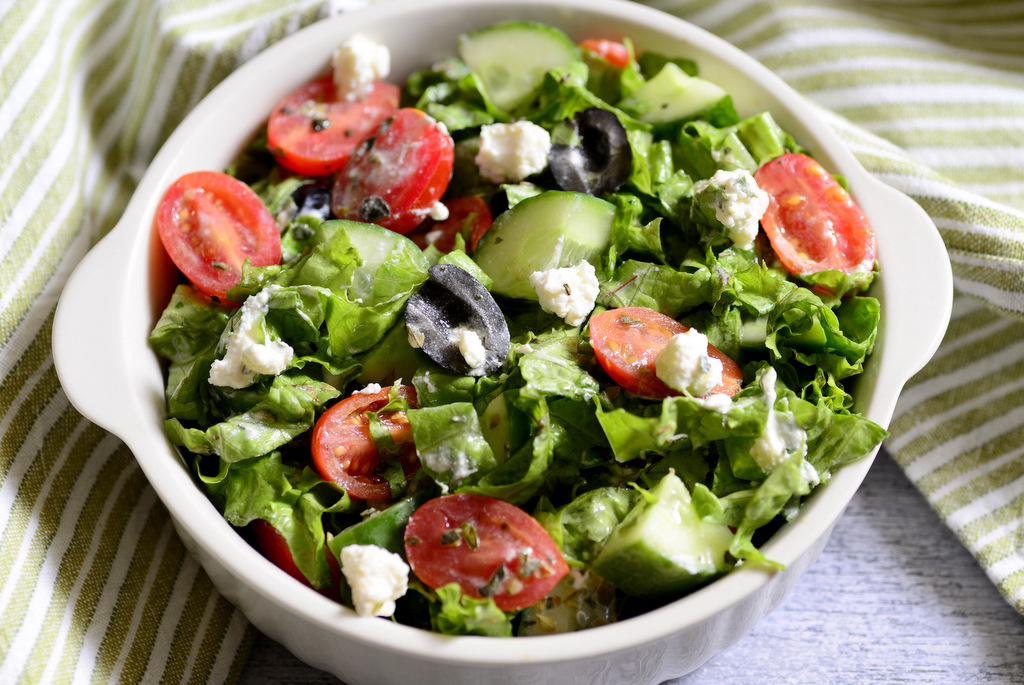 Recipe Name
Published On
Preparation Time
Cook Time
Total Time
Average Rating
Based on 1 Review(s)
Published On:
Wednesday, March 25th, 2015