British cuisine is an amalgamation of traditional British dishes and a plethora of international influences from around the globe including Asia, Americas, Middle East and the Europe. The British are still known to follow traditions through the year which they celebrate with specificdishes such as Sunday Roast, Fish & Chips, Roast Potatoes, Shepherd's Pie, Christmas Lunch or Dinner. A few of of the other famous dishes include Chicken Tikka Masala, Sausages, Baked Beans, Mashed Potatoes, Beef Wellington and a number of cakes and puddings. I had been wanting to try oute British cuisine at home for sometime now, and was still debating between two of the common dishes Fish & Chips and Shepherd's Pie. Finally, I decided to go with the former for now. I'm sure I'll come back for the latter sometime in the near future.
Fish & Chips is sold all over Britain from take-away shops to restaurants, and relished by a large population. This dish has been famous for the last couple of centuries. The fried fish even finds a mention in Charles Dicken'snovel Oliver Twist. Both the fish (covered in batter) & potatoes are fried in oil and served together. The fish used in Britain for this dish include the white varieties such as cod or haddock. What fish you use would largely depend on what is available in the local markets. I used Basa fillets to make this dish. For preparing the batter I used beer while some people may even choose to use milk or vinegar. It was a great evening meal to have and I'm sure you too would love a traditional British dish. Just go ahead and use this Fish & Chips Recipe and enjoy the taste.
Ingredients (serves 4)
For Chips
Potatoes - 2 large
Salt - 2 tsp
Oil for frying
For Fish
All purpose flour - 1 + 1/2 cup
Baking powder - 1/2 tsp
Beer - 300 ml
Salt - 1 tsp
Black pepper powder - 1/2 tsp
Garlic powder - 1 tsp
Red chili powder - 1 tsp
Fish fillets - 500 gms
Oil for frying
How to Make Fish & Chips
For Chips
Peel and cut the potatoes in the form of long chips.
Mix salt with ice cold water and dip the chips for about 15 minutes.
Drain and dry on an absorbent paper.
Heat oil in a frying pan and deep fry the chips till golden brown.
For Fish
Mix 1 cup all purpose flour with baking powder, salt and black pepper.
Add beer and make into a batter. Cover and keep aside for about 1 hour.
Mix the remaining flour with garlic powder and red chili powder to make the dry mixture.
Heat oil in a frying pan.
Pat the fish fillets on the dry mixture, then dip into the beer batter.
Deep fry the battered fish until golden brown.
Summary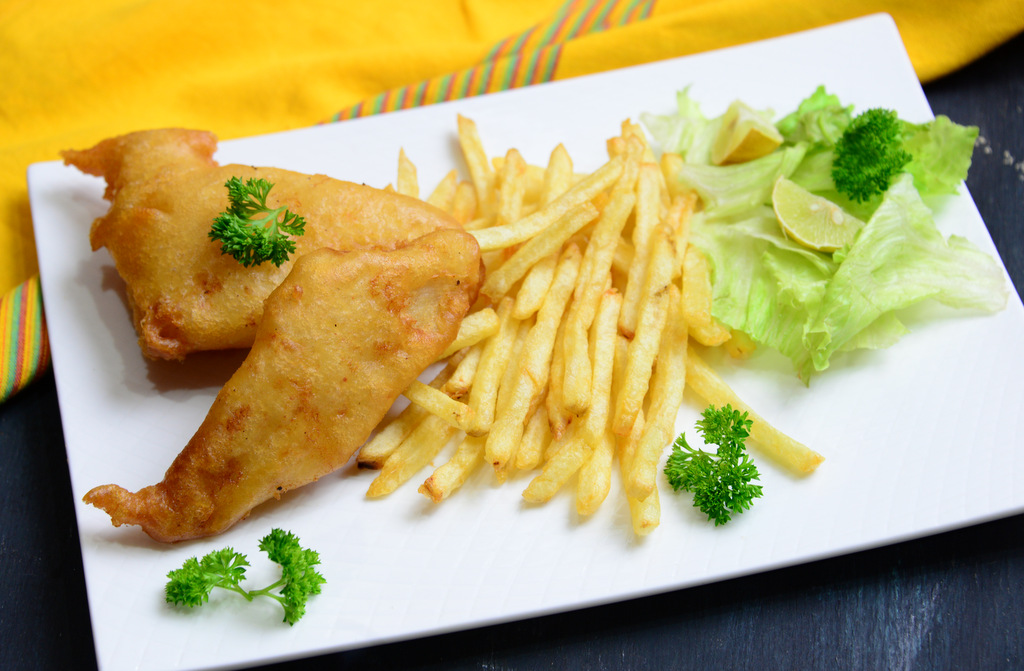 Recipe Name
Published On
Preparation Time
Cook Time
Total Time
Average Rating
Based on 1 Review(s)
Published On:
Monday, September 8th, 2014