Czech Republic is landlocked between Slovakia, Poland, Germany and Austria and is known for having few of the most beautiful cities in Europe like Prague and Karlovy Vary. Czech's love their meats and it forms the basic of most of the meals which generally includes a soup and may be a dessert, breads known as Chleb are often served along with soup. Some of the common meat based dishes include roast pork with dumplings (vepro-knedlo-zelo), gulas (pork or beef stew), schnitzel (made with veal, pork or chicken) etc. Soups are generally made with chicken, beef or vegetables like beans and peas and served with or without noodles. Some of the famous breads available in the country include Houska, Zemle, Rohlik and Loupak. The first pilsner beer was also produced in Czech Republic and Pilsner Urquell is still the most famous beer in the region.
I made Czech Houska, one of the common breads from Czech Republic. This braided bread is generally topped with poppy seeds and is made with refined wheat flour, eggs, yeast, raisins and is slightly sweet in taste. You can serve it along with some soup, or just have it in breakfast and it gives a unique Czech taste. Use this Czech Houska Recipe and enjoy a great Central European taste.
Ingredients (makes 1 loaf)
Active dry yeast - 2 & 1/4 tsp
Warm water - 1/4 cup
Sugar - 1/2 cup
Warm milk - 1/2 cup
Unsalted butter - 1/4 cup
Egg - 1
Lemon zest - 1 tsp
Salt - 1/2 tsp
Ground nutmeg - 1/4 tsp
All purpose flour - 3 cups
Egg yolk - 1
Poppy seeds - 1 tsp
Raisins - 2 tbsp
Czech Houska Recipe
Mix warm water, sugar and milk in a bowl, add yeast and keep for 10 min.
In another bowl add all other ingredients except egg yolk.
Using the yeast water knead a soft dough. Keep covered for 1 hour.
Punch the dough gently and divide in 3 equal parts.
Roll each park into a rope (about 20 cm in length).
Braid these 3 ropes together, cover and keep the braid for another hour.
Pre-heat the oven to 180C.
Brush the braided dough with egg yolk and bake for 40-45 min.
Cool and serve.
Summary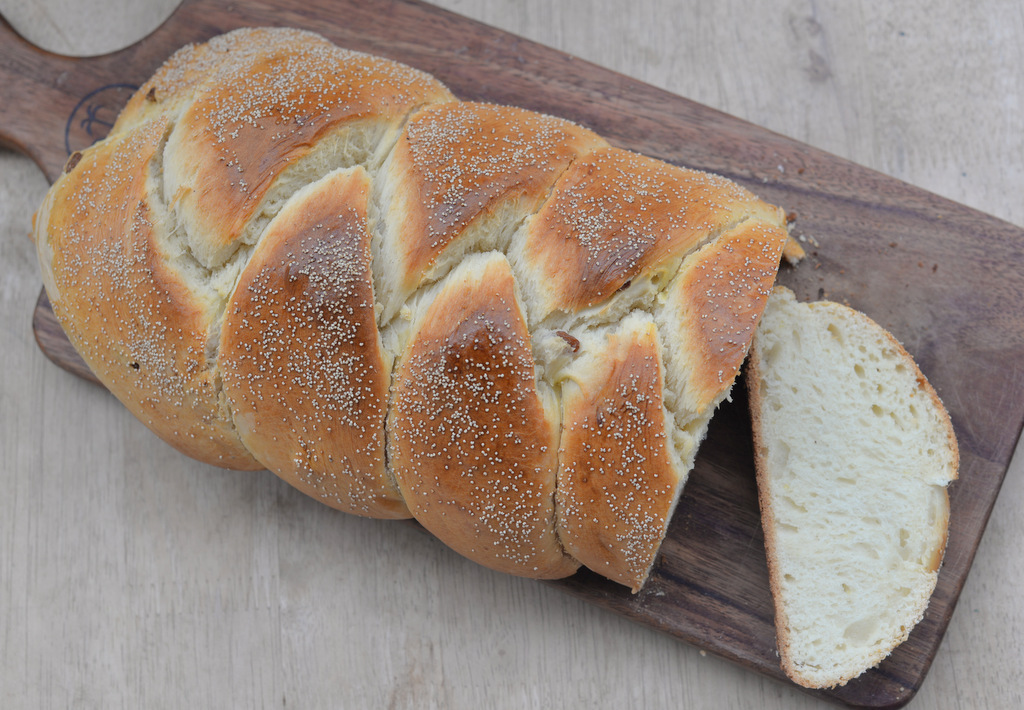 Recipe Name
Published On
Preparation Time
Cook Time
Total Time
Average Rating
Based on 3 Review(s)
Published On:
Sunday, July 6th, 2014