Spanish cuisine offers a variety of delectable dishes that truly no one can refuse to relish. It owes its variations to distinct culinary preferences developed across diverse geographical areas over the years. Spanish cuisine has also influenced the culinary habits of some European and South American countries. Known for usage of ingredients such as cucumber, tomatoes, corn, rice, olives, etc., Spanish cuisine blooms with myriad varieties of delectable dishes like Paella, Gazpacho, Cochinillo Asado, Pa Amb Tomaquet, etc. Today in this column, I'll talk about Churros, which probably came from Spain; however, since the Spaniards had traveled across Europe, Mexico, Columbia, etc., it's hard to pinpoint a specific country from where Churros originated.
In fact, I had my first plate of Churros at a Mexican joint in the U.S. and loved its taste. They are a pretty famous breakfast or all-day snack option and are sold at umpteen roadside food carts. Churros have become so famous that chefs who make Churros are generally referred to as Churreros. It is made of flour, butter, etc., and goes very well with hot chocolate sauce. I always thought that it would be difficult to make them at home; however, once I tried making them, it wasn't that hard at all. In fact, you too can try this Churros Recipe at home. Serve them at breakfast or an evening tea party and enjoy. Here is the recipe for you to try.
Ingredients
Water - 1 cup
Butter - 2 tbsp
Sugar - 2 tbsp
All purpose flour - 250 gms
Baking powder - 1 tsp
Eggs - 2
Vanilla extract - 1 tsp
Oil for frying
Castor sugar - 1/2 cup
Cinnamon powder - 1 tsp
How to Make Churros
Boil water in a deep pan.
Melt some butter (you may use microwave for that).
Add the melted butter to the boiling water along with some sugar.
Add all-purpose flour and baking powder, stir to mix well, and then cook the batter for about a minute.
Remove the batter from heat and let it cool.
Beat eggs along with vanilla extract in a bowl and then add it to the batter and mix well.
Fill this batter in a piping bag fitted with a big star nozzle.
Heat some oil in a pan.
When the oil gets hot, squeeze long stripes of the batter into the oil.
Fry until the strips turn golden brown from all sides.
Drain the strips on a kitchen towel.
Mix castor sugar and cinnamon powder in a bowl and roll the Churros over the mixture.
Serve fresh with hot chocolate sauce.
Summary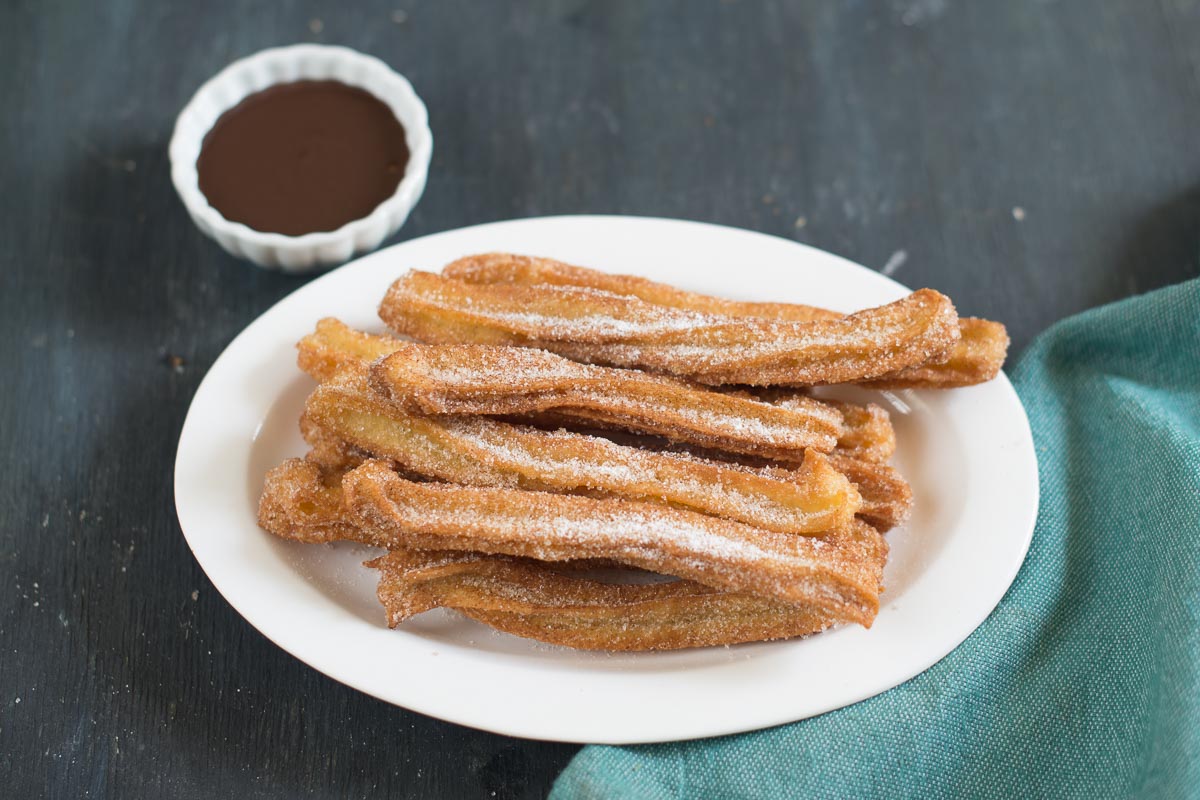 Recipe Name
Published On
Preparation Time
Cook Time
Total Time
Published On:
Thursday, May 21st, 2015