Russia has a large ethnic and cultural diversity due to its vast area which leads to different kinds of cooking traditions. Being one of the coldest countries the population uses grains like wheat, millet, barley & rye and meats like beef, chicken and fish in its preparations specially crafted to keep them warm. Some of the breads, desserts are famous and adopted the world over while the Russian vodka and beer have a large following. The dishes in Russia include hot & cold soups like shchi, lapsha, botvinya and okroshka, the mains like pelmeni, kotlety and shashlyk. We saw a few weeks back one of the most famous Russian bread with filling called Pirozki, some other bread varieties include blini and syrniki. The alcoholic drinks are consumed by most of the population, a bottle of Medovukha or stavlenniy are few of the traditional ones while modern day vodka's come under many brand labels. The non-alcoholic drinks include kvass and tea.
I picked up another Russian variety today and made Chicken Stroganoff. This dish originated in Russia, however is also now famous in Sweden, Finland, Norway which are close to Russia to as far off as Brazil, Iran and Japan. Stroganoff recipes are made with sour cream and mustard with or without white wine. They were traditionally served on a bed of noodles, however the modern variations also serve them with rice. The variations to the dish are aplenty, while the meat used in the preparation are chicken, beef, sausage (korv stroganoff and makkara stroganoff) and fish or vegetables like mushroom. I used boneless chicken and mushroom for my preparation cooked with white wine and served in a traditional way over the noodles. It made for a perfect lunch recipe with a delicious taste and nice aroma. Its fairly quick to prepare and needs basic ingredients. You can also try this traditional and famous preparation in your kitchen with this Chicken Stroganoff Recipe.
Ingredients
Butter - 1 tbsp
Olive oil - 1 tbsp
Chicken breast - 2
Garlic - 5 to 6 cloves (chopped)
Onion - 1/2 cup (chopped)
Black pepper powder - 1/2 tsp
Paprika - 1/2 tsp
Fresh parsley - 2 tbsp (chopped)
Mushroom - 200 gms (chopped)
Chicken stock - 1 cup
Sour cream - 2 tbsp
Tomato puree - 2 tbsp
Mustard paste - 1 tsp
White wine - 1/4 cup
All purpose flour - 2 tbsp
Salt to taste
Egg noodles - 200 gms
How to Make Chicken Stroganoff
Cut the chicken breasts in small squares.
Heat butter and olive oil in a pan, add chicken and cook till done. Remove the chicken pieces and keep aside.
In the same pan add onion and garlic and fry till light pink.
Add mushrooms, parsley, black pepper powder, paprika and salt and cook till mushrooms are done.
Add chicken pieces, chicken stock, white wine, tomato puree, sour cream, mustard paste and cook for 3 to 4 minutes.
Dissolve the all purpose flour in 1/4 cup water and add it to the preparation.
Cook till the stock thickens.
Boil noodles as per directions from the manufacturer.
Make a bed of noodles and add the stroganoff over.
Serve Chicken Stroganoff.
Summary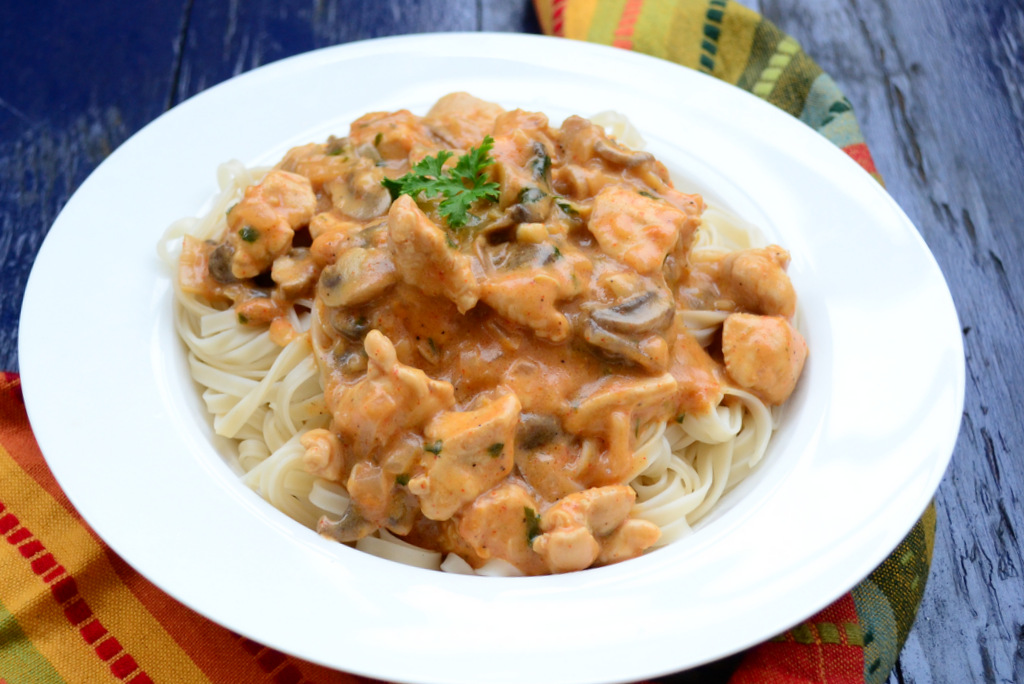 Recipe Name
Chicken Stroganoff Recipe
Published On
Preparation Time
Cook Time
Total Time
Average Rating
Based on 5 Review(s)
Published On:
Sunday, May 11th, 2014