Nepal is a land locked country with common borders between China and India. It is mostly a mountainous region with many of the highest peaks of the world. Although a smaller country by area, it stands out in many ways e.g. it is home to Mount Everest, the highest mountain peak, Lumbini, Lord Buddha's birth place lies in Nepal, it is the only country to have a non rectangular flag and it has a time zone of 45 minutes past following UTC + 5:45. Nepal has had influence to its culture from other Asian countries like India and the Tibetan region. On the cuisine, it has a lot to boast for, there are many different cuisines used in Nepal such as Pahari cuisine, Himalayan or Tibetan cuisine, Thakali cuisine from Thak-khola valley, more urbanized Newa cuisine, Terai cuisine from Shivalik hills, Lohorung cuisine from the eastern side and Tharu cuisine from the valley's.
The most commonly used food in Nepal are dal, bhat and tarkari, dal or lentils are served over mostly boiled rice (bhat) with some vegetables (tarkari) on the side. Condiments such as various pickles and chutney also find their way as accompaniments to the main meals. The other known food from Nepal includes Dhindo (a traditional dish made with flour), Momos, Noodles, Tsampa, Sekuwa Kebab, Sukuti (dry meat) etc.
I picked up Momos for my preparation in this article as this one of the most common dishes which have traveled across the globe and are loved by a large population. Momos are essentially steamed buns filled with either non-vegetarian options like chicken, goat or buffalo meat or vegetarian with fillings of carrots, onions, cabbage etc. In this preparation I used chicken filling to make Chicken Momos. Traditionally these have been steamed using bamboo boxes however nowadays electrical appliances do a similar job. They go well with seasoning sauces, soy or just ketchup on the side. You can also give many different shapes to the Momos, however they taste just delicious all the time. So if you are in a mood to taste the cuisine from Nepal, this is a great choice, you can use this Chicken Momos Recipe.
Ingredients (serves 4)
For the dough
All purpose flour - 2 cups
Baking powder - 1/4 tsp
Salt - 1/4 tsp
Oil - 2 tbsp
For the filling
Chicken breasts
Onion - 1/4 cup (chopped)
Garlic - 1 tbsp (chopped)
Ginger - 1 inch piece (grated)
Salt to taste
Black pepper powder - 1/4 tsp
How to Make Chicken Momos
For the dough
Mix all purpose flour, baking soda, salt and oil together and knead to make a soft dough (use water as needed).
Cover and keep aside for 10-15 min.
For the filling
Boil the chicken breasts with water for 10-12 minutes.
Cut them in small pieces and mince it in a grinder or any other way.
Add salt, black pepper powder, onion, ginger, garlic and mix well.
For the assembly
Make small balls from the dough.
Roll each ball to make a thin circle about 3 inch diameter.
Keep little filling in the center of the circle and bring the ends together to give a Momos shape.
Press the ends together so filling does not come out.
Steam the Momos for 15-20 minutes.
Serve hot.
Summary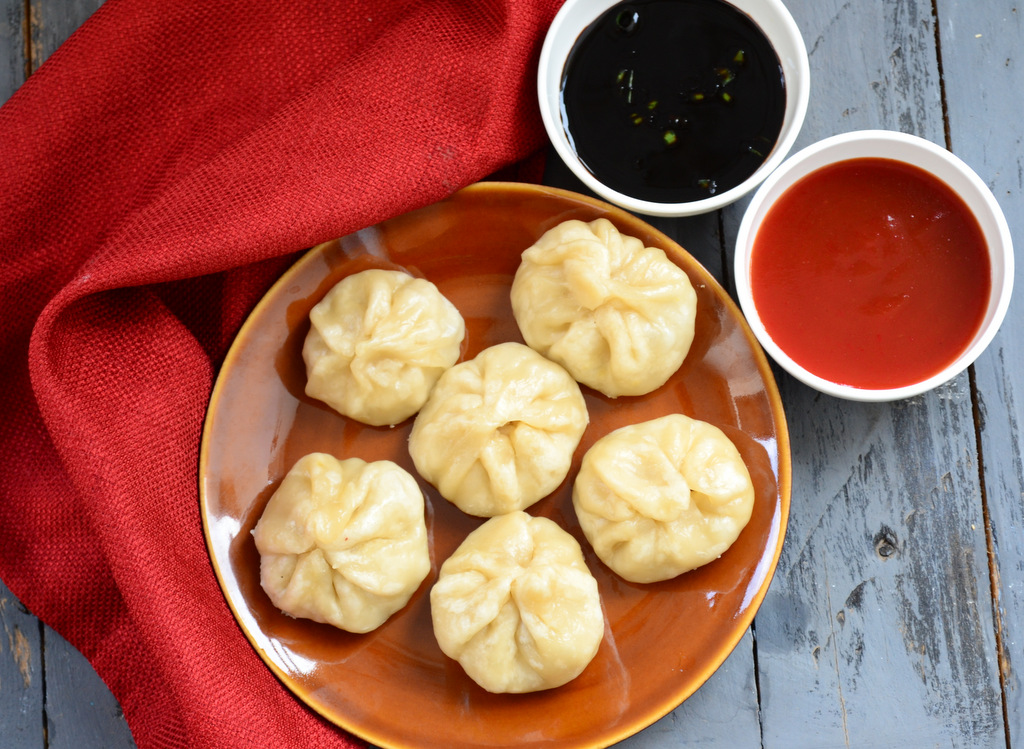 Recipe Name
Published On
Preparation Time
Cook Time
Total Time
Average Rating
Based on 11 Review(s)
Published On:
Sunday, May 18th, 2014