Armenia lies in the Mediterranean region with its borders close to both Europe and Asia. The countries with common borders include Turkey, Georgia, Azerbaijan and Iran. Over hundreds of years since it came into existence it has had both Mediterranean and other outside influences on its economy, history and food. The cuisine uses locally grown crops and meats while the use of spices is restricted to few. Some of the used spices include parsley, paprika, cumin, garlic and mint. Commonly used food ingredients are green beans, chick peas, lentils, various nuts and lamb meat. Armenia makes few famous dishes like shish kebab (local version is called Khorovatz) and Harissa.
Armenian cuisine includes soups, salads, appetizers, grilled meats, main courses, breads and sweets. Some of the regular dishes made throughout the country are Kololik (mutton soup), Eetch (a typical middle eastern salad made with broken wheat), Satsivi (roasted chicken in walnut sauce), Lavash bread, Kadaif (sweet made with cream, cheese and walnuts) and Armenian Coffee.
In this recipe I made Armenian Lahmacun, which is typical to a thin crust pizza in the west. The bread is rolled very thin and baked with a topping of minced meat and vegetables. I used the typical spices and vegetables available in the country for the topping, including parsley, garlic, onion, tomatoes and red bell pepper. Each of the individual serving bakes quickly in about 5-7 min and about 3-4 Lahmacun would be needed per person. It's best consumed fresh and hot, and if you like you can sprinkle some lemon juice and red chili flakes over the top. The dish came out pretty well, looked and tasted absolutely delicious for lunch. You can serve it as a flat serving or roll it with some more meat and vegetable filling. It is extremely easy to re-create the taste in your dining room with this Armenian Lahmacun Recipe.
Ingredients (serves 4)
For Dough
All purpose flour - 3 & 1/2 cup
Milk - 1 cup (warm)
Water - 1/2 cup (warm)
Oil - 2 tbsp
Salt - 2 tsp
Sugar - 1 tsp
Yeast - 2 tsp
For Topping
Minced meat - 400 gms
Red bell pepper - 1 (chopped)
Green chili - 2 (chopped)
Tomato - 2 (chopped)
Onion - 1 (chopped)
Parsley - 1/4 cup
Garlic - 5 to 6 cloves
Red chili powder - 1 tsp
Roasted cumin powder - 1 tsp
Black pepper powder - 1 tsp
Salt - 2 tsp
Tomato puree - 2 tsp
Olive oil for brushing
Lemon juice and red chili flakes for garnishing (optional)
How to Make Armenian Lahmacun
For Dough
Mix warm water, warm milk, sugar, yeast in a bowl and keep for 10 min.
In another bowl mix all purpose flour and salt.
Mix both the mixtures and add oil.
Knead to form a dough, keep kneading for 2-3 min with the heel of your hands. Cover and keep for 2 hours.
For Topping
Mix onion, tomato, red bell pepper, green chili, parsley and garlic and blend to a coarse paste.
Add the paste in the minced meat along with red chili powder, roasted cumin powder, black pepper powder, salt and tomato puree. Mix well.
For Baking
Punch the dough and make lemon sized balls.
Dust and roll them very thin.
Brush the top with olive oil.
Keep 2 tbsp filling over each and spread evenly with a back of a spoon.
Pre-heat the oven to 250 C.
Bake for 5-6 min.
Optionally sprinkle lemon juice and red chili flakes.
Serve hot.
Summary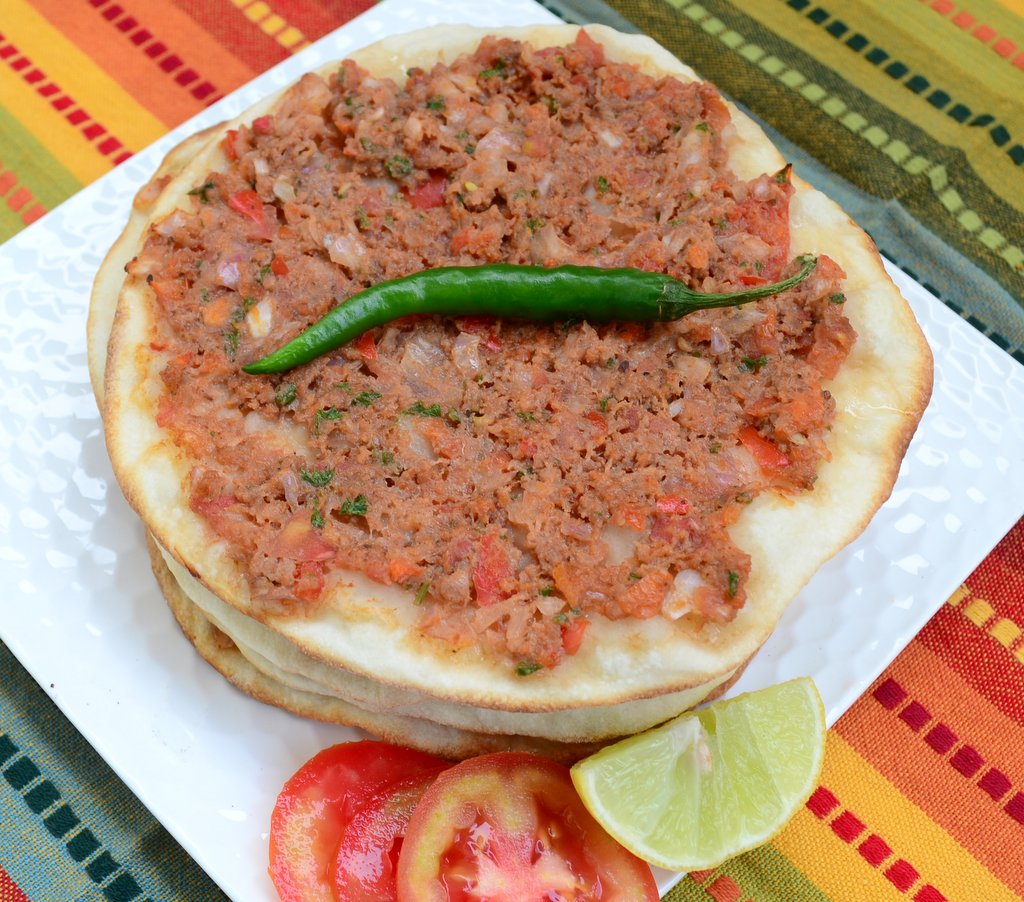 Recipe Name
Published On
Preparation Time
Cook Time
Total Time
Average Rating
Based on 12 Review(s)
Published On:
Saturday, March 8th, 2014