The popularity of nude beaches is ever-growing. Some people shed their swimsuits to get that perfect tan while others are pushed by the desire to be one with Nature or to proclaim complete freedom.  Forgetting the real reasons, if you feel inspired by minimalism, here's your time to toss your swimsuit and find some of the world's gorgeous nude beaches. Check out these top 13 nude beaches from around the world.
#1 Red Beach, Crete Greece:
Dubbed as 'one of Europe's secret nudie paradises,' this beach in south Crete can be reached by a Jet Ski or kayak from Matala. Hikers can even climb over the cliff from Matala to reach this secluded beach in about 25 minutes. You can go completely bare or indulge in nude tanning or bathing here starting early on and staying until amazing sunset. Your roving eye can't miss the fascinating red rocks, in case you manage to take it off the carefree nudists.
#2 Kuta Beach, Bali, Indonesia:
The 5-km long sandy expanse of Kuta in Bali is arguably the finest beachfront in Indonesia. A clothing-optional, Shaped like a crescent, Kuta is an unofficial nude beach quite popular amongst sun-bathers or sunset-loving naturists from Europe and other countries.
#3 Playa de El Torn Beach, Tarragona, Spain:
This 1400m long, isolated but well-known beach is popular amongst tourists. A big rock with vast stretches of gravel base and moderate waves make this beach really stand out.
#4 Bellevue Beach, Klampenborg, Denmark:
A beautiful getaway that is almost 10 km from Copenhagen, Bellevue is a party zone of naked and young spirits. During summers, Bellevue teems with local and international visitors who strip down, soak up the sun and revel in the breeze along this 700m beach.
#5 Samurai Beach, Port Stephens, Australia: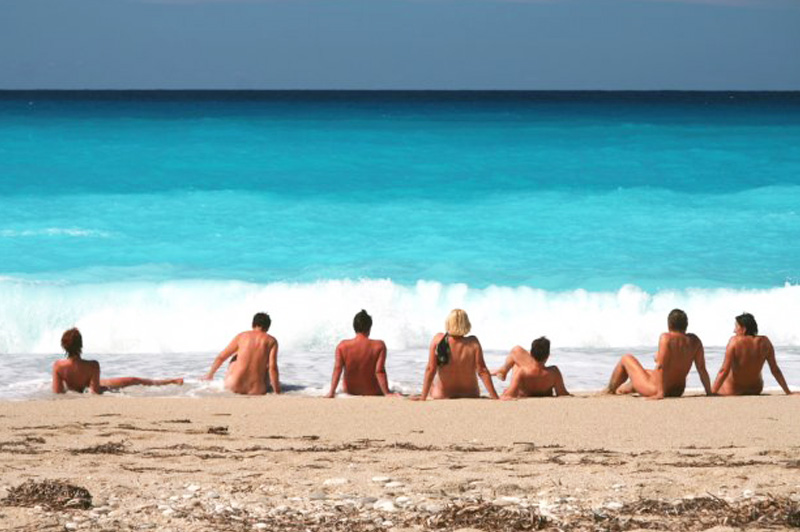 Did you ever imagine a place on earth hosting Nude Olympics in November? If not, then welcome to Samurai Beach. The Olympics part currently has been taken over by the Nude Carnival that is held in February every year. The beach does stand out as an example of Aussie creativity that revels in putting up a competitive show of nudity and athletics. You will find hundreds of nudists of all shades here - straight, elderly, gay and, kids playing with the waves, strolling with plate of food in hand, sipping beers or just lounging in the sun.
#6 Baker Beach, California:
This is arguably San Francisco's largest nude beach with the magnificent Golden Gate Bridge for a backdrop. The nude part is toward extreme right where you can lay in the sun, fish, snorkel or just swim close to the sandy shore. Incidentally, the north part of the beach is famous for holding the first counterculture Burning Man Festival. The non-nude part will often be crowded with family picnics, BBQs, gawkers and teenagers playing with Frisbees and music blaring continuously.
#7 Lighthouse Beach, New York:
Located in the Fire Island, this beach is overrun with New Yorkers seeking to break free from blistering summers and tyranny of clothes. Nudity is not permitted near the center of the beach lest tourists may not find themselves in the eye of salami storms or lure of countless Venuses.
#8 Wreck Beach, Vancouver, Canada:
Catch the perfect views of the Pacific in Canada's first-ever clothing-optional beach. The 7.8 km long shoreline is pretty inviting to anyone who is sick of dresses and willing to waltz around in buff. However, if you're planning an escape to this beach, here's a handy tip —while waiting for sundown, just look out at the horizon, and not at your neighbors.
#9 Es Trenc, Majorca, Spain:
Off the south coast of Majorca, is the popular and less commercial beach of Es Trenc. The nudist experience here is far from a perverted pickup situation. Naturists are comfortable strutting their stuff along the 2 kilometer long stretch of crystal clear water and golden sand. Weirdos staring straight at the sunbathers or tanners are hugely unwelcome and are driven out. This isolated beach has everything to tempt you — bare-it-all tourists, competitively priced beers, parking lot, marine vegetation, windsurfing, shallow waters and natural beauty.
#10 Grande Saline, St. Bart's:
St.Bart's has long been a preferred destination to hang out for the rich and famous. The Grande Saline is a fantastic, quiet and expansive beach whose natural charms are unspoiled by food stalls, umbrellas, and rental chairs. Full naturists are found enjoying on far right and far left of the beach while families and semi-nude bathers concentrating toward the center. Bring your own wine, snacks, umbrellas and sundries and get frolicking or snorkeling in the azure beach waters.
#11 Playa Luna, Chile:
This is the only and premier nude beach in the whole of Chile that is scenically tucked between two cliffs. The nudist community here also organizes the annual Latin American Nudist Conference to support organized nudism across Chile. The beach has also started offering guided tours from Santiago to all those who are genuinely interested in nudist tourism. Way to go!
#12 Priaia do Pinho, Brazil:
Being Brazil's first naturist beach is Pinho beach's claim to fame. Unlike beaches elsewhere, nudity is much more than a suggestion here. It is something that is de rigueur if you wish to enjoy the volleyball courts, campsites, snackbars, and other means of fun. There'snothing sexual about naturism is the insight, which grips you when you glimpse hundreds of nudists walking around the beach sans makeup, hairstyles, and worries.
#13 Balneario Camboriu, Brazil:
Warm waters, beautiful sweeping views and calm waves make Balneario a true beach heaven. Pack your beach essentials, Neruda's love sonnets and of course a brimmed hat and head over to this brazen beach for some unmixed fun.
Image Credits: Travel Eu Naturel, Netfalls - Remy Musser, Turisme L, tagois, Paul Foley, Julia Hoffman, Christine Roberts, Jeff Clowers, Hoteles Y Playas, Denny Lee, lunes, Karen Yen, Thiago Ceser Busarello
Published On:
Wednesday, September 2nd, 2015