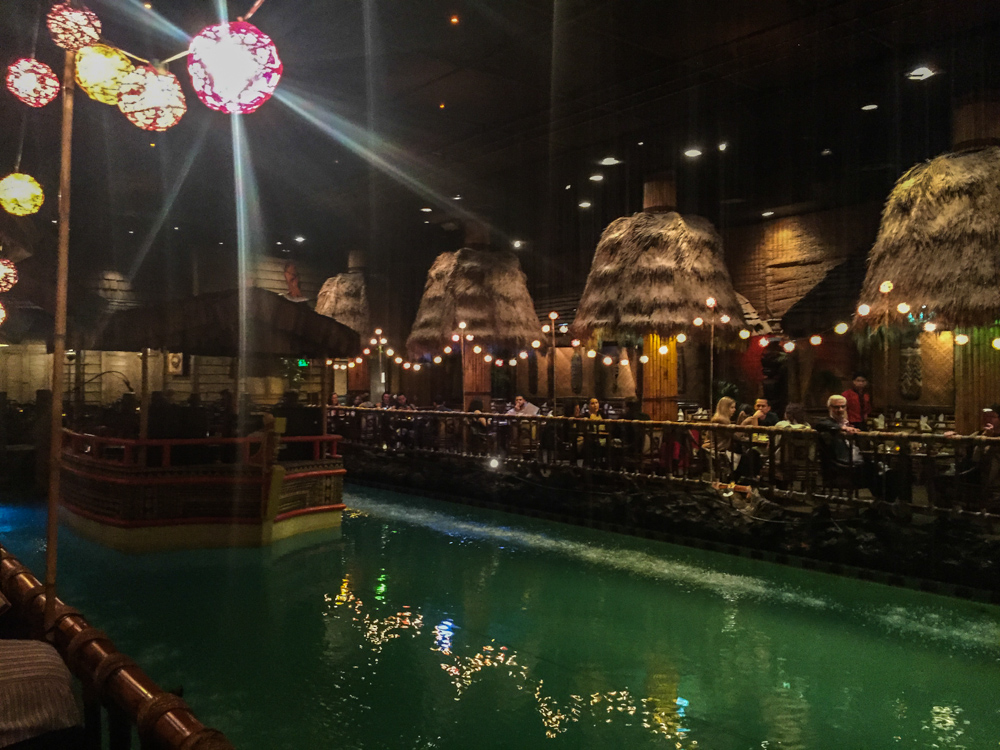 The Tonga Room
Tonga Room &Hurricane Bar- Restaurant Review
The Tonga Room & Hurricane Bar is a tiki themed bar and restaurant inside the Fairmont San Francisco. Since opening in 1945, the Tonga Room has been serving Pacific Rim/Asian inspired cuisine and signature tropical drinks in its unique setting. The restaurant's ambiance is a bit like a climate-controlled Hawaiian luau, lit by string lights and colorful lanterns and decorated with bamboo railings and thatched roofs. The hotel repurposed its 75-foot swimming pool into the restaurant's centerpiece lagoon. Guests can sit poolside at tables around the water and enjoy the periodic thunderstorms, complete with rain falling into the lagoon, flashing lights and the booms of thunder. It's like the Rainforest Cafe for adults, or a Hawaiian-style Blue Bayou.
The décor is kitschy in the best possible way, with food and tropical drinks to match—complete with tiny umbrellas. The restaurant menu is firmly on the pricy side, with entrees running around $10-20 and sides an extra $10, or the Royal PuPu Platter for $28.
But what the Tonga Room and Hurricane Bar is best known for is its Happy Hour. With a $15 per person all-you-can-eat buffet and drink specials, it might be the best deal in the whole city. It's a lot of fun, too.
Happy Hour at the Tonga Room and Hurricane Bar is very popular, so if you want to check it out, I'd recommend arriving before 5 pm, when the restaurant opens. Otherwise, you'll be waiting about 45 minutes for a table. If that doesn't work, there's open bar seating and a few surfboard tables to stand at while you eat and drink. My friend and I arrived after 5 pm, but we got lucky, snagging a few seats at the bar as a couple was leaving (try the polite hover method). While it's a good idea make reservations for the restaurant by calling or using OpenTable, they won't take reservations for the buffet.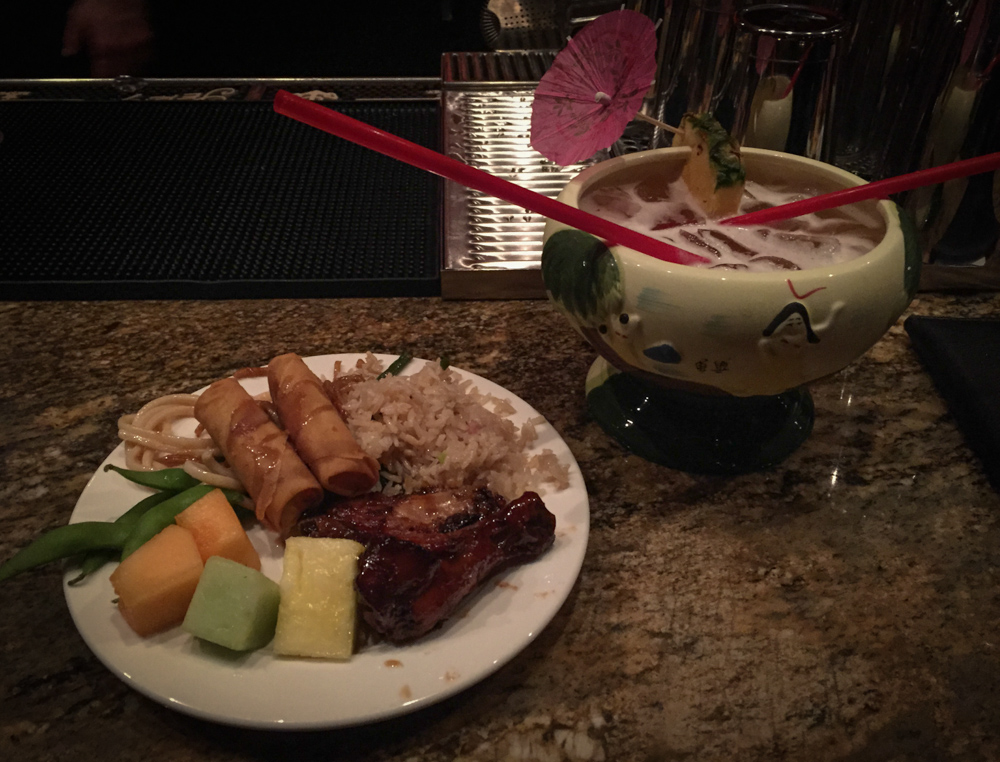 Happy Hour buffet and bowl drinks for two
The buffet food is fine – nothing to rave about, except for the fact that it's a $15 buffet. Judging by the spread, it's probably not meant to be a complete dinner, but it was plenty for us.
The buffet selection on the day I visited seemed like the standard Asian-fusion fare: mixed fruit (mainly melons, grapes, and pineapples), edamame, fried rice with spam, chow mein, egg rolls with a special house sauce, and two types of chicken wings, one spicy and one sweet. There's usually some macaroni salad and some crackers and sausage dip, which both sound tasty, but they didn't have those when I went. That's a lot of carbs and the protein available is particularly messy to eat, especially when you're sitting at a bar facing a bunch of strangers.
The bartender was great; he didn't gawk at my lack of graceful hot wing-eating skills. He was friendly but not too chatty, probably since he was busy the entire time making one tropical drink after another. What I liked was that when my friend and I ordered a second round of drinks and quickly realized we wanted to hit the buffet up for seconds first, the bartender held off on making our drinks so they wouldn't sit at the bar unattended while we were gone. He finished them up right as we returned.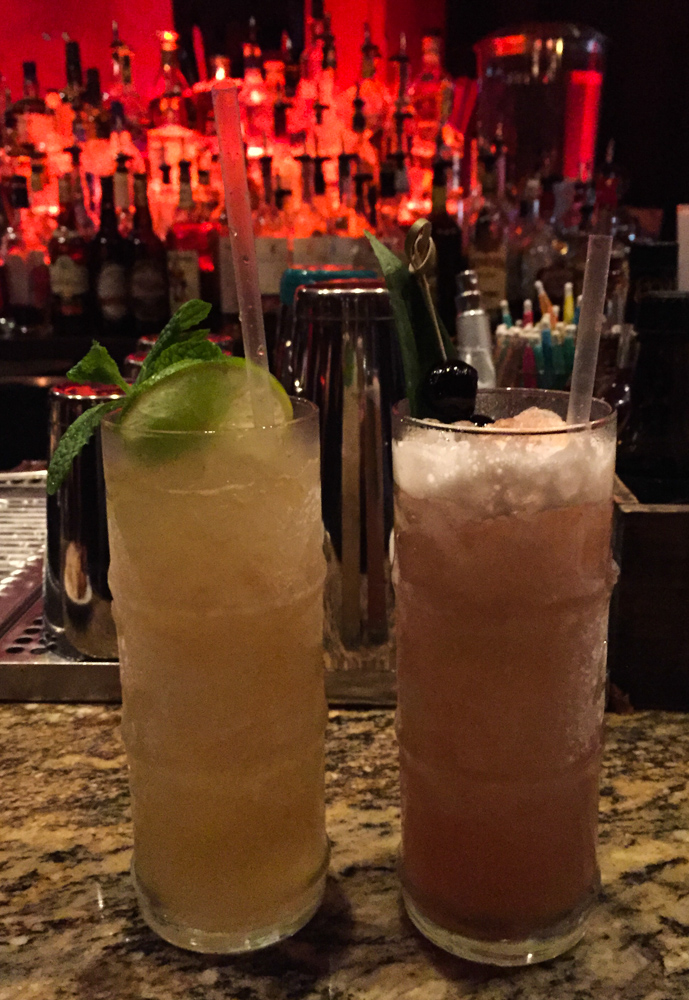 Round 2
The drinks are an important part of the Tonga Room experience. There are tropical drinks that make you feel like you're on a Hawaiian beach, like the classic Mai Tai, daiquiri, pina colada, or hurricanes, and there are some house specials like the Zombie and Singapore Sling. Then there are the punch bowls, which are the giant drinks for two or four, served in large bowls with extra-long straws. Some things are more fun shared. The drinks tasted fairly strong, but they were served with a whole lot of ice so there wasn't as much in there as you'd expect. My friend and I shared a Lava Bowl first, which has rum, lemon and lime juice, and some orgeat. It was refreshing and fruity without being too sweet, and it was garnished with pineapple and of course, a tiny umbrella. I was disappointed that the straws weren't ridiculously long, but now I know that I'll have to bring a few extra friends and get the bigger bowl (or just get it for the two of us!). For the second round, I went with a Mai Tai, the Tonga Room's signature drink, as recommended by the bartender. It was similar to the Lava Bowl, but I have to say, it wasn't quite as flavorful. My friend got the Singapore Sling, a cocktail of some fruity liqueurs, lemon, pineapple, bitters, and Benedictine mist. I'll try a Hurricane, a daiquiri, or maybe one of those pineapple Royale's they serve in an actual pineapple on my next visit – and I will definitely visit again soon.
Live bands perform on a stage floating in the lagoon every night the restaurant is open starting around 8pm (which means there's a cover charge at that time). Generally, the Tonga Room draws an older crowd but there were plenty of younger guests for the happy hour when I went. While there's sometimes dancing, the bar shuts down early even for San Francisco standards, by 12:30 am on weekend nights. The Tonga Room is popular among tourists but it's not unusual for locals to meet up at this classic spot for happy hour after work or for special occasions.
Location
Nob Hill
Address:
950 Mason St
San Francisco, CA 94108, USA
The Tonga Room at the Fairmont Hotel is situated a few blocks away from Union Square. Though it's less than a mile from the Powell BART station, I don't necessarily recommend walking, since most of that walk is straight up a steep hill. If you're up for the hike, and prepared with some comfortable shoes, it's a straight shot up Powell Street and a good way to burn off that buffet.
Another option for those who aren't up for the trek, the California Street Cable Car runs from near the Embarcadero BART station all the way up to the Tiki Room.
A warning to those wanting to drive: parking prices at the Fairmont are even steeper than those hills ($5 every 20 minutes).
Opening Hours
Monday: Closed
Tuesday: Closed
Wednesday-Thursday:  5 PM – 11:30 PM
Friday-Saturday : 5 PM – 12:30 AM
Sunday: 5 PM – 11:30 PM
Happy Hours:
Wednesday-Friday: 5 PM to 7 PM
$15 per person with an additional one drink minimum
Island Groove Band:
Wednesday, Thursday, Sunday: cover charge $7 per person – starts at 8:15 p.m
Friday & Saturday: cover charge $10 per person – starts at 8:00 p.m
Website : http://www.tongaroom.com/
Phone : +1 415-772-5278
Nearby Tourist Attraction–  Chinatown
Published On:
Wednesday, February 22nd, 2017