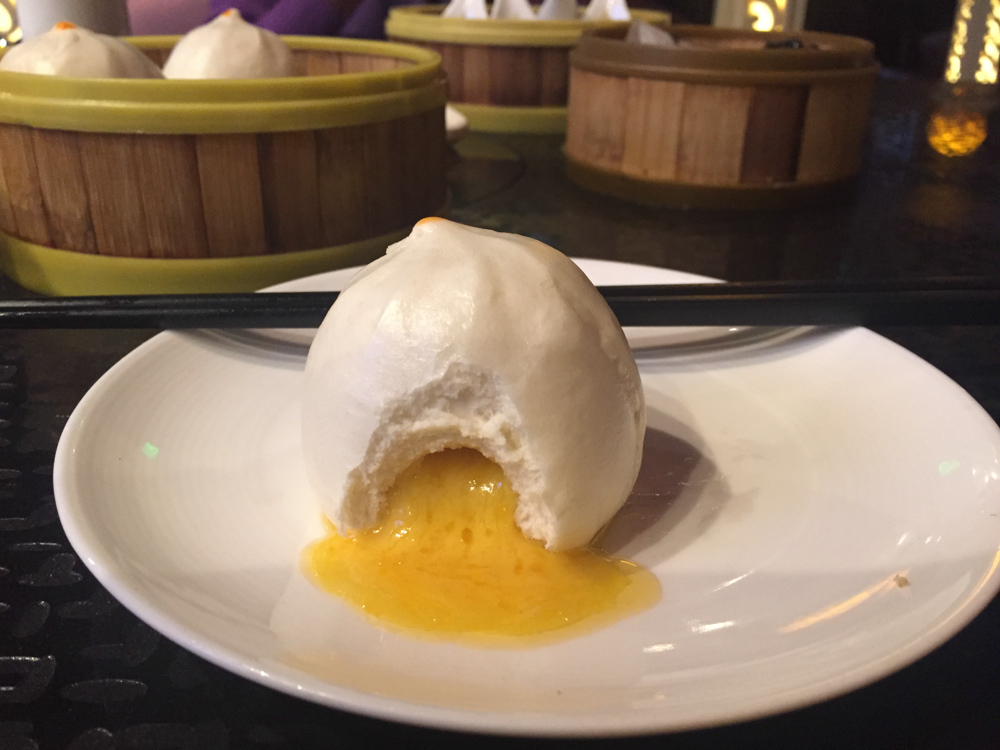 Egg Yolk Lava Bao (AKA cloud of heaven)
Dragon Beaux is a modern Chinese restaurant in Richmond of San Francisco. Since it opened in 2015, Dragon Beaux has been blowing up on Instagram with photos of its colorful dumplings and unique dishes that include some unorthodox ingredients that merge San Francisco-style cuisine with traditional Chinese food.
The food is beautiful, colorful, and impossibly photogenic – but it also tastes delicious and is completely reasonably priced. The restaurant is brought to San Francisco by the same folks that run Koi Palace down in Daly City.
Dragon Beaux specializes in dim sum by day and hot pot by night. Or you could go against the grain like I did and try ordering dim sum at night, to the dismay of the servers. There's only a limited dim sum menu, so I'll need to go back to enjoy the specialties I missed, but the interesting options and delicious bites I did get to try at Dragon Beaux left me ready to return ASAP.
The Location
Dragon Beaux is situated in the Outer Richmond district of San Francisco. We were able to find street parking right in front of the restaurant on a weekend night.
Dragon Beaux Address: 5700 Geary Blvd, San Francisco, CA 94121
Dragon Beaux Phone: (415) 333-8899
Dragon Beaux Timing
Dragon Beaux is open for lunch and dinner, but it does close midday for a few hours.
Monday through Thursday: 11 AM – 2:30 PM and 5:30 – 9:45 PM
Friday: 11 AM – 2:30 PM and 5:30 – 9:45 PM
Saturday: 10 AM – 3 PM and 5:30 – 9:45 PM
Sunday: 10 AM – 3 PM and 5:30 – 9:45 PM
The Ambiance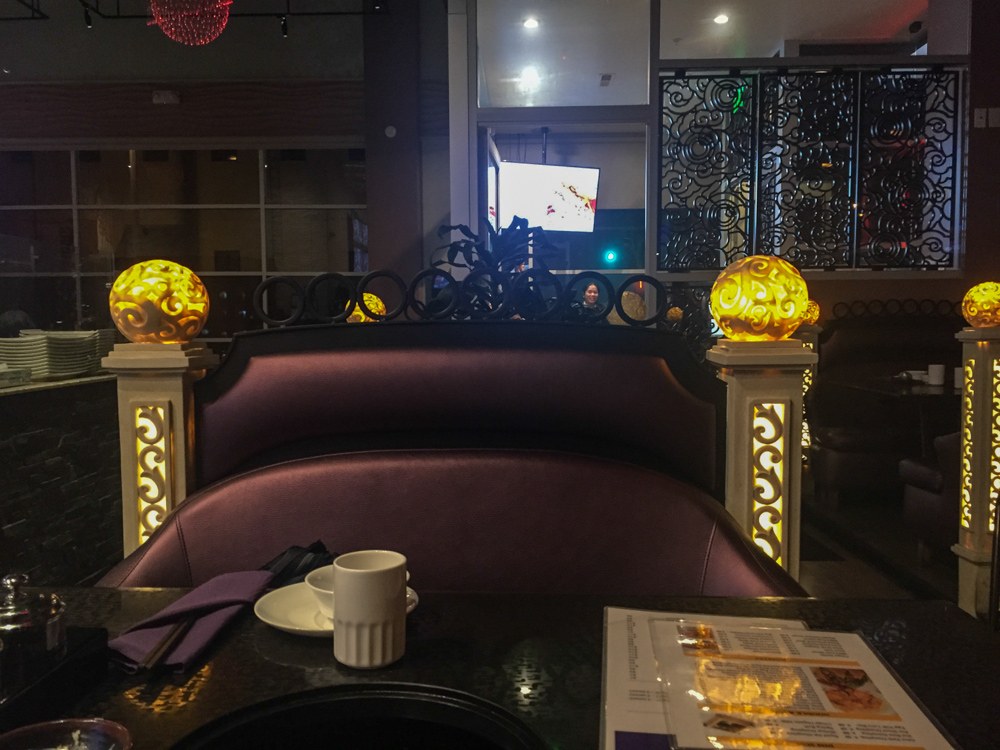 The decor
Dragon Beaux is not your typical Chinese Restaurant, like most you'll find in Chinatown. It's swanky by evening, with deep purple booths, warm mood lighting and ornate carvings on the railings and room dividers, and fancy chandeliers. Part of the kitchen sits behind a glass wall so diners can watch the food being made and see how clean the kitchen is kept.
The Service
The service was friendly, although the server seemed surprised that we weren't there for the hot pot. The hostess had informed us of the limited Dim Sum menu available and we decided that it would be fine, but the waiter seemed hesitant about our order. We asked whether a few of the dim sum options were available, and were told that they were so we ordered them. A few minutes later someone came by to tell us that they were not available, so we struggled to find something else that was. The waiter did offer good recommendations, though the disappointment in our lack of choices did detract from the experience a little.
The Price
Dragon Beaux is on the pricy end of Chinese restaurants, but it's also a more upscale restaurant. With the limited Dim Sum menu, our part of two got out of there for under $40, though we weren't especially full from our meal.
The Food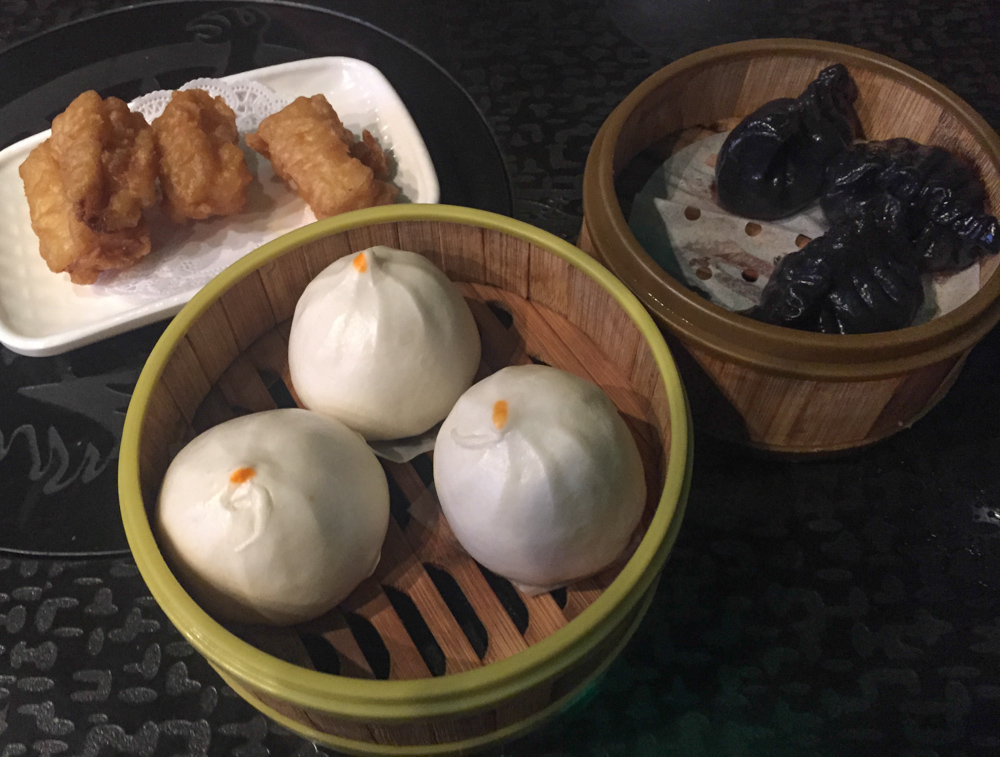 Dragon Beaux Dim Sum
Although the limited dim sum menu was disappointing and did not allow us to try as many of the dishes as we had expected, the foods we did try were very good. It is my opinion that they should either have the dim sum menu or not, rather than offer certain unspecified parts of the menu. I understand that the restaurant is fairly new and they seem to be really pushing the evening hot pot side of the business, but they're known for the dim sum and I wish I could have sampled more of it.
What I did get to try was great. I often have cravings for those egg yolk lava bao, which were much different and much sweeter than I imagined they'd be. I want all the egg yolk lava bao. They were pillowy soft buns, similar to pork buns, but filled with a gooey yellow creamy custard that gushed out when you bit in. Though it was eggy and looked just like an egg yolk, it was not, as I had expected, just a regular egg yolk. I'd probably still love it if that's what it was, but this was even better.
The next best item we tried were the squid ink dumplings, deliciously savory and slightly sticky in their deep black wrappers. By the recommendation of the server, we also ordered the classic xiao long bao, the pork dumplings. They were juicy and delicious.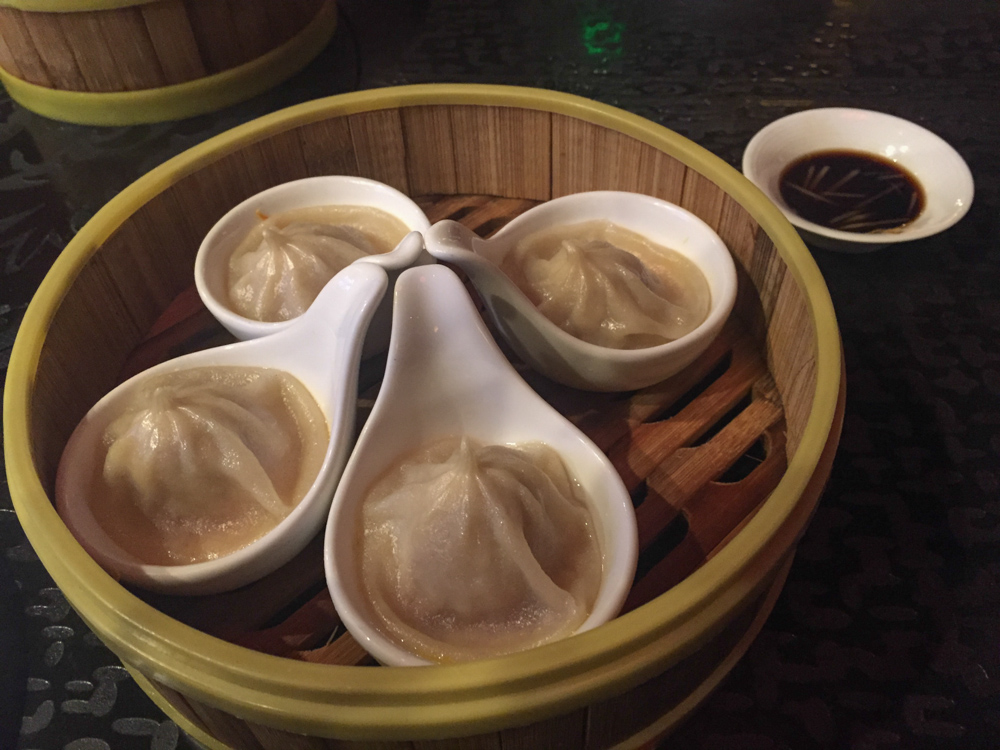 Pork Dumplings
We decided to take a chance on one of the more interesting sounding menu items, the crispy organic milk. The concept of crispy milk was intriguing, and so was the actual food. What we got was a super sweet, gooey deep fried dessert. At least it tasted like a dessert. It was the first thing that came out, however. It was a bit too much fried sweetness for me, and it was the dish that we got the most of (6 pieces). We got an actual (complimentary) dessert with the check that consisted of delicious mochi.
Next time, I'll play by their rules and come early for the full dim sum menu, so I can try the colorful 5 guys dumpling sampler and the purple taro buns, the adorable black truffle mushroom buns that look like mushrooms, the gorgeous sea bass dumplings, and the abalone tart. And obviously all the egg yolk lava buns I can manage. My mouth is watering at the thought.
Website : http://dragonbeaux.com/
Phone : +1 415-333-8899
Nearby Tourist Attraction-   Golden Gate park
Published On:
Thursday, March 16th, 2017