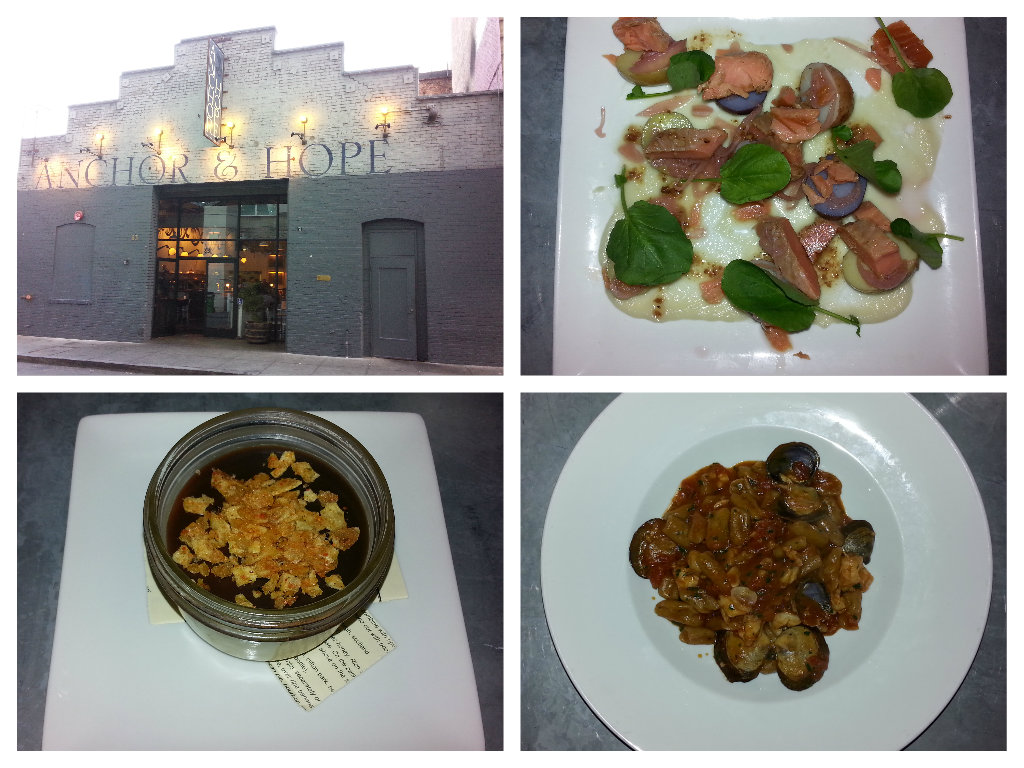 Review of Anchor & Hope Restaurant in San Francisco, California.
Anchor & Hope Restaurant Review – A big part of what makes a high-end restaurant a good experience is the ambience. That's why it's part of these reviews. It's very difficult to define, or really put a finger on, but the way the place makes you feel has a great deal to do with how you experience the food.
There are limits, of course, to one's ability to do this. You can only put so much lipstick on any given pig, and if you push the whole ambience thing too far, it turns into Disneyland – unless you actually are at Disneyland. Still, in the hands of an expert, interior design, lighting, décor and so on are incredibly useful tools. At least they are at Anchor & Hope Restaurant. The food's pretty good, too.
Anchor & Hope Restaurant is an incredibly tasteful nod, I think, to San Francisco's nautical past. The city was originally one of the world's greatest, most amazing ports. With the advent of very large cargo ships, that's no longer the case. You cannot dock a container ship on the San Francisco side of the bay in any way that makes loading and unloading it reasonably efficient, and if it's a large ship, you cannot dock it at all. Off to Oakland you have to go. But ships, sailors and the sea, along with the industrial, blue-collar energy and experience they include, are deeply rooted in the city's history, culture and traditions, and Anchor & Hope is all about that.
The Location
Address: 83 Minna St, San Francisco, CA 94105
Phone: (415) 501-9100
Anchor & Hope is in downtown San Francisco, essentially in the financial district. It's on Minna Street, which is basically a little alley, and is also right next to the enormous construction project that is eventually going to be the San Francisco transportation center. Since it's only about a three-minute walk from the Montgomery Street BART station, that's a better way to get there than attempting to drive. If you do drive, be prepared to find a parking garage.
The Hours
Lunch 
Monday – Friday: 11:30 AM – 2:00PM
Dinner
Sunday – Thursday: 5:30 PM – 10:00 PM
Fridays and Saturdays: 5:30 PM – 11:00 PM
Happy hours
Monday- Friday: 4:30 PM- 6:00 PM
The Ambiance
Very industrial, very elegant. The building itself is what looks like a former garage, with exposed brick walls. The industrial effect is enhanced by being located, again, right next to a massive construction site. The interior is more of the same – exposed beams, aluminum chairs, and the skylights and detailing of a place that used to be a machine shop or a warehouse or something similar. The bar is a long, simple metal surface.
The interior is dramatically lit, and at night, very carefully placed examples of nautical memorabilia are highlighted. Think of a Ralph Lauren store – life rings, rope, fishing gear. It's made to look elegant and antique and beautiful, which, after spending some time in Anchor & Hope, you realize it is.
The Service
Good. I ate at the bar, so my experience was a little unusual, but the servers are professional, friendly and knowledgeable.
The Price
Not cheap. Including tip, diner came to $100. Welcome to San Francisco.
The Food
Quite good.
The appetizer was a smoked trout salad, of a kind. The official menu description was "Mt. Lassen smoked trout, marble potatoes, fennel purée, pickled shallots, upland cress, lemon-bacon vinaigrette." This could have ended up being almost anything – a description like that is kind of useless.
What arrived as a really interesting combination of small, boiled potatoes – what, when I was growing up, were called "new potatoes" and chunks of smoked salmon. The fennel puree and the vinaigrette were almost an afterthought – the dish sat on top of them, and I didn't even realize it was there until about halfway through the dish. The essence of it was smoky, flavorful, slightly dry smoked trout, set against chilled small boiled potatoes that my notes describe as "earthy", wet, heavy and cold. The combination was great, and the sauce seemed to me to be kind of beside the point.
My entrée was Ceccaluccoli pasta, gulf shrimp, savory clams, spicy lobster-tomato sauce, parsley, olive oil. To begin with, Ceccaluccoli is a fairly obscure pasta. It's made from chickpea four and water, rolled and folded to create a channel that holds the sauce. The sauce was peppery, rich and smoky, obviously something someone had spent a lot of time simmering, adjusting and deepening. The shrimp and clams were used in a very restrained way – they didn't just dump a lot of seafood in there, but arranged it so you enjoyed one thing at a time. The portion wasn't huge, but the sauce and the care made up for it.
Dessert ended up being a pumpkin panna cotta, which included a balsamic geleé, potato chips, and togarashi, which is a Japanese chili peper. This was clearly a Dessert with Unusual Ingredients, but it worked well, particularly the potato chips. It reminded me, in theory, of that old Midwestern staple, a tuna casserole with crushed potato chips on the top.
Anchor and Hope is an interesting, creative place to have an elegant meal in what look like very inelegant surroundings.
Website : anchorandhopesf.com
Phone : +1 415-501-9100
Nearby tourist Attraction–  Ferry Building
Published On:
Saturday, November 8th, 2014