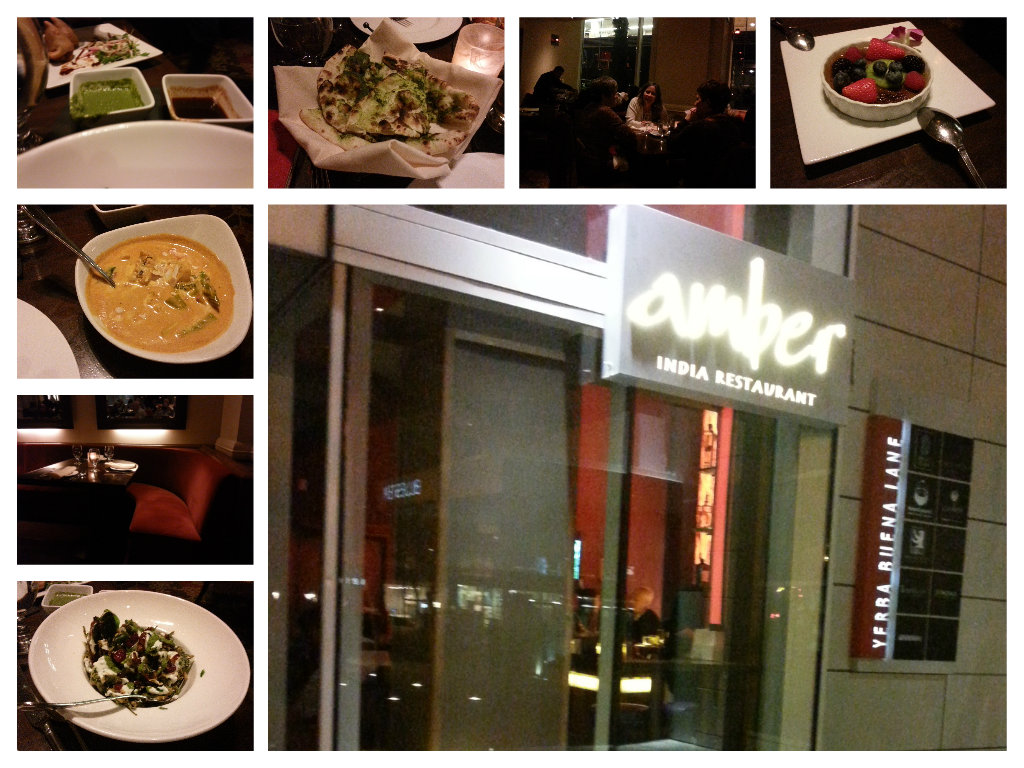 Review of Amber India Restaurant in San Francisco
Amber India Restaurant Review – Indian food is a world unto itself. It's complicated, it operates with a completely different set of seasonings, spices and presentations than Western food, and it also comes in all kinds of regional variations, which make writing about it even trickier, plus, as with Chinese restaurants, a lot of what's served is often altered, watered down or otherwise messed with to make it more acceptable to American diners. In short, I'm not really qualified to write with any authority about Amber India, but I'm going to give it a shot anyway. And with that caveat in mind, this place is a letdown. It's definitely mediocre
In my experience, and from talking with Indian colleagues, Indian food is all about the use of fresh spices and fresh ingredients in a way that creates a complex, vibrant set of tastes. In particular, good Indian food does not, ever, simply bury the diner in some kind of taste that's enticing – rich, or creamy, or savory or spicy – but without a lot of complexity or depth. Indian food should have a lot going on, and balancing everything is, I think, what makes it so wonderful, and so tricky. There is not a lot of room for error in this kind of cooking, if you're doing it right.
And Amber India Restaurant simply doesn't measure up. I'll go into the details in this review, but the bottom line is that it seems to me that a lot of corners are cut, a lot of stuff comes out of the kitchen that is acceptable, but that's not great. If you're looking for really good Indian food, there are better places.
Opening Hours
Lunch
Monday- Friday:  11:30 AM- 2:30 PM
Saturday- Sunday: 12:00 PM-3:00 PM
Dinner
Sunday- Thursday: 5:30 PM- 10:00 PM
Friday- Saturday: 5:30 PM- 10:30 PM
Happy Hours
Monday- Friday: 5:00 PM- 7:00 PM
The Location
Amber India Restaurant is right smack in the middle of the financial district of San Francisco. It's on Yerba Buena Lane, which is a pedestrian walkway off of Mission Street, so you cannot drive there. As with any place in the city, a parking garage and a walk are recommended. Closest BART stop is Powell Street, from which it's a five-minute walk.
Address: 25 Yerba Buena Lane, San Francisco, California 94103
Phone: (415) 777-0500
The Ambiance
Dramatic, multi-level interior, with steps up and down, and a patterned carpet. It's dark, with banquettes along one wall and a fancy, modern bar with backlit bottles of liquor. The space has the feeling of being a little run-down – for instance, the tables were simply bare wood, and ours, at least, was sort of scuffed and scarred. I suspect the original idea was tablecloths, but those were eliminated, revealing the sort of underwhelming surface beneath. It's also a little hard to enter – the sign, with the restaurant's logo, is in one location, but the actual entrances is a nondescript little door elsewhere – in the side of an otherwise blank wall.
The Service
Fast and impersonal. Everyone's dressed in black, not everyone's Indian (our server was named Jose) and although nobody's rude, this is a big, noisy, fast-moving place, and they want to get you in and out fast, particularly on a weekend night.
The Price
It costs around $145 before tip, for appetizer, entrees and two beers each for two people.
The Food
Appetizers were samosas ($9) and Palak Chaat ($10), which was described as "flash fried Bloomsdale baby spinach, Yogurt, tamarind relish, and cranberry." This arrived with a small bowl of tamarind sauce and another of cilantro sauce.
Although it looked beautiful, the taste was nothing special. The spinach, having been deep-fried, didn't have a lot of heft or taste, and essentially was there to be a template for condiments. So, you'd get a nice big hit of cranberry, or tamarind, or yogurt, but nothing more interesting than that. This dish can be a LOT more, if fresh vegatables are added, or something more subtle, or interesting. Instead, Amber India just allows you to slather it with, say, cranberry, which is really what you eat and taste. Not good.
The samosas were a letdown also. They tasted fine – nothing incredible, but perfectly good – but they were lukewarm. As a deep-fried appetizer, it's really important that they show up hot – as quick out of the oil as possible. These obviously had been sitting somewhere under a heat lamp in the kitchen for several minutes. Also not good.
The same thing was true of our third side dish, which was pesto naan. I eat Indian food at a cheap place here in Santa Cruz, California at least two days a week when I'm in town. Naan is thrown in, and it is always hot, fresh and straight out of the oven. Not at Amber India, despite a $4 price tag. This wasn't even lukewarm – it was actually cool, and had been sitting around for a while.
In short, all of the appetizers were sort of mass-produced, and didn't live up to nearly their potential.
One of the entrees was sort of in the same category. My original order was Masala Mirch Salan, made with jalapeno peppers. When I requested it, our server told me that it was seriously, really hot, and asked if I really wanted something that spicy. Grateful, but in the mood for something a little more low-voltage, I switched my order to Vegetable Korma – "Broccoli, carrot, zucchini & peas cooked in a cashew nut cream sauce." Whoops. The cream sauce totally overpowered the vegetables, which might was well have been ping pong balls, wood chips or Styrofoam for all it mattered. What arrived was fine, but it was basically decorated cream sauce to serve over rice. Great as far as it goes, but kind of pointless in a way.
The other entrée, however, was fantastic, and that was tandoori … lobster tails. There were cooked, I think in an oven, with tandoori seasoning rubbed into them. Lobster is a relatively tough/substantial meat, very sweet, but sturdy enough to stand up to the intense, smoky flavor of tandoori without either being overpowered by it or conflicting with it. The result was fantastic. Luxurious, unique, and memorable.
Dessert was crème brulee, which Amber India had Indiafied by making it with chai. That's fine, but it was still simply crème brulee – good, but not memorable. The dessert menu was also unsubtly buried inside a long, hugely overpriced list of after-dinner drinks – clearly an attempt at "Do you want fries with that?"
Amber India Restaurant is big, loud, kind of mediocre and busy. They get you in and out and fed, but if you're looking for food that lives up to its potential, go somewhere else. If you're simply hungry, and would prefer not to be, then Amber India's fine.
Note: Prices may subject to change
Location of Amber India Restaurant
Website : http://www.amber-india.com/
Phone : +1 415-777-0500
Nearby Tourist Attractions–  Ferry Building, Coit tower
Published On:
Friday, February 24th, 2017