The Walt Disney Family Museum is filled with exhibits showcasing the life and career of Walt Disney, the great innovator and creator of some of the most beloved animated characters in history. Opened in 2009, the museum is located in a historic building in San Francisco's Presidio, offering great views of the Golden Gate Bridge. A must for diehard Disney fans, the Walt Disney Family Museum portrays the Disney family's history chronologically through ten galleries.
Location Map of Walt Disney Family Museum in San Francisco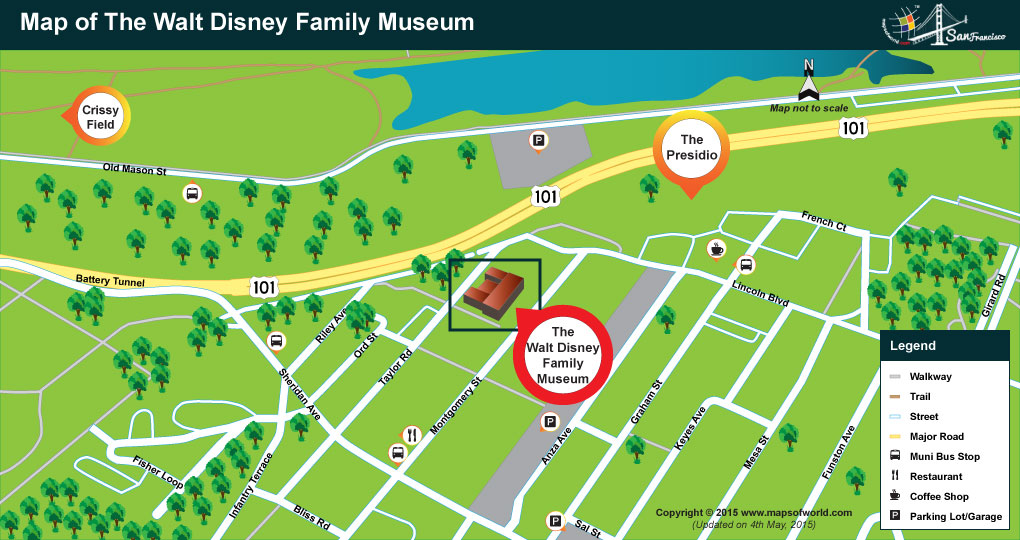 On display in the lobby are the nearly 250 awards that Disney won – like the famous Snow White Oscar trophy with a tiny Oscar for each of the seven dwarfs. Inside the Walt Disney Family Museum, the exhibits begin with Walt Disney's family background and his early years, with photos and other artifacts from his childhood. The museum does a great job of telling a compelling story of Walt Disney's life. Even before his career in animation, Walt Disney had a remarkable life – or rather many lives, you could say, before he'd even turned 18.
Those only interested in Disney's animated films or the history and concept of Disneyland can skip a lot of the first sections of the Walt Disney Family Museum, but there really is a fascinating story to be told of a life very different than most. The foundations for his later creations can be seen progressing through the events of his life. As a child, Walt Disney had plenty of adventures, moving around several times, lying about his age to get a job as a paperboy and forging documents to drive an ambulance in France during World War I before he was of age. Part of Walt's early life took place in Marceline, Missouri, and idyllic city that held such sweet memories that it became the model for Disneyland's Main Street.
Other exhibits show Walt Disney's beginnings as a cartoonist, and even a political cartoonists, and how he began to grow that passion into the institution of the Walt Disney Company, from the early Laugh-O-Grams to animated classics like Steamboat Willie, and on to feature films with Snow White. Seeing the progression, collaboration and development and innovation throughout the years is one of the biggest draws to the museum. It's amazing to think of all that was born out of his imaginative mind.
Memorabilia displayed in the Walt Disney Family Museum includes photos and sketches, antique cameras, early Disney merchandise including several versions of Mickey. There are interactive exhibits with narrations by members of the Disney family as well as some educational games that demonstrate how parts of the animation and filming process are done, like how they synchronized sound to the picture when sound was first introduced to film.
The Walt Disney Family Museum features important moments from all throughout his life and career, even in tough times like the studio strike and war times. Alongside the documentation of his career, there are also stories from his personal life, hearing tender stories about his relationship with his mother and his wife, and the beginnings of his own family with family mementos and photos.
A few highlights of the Walt Disney Family Museum were the huge model of Disneyland and the multi-plane camera. The model of Disneyland featured many of the attractions that still exist today, some that were around in the early days but are no more, and some that never made it past the concept stage. The multi-plane camera exhibit demonstrated how the backgrounds and foregrounds translated into film, which was something I'd never considered before and had no idea how it worked.
As we neared the end of the Walt Disney Family Museum's exhibits, we were swiftly kicked out as soon as it turned 6, without any warning (and the employees here did not have the Disneyland friendly smiles and demeanor), so be mindful of the clock if you're there near closing. It can be tough to know how much more to the museum is left at any point, but it did take us several hours to go through all the exhibits.
Overall, the Walt Disney Family Museum is a great way to spend several hours, and a visit would make a rainy day activity. Small children might be bored with many of the earlier exhibits, and parents should note that while everything is Disney themed, it's still a museum and there's nothing like Disneyland to keep your kids busy. However, there is something for everyone, as there are interactive exhibits and some special craft stations for kids toward the end. The price is a bit steep, especially considering the cost of other San Francisco museums, but there is a lot to see and it is a nonprofit.
There's also a Fantasia-themed movie theater on site, with certain film screenings that change on a monthly basis. Tickets for the theater are included, but you must reserve a pass when purchasing the regular museum ticket.
Museum info:
Walt Disney Family Museum Address: 104 Montgomery Street (in the Presidio), San Francisco 94129, USA
(Note: There is another Montgomery Street in the Financial District of San Francisco that GPS may direct to instead. Head to the Presidio and follow the signs for the museum.)
Walt Disney Family Museum Visitng Hours: Open from 10 am to 6 pm every day except Tuesdays
Phone: 415-345-6800
Website: http://waltdisney.org/
Walt Disney Family Museum Ticket costs: $20 for adults, $15 for seniors and college students, $12 for children 6-17, free for small children and military families
There's a museum café operated by Wolfgang Puck that's open to the public as well as museum patrons.
Nearby Restaurants– Dragon Beaux in San Francisco, Seed + Salt Restaurant, Presidio Social Club Restaurant
Nearby Tourist Attractions– Lombard street, The Palace of Fine Arts in San Francisco, Octagon house, Golden gate park, Golden gate bridge
Published On:
Thursday, January 5th, 2017