Fisherman's Wharf – Along the waterfront on the northeastern edge of San Francisco, lies Fisherman's Wharf, a neighborhood encompassing a series of piers from around Pier 35 to 45, Hyde Street Pier, Aquatic Park, and up to Ghirardelli Square. The wharf is one of the top tourist destinations in San Francisco, known for its seafood restaurants and various attractions, including museums, an aquarium, and Pier 39. The piers of San Francisco are situated along the Embarcadero (which means "pier" or "landing place" in Spanish), historically serving as the home of fishing fleets as well as ferries between San Francisco and cities across the bay.
Location Map of Fisherman's Wharf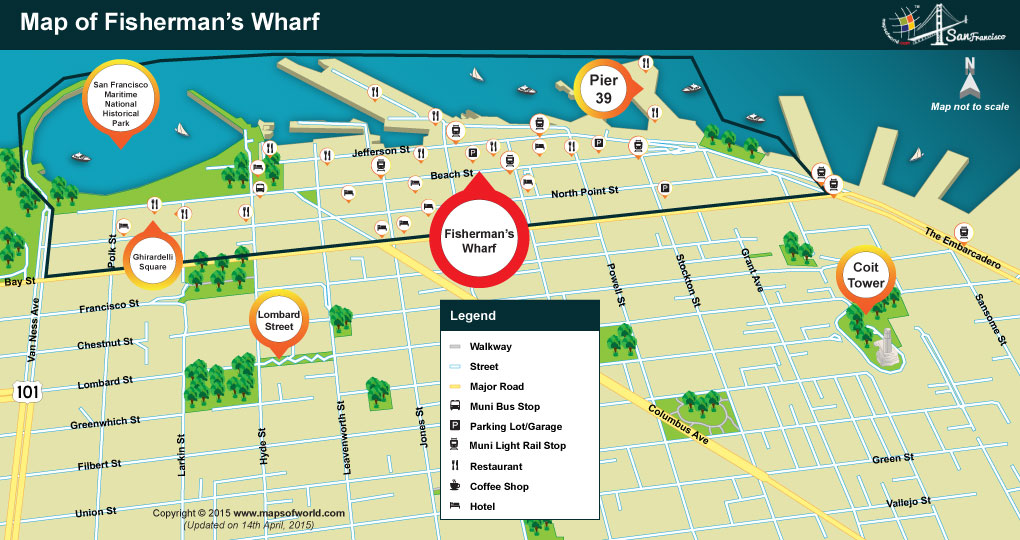 The humble beginnings of Fisherman's Wharf stands in stark contrast to the expansive and crowded attraction that exists today, though hints of the neighborhood's colorful past remain, if you know where to look. The fishing industry there first began to flourish in the mid-1800s, during the California Gold Rush, when entrepreneurial immigrants from fishing villages in Italy saw a business opportunity: capitalizing on the population boom in San Francisco by fishing and selling the seafood to the forty-niners at stalls along the pier. A strong community was established, thronging with fishermen who settled in the nearby North Beach neighborhood, which would become Little Italy, and working each day on the sea and on the pier. Today, these traditions are still alive, with fishermen bringing in their daily haul to sell and serve at Fisherman's Wharf, though the fishing fleet is much smaller. Seafood and Italian restaurants thrive on Fisherman's Wharf, specializing in Dungeness crab and clam chowder in sourdough bread bowls. Some of these restaurants have existed since the early 1900s and have been run by the same family for several generations, including Alioto's, Castagnolas, and Sebella & La Torre.
Things to do in Fisherman's wharf
The hard work of those fishermen, so vital to this city's history, has been memorialized with novelty shops, Applebees, and Madame Tussauds Wax Museum.
That's not to say that there are no remaining historic or authentic places in Fisherman's Wharf, they're just sometimes hard to find, tucked away onto lesser known piers or invisible among the flashy tourist hotspots. Plus, the commercialization of Fisherman's Wharf isn't all bad – the hordes of tourists who flock to the attractions like the Ripley's Believe It Or Not! Museum and the San Francisco Dungeon seem to love it and spend lots of money. I also can't deny the ambiance of a place like the Rainforest Cafe – I'll admit that I kind of love the animatronic animals and listening to the sounds of the jungle while I eat my basic burger. Sure, it's a gimmicky chain with mediocre food, but it's also a place kids will either love or be completely terrified by the huge gorillas throwing tantrums next to their table while they nibble on dinosaur-shaped chicken nuggets, and how can you not appreciate that? It's not all bad that In-N-Out opened a location on the Embarcadero, so at least tourists from out of state can easily access one of the treasures of the West. There are some good seafood spots like the many walk-up counters selling shrimp or crab cocktails, clam chowder in sourdough breadbowls, and fish. There's also restaurants like Cioppino's, Buena Vista Cafe, Scoma's, and the Franciscan Crab Restaurant. Boudin has been baking San Francisco sourdough from the same starter that's been used since 1849, and now a Boudin restaurant serves up seafood and fresh baked bread on Pier 39, while another location on Jefferson Street features the bakery, museum, and of course, a gift shop. I will, however, take a stand against the Applebee's that won the prime location on the corner directly across from the Fisherman's Wharf sign, its logo sure to be prominent in many photos.
The whole area has been engulfed into an enormous tourist trap, avoided by locals, except as a place to jog or bike or bring visiting friends. There's just not much to offer them, and parking is especially horrendous in this area, with insane prices and very limited spots. This is all despite revitalization projects on the wharf, which have added the promenade and plans to highlight some of the historic sites and great views, and maybe even bring the focus back to fresh seafood.
That promenade and the other public spaces around Fisherman's Wharf are usually occupied by a variety of street performers: motionless metallic statues that do the robot when you least expect it, artists, musicians, and break dancers who seem to draw the largest crowds. Most of them are typical street acts that leave me more concerned about getting pickpocketed in the crowd than interested in the show. There are a few exceptions, with unique acts, like the notorious Bushman, who reins as king of street performers. I know that's a divisive issue for those in the know (I won't spoil it here in the hopes that you can experience it for yourself), but it's all in fun and also hilarious. Reports came in 2014, that Bushman 2.0, who worked alongside the original Bushman, had passed away, but the original lives on to continue performing, though I have not seen him recently.
The historic Cannery, built after the 1906 earthquake, was in use by Del Monte (formerly the California Fruit Cannery Association), which produced 200,000 cans every day, making it the largest fruit and vegetable canning plant worldwide. The Cannery has not been used for that purpose since the Great Depression, and it has been converted into a shopping center.
Similarly, Ghirardelli Square is listed on the National Register of Historic Places, for the chocolate factory that began at this location in 1895. Today, the plaza at Ghirardelli Square is home to the Ghirardelli Chocolate Manufactory and Soda Fountain, as well as restaurants and shops.
Interspersed among the gimmicks and tourist traps, there's real stuff to be seen and learned here and there. Just past the pier that houses most of the seafood restaurants, along Jefferson Street is Fish Alley, where a few of the remaining pieces of Fisherman's Wharf history reside. Alioto-Lazio Fish Company, one of the final wholesale seafood vendors has persisted for over 70 years (and is now run entirely by women!). Nearby, the Fishermen's and Seamen's Memorial Chapel serves to memorialize the fishermen who were lost at sea and honor the Madonna del Lume, the Mother of Light, the patroness of fishermen.
At the end of Pier 45, the USS Pampanito and SS Jeremiah O'Brien, used during World War II, now serve as museums. Past Hyde Street Pier, the San Francisco Maritime National Historic Park displays several historic ships and the Maritime Museum along Aquatic Park Cove. Other museums in the area include the Exploratorium and the Aquarium of the Bay.
Fisherman's Wharf is also a departure point for many cruises around the Bay, including some under the Golden Gate Bridge and Bay Bridge or around Angel Island and Alcatraz. Beware: some of these boats tout trips "to" Alcatraz, luring guests on board who expect to be dropped off on Alcatraz. Only one company (Alcatraz Cruises) is contracted to bring visitors to the island, the others just cruise around it. Along the wharf is also where many ferries to and from Oakland, Tiburon, Sausalito, and Vallejo arrive and depart.
The Fisherman's Wharf area is well connected to other parts of San Francisco and the rest of the Bay Area. In addition to the ferries, the Powell-Mason and Powell-Hyde cable car lines run between Fisherman's Wharf and Market Street. The historic F-line street cars use a light rail system to transport heritage streetcars from cities all around the world. The F-line runs all the way down the Embarcadero and down Market Street. With infrastructure designed to lead people toward Fisherman's Wharf, visitors to San Francisco will continue to explore the neighborhood, from the touristy shops and seafood restaurants to the vestiges of the fishermen who built it.
Restaurants in Fisherman's wharf
Scoma's Restaurant
Address: 1965 Al Scoma Way, San Francisco, CA 94133, USA
Opening Hours:  Sunday to Thursday: 11:30am-9pm
Friday to Saturday: 11:30am-10pm
Phone: 415-771-4383
Website: https://scomas.com/
One of the well-known restaurants in San Francisco is Scoma's. Scoma's is a classic San Francisco seafood restaurant. Every time you visit Scoma's, you are going to love the food. Rarely would you get disappointed with one or two items, but who cares as this happens with every quality restaurant. The service is always wonderful and most have been around for decades. Some even say that if you want to have the best fish in San Francisco, you gotta visit the Scoma's. So, if you want to have better food at reasonable prices, you should surely visit the Scoma's.
Franciscan Crab Restaurant
Address: Pier 43, 1/2 Fisherman's Wharf, San Francisco, CA 94133, USA
Opening Hours: Daily – 11:30am to 10pm
Phone: 415-362-7733
Website: https://www.franciscanrestaurant.com/
The Franciscan Crab Restaurant is known for the best seafood dining. Dungeness Crab, Seafood Antipasto, Crispy Crabcakes, fresh oysters, and steamed mussels are the best seafood you can get here. One is obviously going to love the Burrata and salumi as they are freshly made here.
Along with the food, the Franciscan Crab Restaurant also offers an unforgettable view of San Francisco Bay, the Bay Bridge, the Golden Gate Bridge, San Francisco's spectacular skyline, Alcatraz and Fisherman's Wharf.
Gary Danko
Address: 800 North Point St, San Francisco, CA 94109, USA
Opening Hours: Monday to Sunday – 5:30pm to 10pm
Phone: 415-749-2060
Website: http://garydanko.com/
Gary Danko is one of the best restaurants in San Francisco. Due to that, the bookings/ reservation are done in advance. To get a table, you gotta do the booking at least one month in advance.
The ambiance and decor of the Gary Danko are quite beautiful.
If you have booked a table you would have to wait for a maximum of five minutes for the meal to be served. The food is extremely good comprising mouth-watering flavors and textures and the service is superb as well.
Restaurant Gary Danko also continues to refine its award-winning formula of classic French cooking. Every visit to the restaurant is worth your money.
In-N-Out Burger
Address:  333 Jefferson St, San Francisco, CA 94133, USA
Hours: Sunday to Thursday : 10:30am to 1am
Friday and Saturday : 10:30am to 1:30am
Phone:  800-786-1000
Website: http://locations.in-n-out.com/154
Everyone knows that "Quality" is everything. In-N-Out Burger is known for its quality which is much better than that of Mc Donalds, Wendy's, etc. In-N-Out Burger provides Classic California-based burger with patties, fries and strawberry shakes.
Their food is always fresh and hot! The strawberry shake is too thick and it tastes like strawberry ice cream in a cup. It is quite difficult to drink it with a straw. But you got to trust me you got to try this place at least once if you already haven't. You are surely going to fall in love with their burgers. The ambiance is quite good, service is efficient, but the place is a bit overcrowded at times.
One can get a good variety of options to eat, which have delicious tastes.
Cioppino's
Address: 400 Jefferson St, San Francisco, CA 94109, USA
Hours: Sunday to Thursday : 11am – 10pm
Friday & Saturday : 11am – 10:30pm
Phone: 415-775-9311
Website: http://cioppinos.letseat.at/
Cioppino is a scrumptious and flavorful seafood soup which is uniquely San Franciscan. This soup is so good that they named their restaurant after it. It is their signature dish and if you visit there, you gotta try it.
The ambiance of the cioppino is very good but you can even sit outside and have your meal.
The Food is quite delicious, which is served by a courteous and professional staff.
The prices are reasonable and worth your money.
Buena Vista Cafe
Address: 2765 Hyde St, San Francisco, CA 94109, USA
Hours: Monday to Friday – 9am to 2am
Saturday & Sunday – 8am to 2am
Phone: 415-474-5044
Website: http://www.thebuenavista.com/
Buena Vista cafe was opened in 1916. This corner spot serves the signature Irish coffee along with American staples. Buena Vista Cafe is credited with introducing Irish coffee to the United States. Trust us when we say, Irish Coffee always tastes better at Buena Vista Cafe!
I don't know how they do it, but it seems so simple, and no one does it better than them.
This place is highly crowded and the waiting time is pretty long. But believe me, it's worth the wait.
Fiddler's Green of SF
Address : 1333 Columbus Ave, San Francisco, CA 94133, USA
Hours : Sunday to Wednesday : 11:30am to 12am
Thursday to Saturday : 11:30am – 2am
Phone : 415-655-3220
Website : http://fiddlersgreen-sf.com/
Fiddler's Green is known for its concept, which is even called as two in one.
The lounge is one and it is used for two purposes.
Fri/Sat nights are called as the "dance nights". Many have claimed that this is one of the best dance floors in San Francisco. So you have to come and experience this multi-layer and multi-room lounge.
During the day, the Lounge provides San Francisco's unique multi-themed experience. Their elevated seating area utilizes the latest technology to bring the ultimate sports entertainment experience to your casual or private event. They even have the full lighting control feature, regardless of the time of day, to provide the right level of lighting for private event needs.
Paint and Wine, Comedy-nights are some of the high energy events which take place at fiddler's green.
---
San Francisco: Fishermans Wharf Video

Address: Fisherman's Wharf – Jefferson Street, Between Hyde and Powell Streets, San Francisco, CA 94133
Contact no: 415-673-3530
Website: http://www.fishermanswharf.org/
Nearby Restaurants– Capurro's Restaurant, Boudin Museum and Bakery Tour, Crab House at Pier 39, Mama's – Restaurant
Nearby Tourist Attractions– Lombard street, The San Francisco Dungeon, Alcatraz Island, Pier 39, Coit tower
Published On:
Saturday, April 15th, 2017