The Exploratorium is an interactive museum in San Francisco that's educational and entertaining for people of all ages. Full of exhibits that showcase various aspects of science, technology, and art, the Exploratorium offers hands-on learning experiences and allows exploration of so many real-world concepts.
In its new home on the Embarcadero at Pier 15 (after many years at the Palace of Fine Arts), the Exploratorium is walking distance to the Ferry Building and not far from Fisherman's Wharf or the Embarcadero BART station.
Map of Exploratorium showing its location and nearby attractions :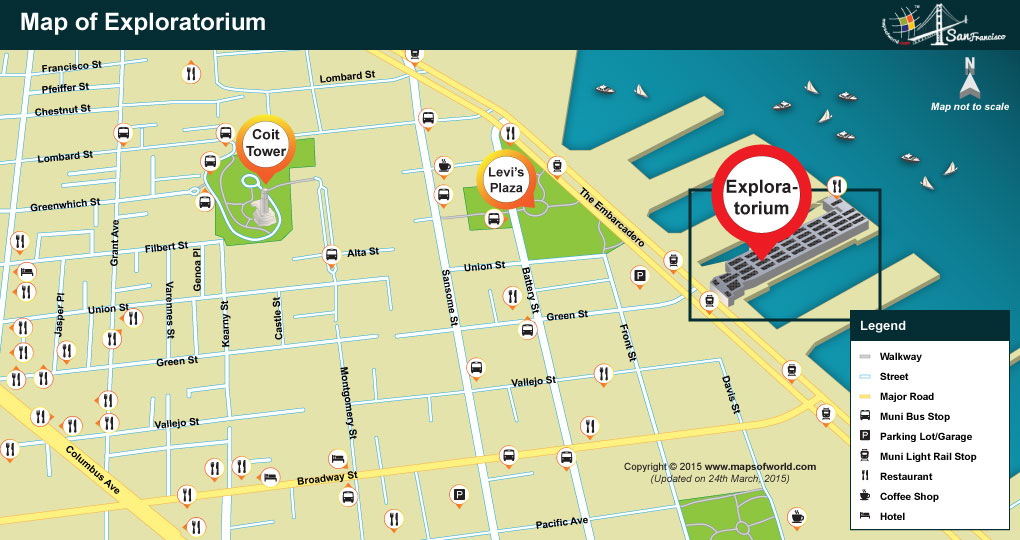 The Exploratorium is one of the best cold or rainy day activities in San Francisco. It's a great place to take kids any day, and while children of all ages would enjoy it, the Exploratorium seems best suited for elementary school-aged children, from about 6 to 12. Toddlers will enjoy a lot of the colorful and playful exhibits but older kids will get a lot more out of it. There's plenty for adults to enjoy too – bring a few friends and you'll spend hours laughing and feeling like a kid again (but you can expect to have eager kids pushing in front of you at the exhibits). And if you can't handle the kids or just prefer to explore with a cocktail in hand, check out After Dark at the Exploratorium on Thursday nights (6 pm to 10 pm) for their 18+ event with special themes each week ($15).
Before you even enter the Exploratorium, there are some rotating outdoor exhibits, like the portable camera obscura on display the day I visited, in which you can sit inside and spy on all the people walking by. There's also a museum store with lots of activity kits and nerdy toys and a museum café, the Seismic Joint Café that offers some good but expensive food, and the Bay Observatory's SeaGlass Restaurant.
Leave your stuff in the lockers up front (50 cents) so you can be free to get hands on with the exhibits, but hang on to your camera because there are so many great photo ops. One fun photo op is the toilet drinking fountain near the entrance, which gives visitors a chance to think about why we might choose the standard drinking fountain over the one that looks like a toilet when both offer perfectly clean water, but mostly it's just fun to take a silly picture drinking out of a toilet. Other photo favorites include the room that makes groovy colorful silhouettes, the giant mind-boggling inverted mirror, and the shadow box room, in which a blinding flash of light temporarily prints your shadow onto the walls in a display on phosphorescence.
Everywhere you look inside this huge 330,000 square foot space is another exhibit, from informative displays to educational toys that deal with physics, electricity, sound, images, human interaction and psychology and more. The tinkering zone lets visitors build contraptions, design a pinball game, learn how electricity is conducted by becoming a circuit, and see how things are constructed and created. True to the museum's purpose, right there in the Exploratorium is the real workshop where many of the museum's new exhibits are made, and visitors, if they're lucky, can watch the builders in action.
In another part of the Exploratorium, there are life science exhibits with microorganisms, insects and small reptiles, and plant life, including a Mimosa pudica, or the Sensitive Plant, which has long leaves that close up when you touch them.
Another section explores the way we see and hear, including some of my favorite exhibits that demonstrate the way our bodies work. One showed how we each see color differently and another allowed us to see the blood cells moving around in our eyeballs. Then there was the voice changing machine which allowed us to change the pitch of our voices while talking to a friend, which was hilarious and we laughed until we cried playing with it.
The fox walking exhibit is a fun way to challenge your friends. The quiet room has a gravel floor with microphones that measures how softly you can walk, so you can finally prove once and for all that your roommate really does stomp around louder than necessary.
A fun and also very creepy date activity is the face merging exhibit: each of you sits on one side of a mirror, then you adjust the knobs to allow for some transparency and see what your faces look like merged (and find out what monstrosities you might have for children).
There are games, like Team Pacman or Team Snake, which works just like the early cell phone game we all remember from our Nokias except it requires cooperation: each player only controls one direction. There are some other psychological experiments, including one that demonstrates the prisoner's dilemma.
The exhibits around the Exploratorium offers sensory experiences to make you rethink the way you view the world. For an additional ticket ($15), visitors can enter the Tactile Dome and navigate the maze and all its obstacles in complete darkness, relying on senses other than sight to make sense of everything.
There are enough activities and exhibits to last you a full day, and at a minimum visitors should allow 3-4 hours to at least make a dent in them. I was there for over 4 hours and couldn't make it to the outdoor exhibits before the museum closed (and a 5pm is way too early to close on weekends). It's easy to lose track of time but the kindly escort patrons out promptly at closing time.
The Exploratorium is a fantastic place to have some fun with your kids or your friends or maybe even some strangers (Will somebody answer the red phone already? Satisfy that urge you've always felt to answer that random unattended phone starts ringing, and pick up!)
Don't forget the hand sanitizer.
Exploratorium Info:
Address: Pier 15 The Embarcadero, San Francisco, CA 94111, USA
Hours:
Monday- closed
Tuesday- Wednesday-  10AM-5PM
Thurday- 10AM-5PM, 6-10PM
Friday- Sunday- 10AM-5PM
Phone: 415-528-4444
Website: https://www.exploratorium.edu/
While weekends can be somewhat less busy than weekends, there are often school field trips that keep the Exploratorium busy frequently. The crowds are at their absolute worst when the Exploratorium is open for holidays or free days.
Free days: Groundhog Day (February 1, 2015), Pi Day (March 14, 2015), Mother's Day (May 10, 2015), Engineering Day (Septempber 27, 2015), and Founders Day (October 11, 2015) and Winter HoliDay (December 6, 2015).
Tickets: Regularly priced tickets are $29 for adults, discounted tickets for teens, teachers, students, seniors, and people with disabilities are $24, tickets for kids 4-12 is $19 and younger children get in free. There are discounted ticket prices for Bay Area residents that cost $22 for adults, $19 for teens, teachers, students, seniors, and people with disabilities, and kids 4-12 cost $17. Children 3 and under- FREE. California public school teachers can apply for free admission.
Tickets are a bit pricy but definitely worth the cost, plus it's a non-profit so it doesn't hurt to support their efforts.
You can purchase your tickets online ahead of time and skip the long lines, especially if you plan to get there early during peak travel season. You don't even have to print them, just pull the tickets up on your smartphone.
Nearby Restaurants– Tonga Room & Hurricane Bar, Stella Pastry and Café, Mama's – Restaurant, Barbacco Eno Trattoria Restaurant
Nearby Tourist Attractions– North beach garage, Ferry building, Magowan's Infinite mirror maze, Pier 39, Fisherman's wharf
Published On:
Thursday, January 5th, 2017