San Francisco's Chinatown is a portal into an important part of San Francisco's history, as well as a rich cultural center. The first big wave of Chinese immigrants arrived to San Francisco, the main point of entry, mostly from the Guangdong province during the Gold Rush, with hopes of building their fortunes and escaping the Taiping Rebellion. Many more labourers arrived to work laying track for the Transcontinental Railroad in the 1860s. Early immigrants from China faced serious discrimination, some of which was federally mandated with a 10-year ban on immigration from China in the Chinese Exclusion Act. Those who did settled in San Francisco built an enclave in the one place they were allowed, in which they could preserve their culture and community.
Chinatown Attractions
Today, San Francisco's Chinatown is touted as the largest outside of Asia and the oldest in North America, where visitors come from around the world to experience the rich culture. The dense neighborhood, most of which is sandwiched between its main thoroughfares, Grant and Stockton Streets, though it spills out in every direction, is characterized by busy streets, open air markets, and Chinese restaurants everywhere. Pass through the Dragon Gate at the intersection of Grant Avenue and Bush Street and be transported out of San Francisco and into China.
Location Map of Chinatown, San Francisco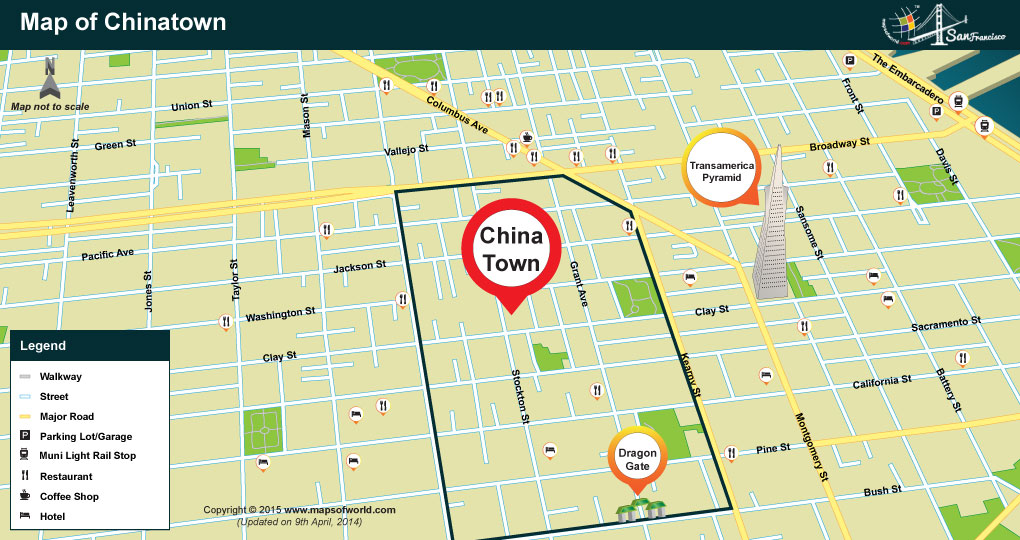 The streets themselves denote their neighborhood, welcoming you with red paper lanterns dangling over the streets that beckon you, come closer. The architecture, with embellishments and pagoda roofs, the markets selling exotic fruits spilling out onto sidewalks, the restaurants with whole ducks hanging in the windows, and the signs printed everywhere in Chinese characters offer the promise of a cultural experience. The neighborhood is well connected to the rest of San Francisco, located a few hilly blocks from BART's Montgomery station, both the Hyde-Powell and California cable car lines pass through Chinatown, and Little Italy is right next door.
It's exotic travel for the lazy or afraid or too broke to afford a flight to China. The streets hum with activity: trucks bringing deliveries, businessmen streaming from Market Street to grab lunch, shopkeepers greeting customers at their doors, and tourists swarming, of course. Chinatown especially comes alive during Chinese New Year each spring and the Moon Festival every autumn.
Chinatown is a full sensory experience. The smells of barbecued meats, baked goods, herbs and spices, fried foods and dried fish with eyes are sometimes foul and often overwhelming. It may be one of the last neighborhoods in San Francisco where smoking is still common. The dingy high rises are juxtaposed to the colorful produce and giant murals depicting scenes of Chinese-American history and struggles, and souvenir shop windows pushing cheap trinkets and stereotypical Chinese wares. Voices speaking Cantonese echo through the alleys, punctuated by the snapping of cheap fireworks on sidewalks, cars honking, and at times the soundtrack of a traditional Chinese quartet made up of old men playing stringed instruments from a street corner.
The dynamic streets of Chinatown are perfect for people watching, but since there are not many places to sit and observe, it's best to watch in passing. There are many opportunities for interesting cultural exchanges, even those prompting important life lessons, like learning where food comes from – a mother carefully explaining to her young child how the fish we eat are related to the fish we keep as pets, and a child vowing never to eat fish again. There are hundreds of shops and restaurants packed into each block, built vertically, with dense housing above the marketplace.
On the main tourist zone on Grant Street there are dozens of souvenir markets selling inexpensive gifts, fake jade jewelry, decorative fans, chopsticks and pajamas inspired by traditional Chinese formal wear. Many shops specialize in general San Francisco souvenirs like magnets and shot glasses, and the cheapest t-shirts you'll find in the city. Most of the stores offer the same tchotchkes, and prices hardly vary between stores. These shops are mixed in with fine jewelry stores, bakeries, massage parlors, and restaurants.
Dim sum, the style of dining on small plates, especially dumplings and steamed buns and egg tarts are popular in Chinatown, with varying degrees of authenticity. Some restaurants in Chinatown cater to tourists, with English menus and English-speaking staff and probably Americanized menus, while at others there's no English within earshot, so I hope you're adventurous, because I have no idea what you just ordered. Just go with the flow and don't be a vegetarian and you'll be fine. These restaurants are best visited with friends so that you can try as many dishes as possible. On some of the cross streets are more authentic markets displaying more varieties of mushrooms than I ever knew existed and smelly durian.
The storefronts of Chinese medicinal shops have strange objects kept in jars of liquid, making them look like alien specimens or the organs of an animal, but I know they're mostly just roots. They're surrounded by other odd things like dried seahorses or mysterious herbs, which add to the air of mystery around Chinese medicine, though I'm sure their uses are fairly mundane. The tiny alleys of Chinatown offer a glimpse into the private lives of residents, who mull about, smoking or hanging clothes to dry out their windows. Groups of men sit around playing chess, and women chatter over mahjong tiles what sounds like gossip. It's amazing to see this transplanted culture, a way of life brought from China and seemingly unchanged in the move, preserved over time in this enclave. The narrow streets feel intimate, though crammed, and in some there are (marginally) hidden treasures like the Golden Gate Fortune Cookie factory in Ross Alley, where the cookies are folded and the fortunes inserted inside them.
It's true that Chinatown feels a bit dirty, there are a lot of smells, melted ice from seafood deliveries spilled on sidewalks, people spitting on sidewalks, and drips from eaves when it hasn't rained in months, there isn't a lot of litter on the ground. Looking closely into the crowds, you can tell that there's a strong sense of community here, with impromptu meetings between friends on street corners and conversations with shop owners standing in doorways talking to regulars. Women grocery shop, towing behind them grandchildren and wheeled carts filled with the ingredients for tonight dinner. The murals convey a sense of history, reminders of the origins of this community, the deep roots and common culture, which are also preserved at sites including the Chinese Cultural Center of San Francisco, the Chinese Historical Society of California (on Sacramento street), temples, and Portsmouth Square where people gather to practice tai chi, play games and watch their children on the playgrounds. Explore Chinatown through this beautiful video.
Chinatown San Francisco Video
---
Address: Grant Avenue and Bush St, San Francisco, CA 94108
Website: www.sanfranciscochinatown.com
Nearby Restaurants– Tonga Room & Hurricane Bar, Stella Pastry and Café, Mama's – Restaurant, Barbacco Eno Trattoria Restaurant
Nearby Tourist Attractions– North beach garage, Exploratorium, Ocatogon house, Alcatraz Island
Published On:
Thursday, January 5th, 2017