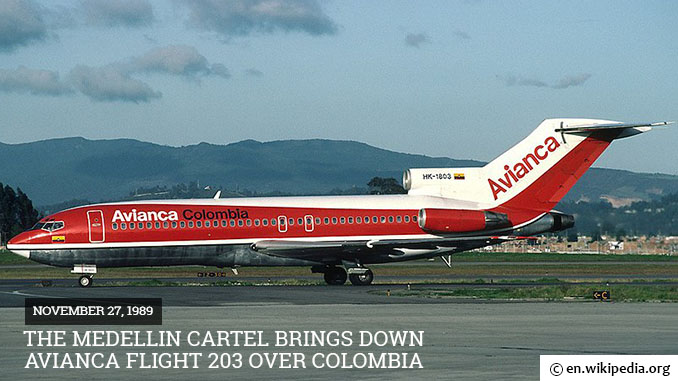 The specter of terrorism fell on a new continent when members of Pablo Escobar's cocaine trafficking organization, the Medellin Cartel, planted a bomb on Avianca Flight 203, bringing down the aircraft on November 27, 1989. The Boeing 727, leaving the Colombian capital of Bogota for Cali, exploded five minutes after take-off, killing 110.
For almost two decades, the Medellin Cartel processed coca leaves into the fine white powder that would make it rich. In the early 1980s, as several competing factions began earning millions by shipping cocaine off to the United States and other countries, Colombia slowly turned into a war zone. Emboldened by the ability to buy nearly any weapon they chose thanks to $60 million in profit per day, attacks became worse as the end of the decade neared.
Afraid of transfer to the US if they were captured, drug kingpins began to order the murder of Colombian officials in favor of capturing Cartel members for trial in American courts.
By 1989, the policy became an overt assault on the national government and anyone who might want to be in it. Car bombs went off in May, September and October, killing eight and wounding hundreds. In between, presidential candidate and outspoken proponent of extradition Luis Carlos Galan was assassinated on August 18th — in the middle of a public rally, no less. The Cartel would clearly go to any lengths to protect its interests.

Early in the morning of November 27, 1989, Escobar and his men demonstrated just how ruthless they were willing to be. At 7:16am, climbing past an altitude of 13,000 feet, Flight 203 was torn apart by an explosion five minutes after leaving the runway at El Dorado International Airport in Bogota. The bomb detonated near a fuel tank, ripping the plane in two and igniting the jet fuel inside. The 107 passengers and crew were killed almost instantly. Three people on the ground below, walking in the suburb of Soacha, died when shrapnel from the falling aircraft hit them, making the attack the deadliest in Colombian history by far.
Designed to murder presidential candidate Cesar Gaviria Trujillo, the Cartel had missed their target — Trujillo had switched to a different flight. (He would go on to win the 1990 presidential election.) Two Americans were among the people seated on the plane, giving US President George H.W. Bush cause to supply new assets to the Colombian fight against the traffickers. It signaled the beginning of the end for Escobar.
Though assassin Dandeny Munoz Mosquera would later be convicted in a United States District Court in 1991, the real prize for officials was the man at top. Using equipment and personnel loaned to them by the United States government, the Colombian Search Bloc coordinated Centra Spike, an effort to capture Escobar. Four years after he demanded the plane brought down, the wealthy cocaine lord was dead on the roof of a Medellin apartment complex.
Also On This Day:
1095 – Pope Urban II declares the First Crusade, ending the Council of Clermont
1895 – Inventor Alfred Nobel signs his last will and testament, establishing a Nobel Prize after he dies
1924 – The first Macy's Thanksgiving Day Parade is held in New York City
1942 – The French Navy is scuttled at Toulon in order to keep it out of Nazi hands
2005 – A partial human face transplant is completed for the first time at a hospital in Amiens, France