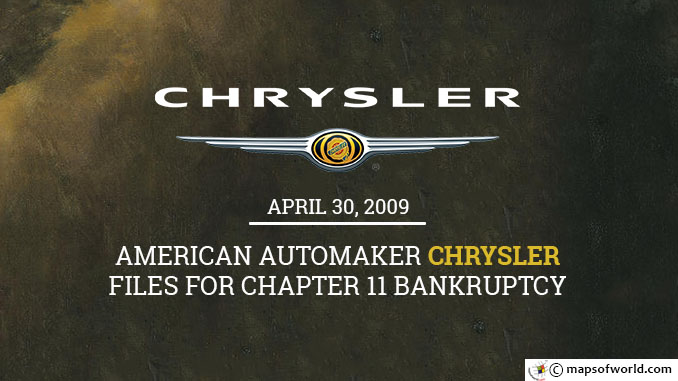 *Image Credit: Wikimedia Commons
Six months after the United States Congress passed legislation authorizing the purchase of assets from a variety of industries, news from the American auto industry worsened on April 30, 2009 when Chrysler LLC announced it would be filing for the Chapter 11 bankruptcy protection. Unable to secure approval from its creditors for a plan to reorganize, the company was forced to seek additional funding from the Treasury Department and folded into the portfolio of Italian carmaker Fiat. Investors shuddered: the global economic freefall was clearly far from over.
The problem began around the middle of 2006, when home prices in the US reached an artificial high. For approximately two years, banking houses engaged in subprime lending — mortgage interest rates were set below the standard — at a record pace. In order to compensate for these too-low annual percentages at the beginning, the mortgages adjusted upward to above-prime rates after a two- or three-year period. Many buyers believed they would be able to refinance by that time, but were denied as credit markets tightened up, meaning vast numbers of loans were falling into default.
In a matter of months, home values were plummeting and foreclosures were skyrocketing, exposing a variety of speculative transactions in the banking and insurance industries. Almost overnight, a number of American institutions were wilting under the spotlight of new scrutiny. Major financial organizations, saddled with bad debts from these questionable investments, were in danger of folding altogether. Other "blue chip" companies were soon revealed to be under the yoke of poor assets, much like homeowners in possession of homes suddenly valued well below the cost to purchase them.
For car manufacturers, these assets were hulking sport utility vehicles made less attractive thanks to rising gas prices. When President George W. Bush signed Congress' Troubled Asset Relief Program (TARP) into law, the hope was that it might spur new lending from the banks because once-shaky securities would be backed by the federal government. Sensing an opportunity to improve the financial health of their companies, executives from Chrysler and General Motors (GM) sought billions in federal loans — a request that revealed just how difficult the circumstances were: both had significant problems with design and manufacturing costs with little to show for it but lower-quality, uncompetitive products.
As President Barack Obama took office the following January, it became clear more had to be done to rescue a key component of the American workforce. With as many as 4 million people employed directly or indirectly by the "Big Three" — Ford, GM and Chrysler — Obama announced on February 9, 2009 that a Task Force on the Auto Industry would be formed in order to chart the best course. After less than three weeks in office, Obama was determined to be sure the taxpayers were making a sound investment.
Consisting of a variety of upper-level cabinet members — including the Secretaries of Treasury, Commerce and Transportation — and economists from several divisions of the federal government, the Task Force immediately scoured the plans submitted by Chrysler and GM for restructuring. Following an intense six weeks of study, the group submitted a list of recommendations to the President for the automakers to receive additional funding. During a press conference on March 30, 2009, Obama laid out the results of the Task Force's findings, criticizing the two organizations for refusing to take the necessary steps while promising guarantees the government would cover operating expenses for a short period of time.
Chrysler executives and their parent company Cerberus Capital Management were given 30 days to find a way out of bankruptcy while also making concessions to follow new requirements for quality on vehicles produced. Forced to beg creditors for decreased payments in order to comply with the Task Force's stipulations, Chrysler officials were left no choice but to enter a Chapter 11 bankruptcy claim in a New York federal courtroom on April 30, 2009.
The next day, it became clear Chrysler would be undergoing tremendous change: a whole new organization would take shape — one devoid of the massive liabilities and streamlined for an easier sales process. In addition, the Italian automaker Fiat would take a 20 percent stake to drive new production under the Chrysler badge and introduce its models to the American market. The US and Canadian governments would each also be part of the new ownership group, with the United Auto Workers employee union taking on the lion's share. Chrysler's plant operations would temporarily cease until the transaction was complete, then reopen for a retooling process designed to make operations more efficient.
With monthly sales continuing to fall as the world suffered a heavy recession, the worst was far from over. A month later, GM was forced into bankruptcy, as well, marking the nadir of a horrible run for the American auto industry. Three years later, as the 2012 Presidential election loomed, the carmakers had turned around, giving Obama a success story to tout as he sought to retain office. His running mate, Vice President Joe Biden, frequently proclaimed on the campaign trail that "Bin Laden is dead and GM is alive," but that hid a startling fact: Chrysler had already repaid the more than $12 billion in loans it had received.
Also On This Day:
311 – Roman persecution of Christians begun by Diocletian officially comes to an end in the Eastern Roman Empire.
1777 – German mathematician and scientist Carl Friedrich Gauss is born.
1789 – In New York City, at Federal Hall on Wall Street, George Washington takes the oath of office as the first President of the United States.
1803 – The United States completes the purchase of Louisiana Territory from France.
1993 – CERN announces World Wide Web protocols developed by Tim Berners-Lee will be free to the public.