Next Story
Countries with the Longest Working Hours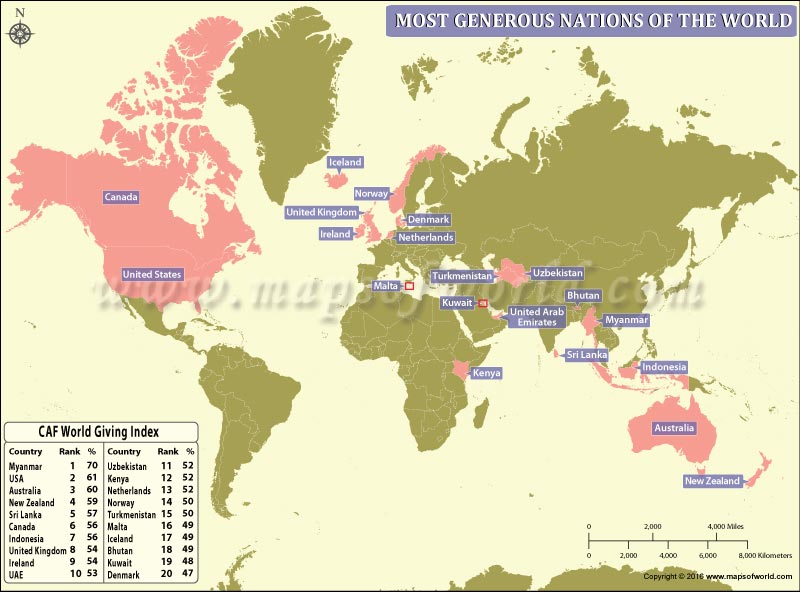 If you have a theme, we have a map.
Contact us for your custom mapping requirements
Disclaimer: This Article and the map image is based on the findings of Charities Aid Foundation. Copyright to the findings/data belong to Charities Aid Foundation exclusively. The findings are used in this article in good faith, for information purpose only without any intention to claim any rights on the findings.
The world is becoming a much generous place. News of large sums of charities or donations being given to the poor or the underprivileged keep pouring everyday keeping our faith in humanity intact. But generosity and wealth may not always be complimentary to one another. For e.g., Myanmar may not be the most prosperous nation in the world, but it is definitely the most generous. As per the Charities Aid Foundation, Myanmar tops the list with a world giving index score of 70 percent. Coming second on the list is the United States of America followed by Australia on the third spot. New Zealand follows its neighbor Australia closely and is the fourth most generous country in the world.
Giving charities and donations to the needy is also a way of life in Sri Lanka, which ranks fifth as the most generous country in the world; while Canada is not far behind and occupies the sixth spot. Coming up on the seventh rank is the Asian nation of Indonesia. The United Kingdom and Ireland are the only European nations that have been placed among the top ten nations. While the United Kingdom is placed eighth, Ireland is ninth. The Middle Eastern nation of the United Arab Emirates is placed 10th.
Other nations that find mention on the top twenty list are Uzbekistan, Kenya, The Netherlands, Norway, Turkmenistan, Malta, Iceland, Bhutan, Kuwait, and Denmark.
Recent Posts