Next Story
Global Competitiveness Index: Switzerland Bags the Top Rank for the Eighth Year in a Row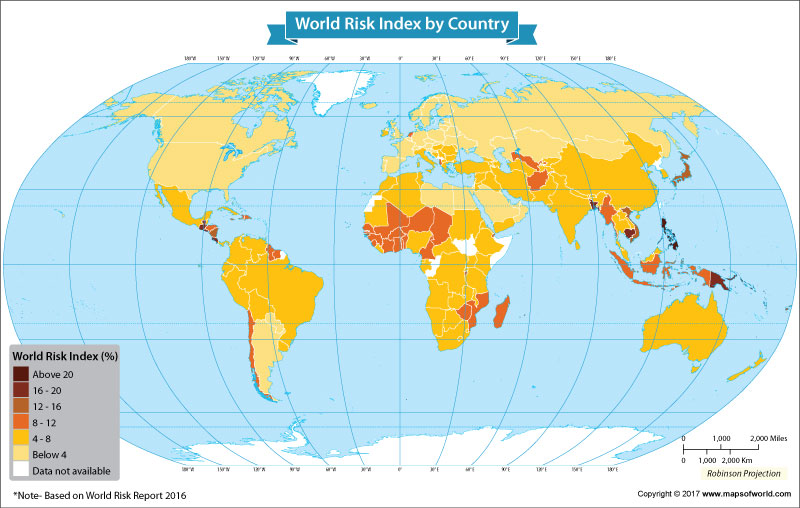 If you have a theme, we have a map.
Contact us for your custom mapping requirements
Natural disasters can have a devastating impact on nations in terms of both economic damages as well as loss of human life. Further, weak logistic chains and lack of critical infrastructure result in natural events becoming a disaster. In case of a disaster, it is imperative that humanitarian aid from within the nation and overseas reaches the affected people to lessen the loss of human lives.
Aid may be hindered due to unreliable electricity grids, crumbling transport routes and damaged buildings. As such it is imperative that, the governments invest in the establishment of critical infrastructure.
A well-maintained and high-quality infrastructure can prevent or lessen the disastrous consequences of storms or floods, and ensure a smooth flow of aid. Some nations have strengthened their infrastructure while others have not been able to do so and thus, feature high on the World Risk Index of 2016. The 171 countries in the report are ranked according to their risk of becoming a victim due to natural hazards such as earthquakes, floods, cyclones, etc.
According to the 2016 World Risk Index, Vanuatu was the riskiest place to live. It had a world risk index score of 36.28 percent. Tonga was at the second spot, with a score of 29.33 percent, and the Philippines at the third place, with a risk index of 26.70 percent.
Nations such as Guatemala, Bangladesh, Costa Rica, Cambodia, and a few others were also prone to risk with risk factors ranging between 16-to-20 percent. Countries such as Pakistan, India, Peru, China, Malaysia, Thailand, Swaziland, Sri Lanka, Greece and many others had a risk index between 4-to-8 percent.
Croatia, Libya, the United States, Russia, the United Kingdom, Slovenia and a number of other countries had an index score of under 4 percent.
Meanwhile, according to the 2016 report, Qatar was the safest country in terms of natural disasters. Qatar occupied the safest tag and was placed at the 171 rank with an index percentage of 0.08, because of its strategic location as well as high level of development. Malta was slightly behind Qatar with a rank of 170 and an index score of 0.60 percent.
| Rank | Country | World Risk Index (%) |
| --- | --- | --- |
| 1 | Vanuatu | 36.28% |
| 2 | Tonga | 29.33% |
| 3 | Philippines | 26.70% |
| 4 | Guatemala | 19.88% |
| 5 | Bangladesh | 19.17% |
| 6 | Solomon Islands | 19.14% |
| 7 | Brunei Darussalam | 17.00% |
| 8 | Costa Rica | 17.00% |
| 9 | Cambodia | 16.58% |
| 10 | Papua New Guinea | 16.43% |
| 11 | El Salvador | 16.05% |
| 12 | Timor-Leste | 15.69% |
| 13 | Mauritius | 15.53% |
| 14 | Nicaragua | 14.62% |
| 15 | Guinea-Bissau | 13.56% |
| 16 | Fiji | 13.15% |
| 17 | Japan | 12.99% |
| 18 | Viet Nam | 12.53% |
| 19 | Gambia | 12.07% |
| 20 | Jamaica | 11.83% |
| 21 | Haiti | 11.68% |
| 22 | Chile | 11.65% |
| 23 | Benin | 11.39% |
| 24 | Guyana | 11.39% |
| 25 | Niger | 11.24% |
| 26 | Madagascar | 11.15% |
| 27 | Dominican Republic | 10.96% |
| 28 | Cameroon | 10.91% |
| 29 | Chad | 10.85% |
| 30 | Honduras | 10.68% |
| 31 | Cape Verde | 10.39% |
| 32 | Senegal | 10.38% |
| 33 | Togo | 10.36% |
| 34 | Djibouti | 10.30% |
| 35 | Burundi | 10.28% |
| 36 | Indonesia | 10.24% |
| 37 | Sierra Leone | 10.21% |
| 38 | Zimbabwe | 10.06% |
| 39 | Burkina Faso | 9.54% |
| 40 | Albania | 9.50% |
| 41 | Afghanistan | 9.50% |
| 42 | Myanmar | 8.90% |
| 43 | Cote d'Ivoire | 8.88% |
| 44 | Mozambique | 8.69% |
| 45 | Uzbekistan | 8.59% |
| 46 | Suriname | 8.44% |
| 47 | Ghana | 8.39% |
| 48 | Mali | 8.39% |
| 49 | Netherlands | 8.24% |
| 50 | Guinea | 8.20% |
| 51 | Sudan | 7.99% |
| 52 | Nigeria | 7.98% |
| 53 | Malawi | 7.98% |
| 54 | Mauritania | 7.95% |
| 55 | Kyrgyzstan | 7.86% |
| 56 | Liberia | 7.84% |
| 57 | United Republic of Tanzania | 7.65% |
| 58 | Ecuador | 7.53% |
| 59 | Swaziland | 7.52% |
| 60 | Bhutan | 7.51% |
| 61 | Trinidad and Tobago | 7.50% |
| 62 | Algeria | 7.36% |
| 63 | Sri Lanka | 7.32% |
| 64 | Comoros | 7.29% |
| 65 | Panama | 7.26% |
| 66 | Zambia | 7.25% |
| 67 | Congo | 7.19% |
| 68 | Serbia | 7.12% |
| 69 | Rwanda | 7.09% |
| 70 | Ethiopia | 7.04% |
| 71 | Central African Republic | 7.03% |
| 72 | Pakistan | 6.96% |
| 73 | Lesotho | 6.84% |
| 74 | Kenya | 6.77% |
| 75 | Tajikistan | 6.72% |
| 76 | Greece | 6.70% |
| 77 | India | 6.64% |
| 78 | Peru | 6.59% |
| 79 | Belize | 6.55% |
| 80 | Uganda | 6.52% |
| 81 | Angola | 6.52% |
| 82 | Morocco | 6.45% |
| 83 | Colombia | 6.45% |
| 84 | Turkmenistan | 6.44% |
| 85 | China | 6.39% |
| 86 | Malaysia | 6.39% |
| 87 | Eritrea | 6.35% |
| 88 | Georgia | 6.27% |
| 89 | Thailand | 6.19% |
| 90 | Cuba | 6.13% |
| 91 | Bosnia and Herzegovina | 6.10% |
| 92 | Armenia | 6.07% |
| 93 | Gabon | 6.04% |
| 94 | Yemen | 5.97% |
| 95 | Mexico | 5.97% |
| 96 | Venezuela | 5.93% |
| 97 | Romania | 5.92% |
| 98 | Republic of Macedonia | 5.87% |
| 99 | Syrian Arab Republic | 5.69% |
| 100 | Lao People's Democ. Republic | 5.59% |
| 101 | South Africa | 5.58% |
| 102 | Azerbaijan | 5.54% |
| 103 | Tunisia | 5.40% |
| 104 | Namibia | 5.37% |
| 105 | Hungary | 5.32% |
| 106 | Turkey | 5.20% |
| 107 | Botswana | 5.14% |
| 108 | Nepal | 5.12% |
| 109 | Lebanon | 5.01% |
| 110 | Republic of Moldova | 4.79% |
| 111 | Iran (Islamic Republic of) | 4.73% |
| 112 | Ireland | 4.60% |
| 113 | Korea, Republic of | 4.59% |
| 114 | Bolivia | 4.58% |
| 115 | Jordan | 4.58% |
| 116 | New Zealand | 4.55% |
| 117 | Iraq | 4.49% |
| 118 | Equatorial Guinea | 4.46% |
| 119 | Italy | 4.42% |
| 120 | Bulgaria | 4.22% |
| 121 | Australia | 4.22% |
| 122 | Bahamas | 4.14% |
| 123 | Brazil | 4.09% |
| 124 | Uruguay | 4.03% |
| 125 | Croatia | 3.97% |
| 126 | Libyan Arab Jamahiriya | 3.79% |
| 127 | United States | 3.76% |
| 128 | Russia | 3.58% |
| 129 | Argentina | 3.56% |
| 130 | Kazakhstan | 3.56% |
| 131 | United Kingdom | 3.54% |
| 132 | Paraguay | 3.48% |
| 133 | Portugal | 3.45% |
| 134 | Slovenia | 3.41% |
| 135 | Austria | 3.39% |
| 136 | Slovakia | 3.39% |
| 137 | Czech Republic | 3.37% |
| 138 | Latvia | 3.31% |
| 139 | Kuwait | 3.28% |
| 140 | Poland | 3.20% |
| 141 | Belarus | 3.11% |
| 142 | Mongolia | 3.08% |
| 143 | Belgium | 3.07% |
| 144 | Spain | 3.05% |
| 145 | Canada | 3.01% |
| 146 | Ukraine | 2.97% |
| 147 | Germany | 2.95% |
| 148 | Lithuania | 2.92% |
| 149 | Denmark | 2.89% |
| 150 | Cyprus | 2.68% |
| 151 | Oman | 2.64% |
| 152 | France | 2.62% |
| 153 | Seychelles | 2.55% |
| 154 | Luxembourg | 2.43% |
| 155 | Switzerland | 2.37% |
| 156 | Estonia | 2.36% |
| 157 | Israel | 2.30% |
| 158 | Egypt | 2.29% |
| 159 | Singapore | 2.27% |
| 160 | Finland | 2.21% |
| 161 | Norway | 2.19% |
| 162 | Sweden | 2.12% |
| 163 | United Arab Emirates | 1.97% |
| 164 | Kiribati | 1.78% |
| 165 | Bahrain | 1.69% |
| 166 | Iceland | 1.52% |
| 167 | Grenada | 1.42% |
| 168 | Barbados | 1.32% |
| 169 | Saudi Arabia | 1.14% |
| 170 | Malta | 0.60% |
| 171 | Qatar | 0.08% |
Recent Posts