Next Story
Time to Rid the World of Anemia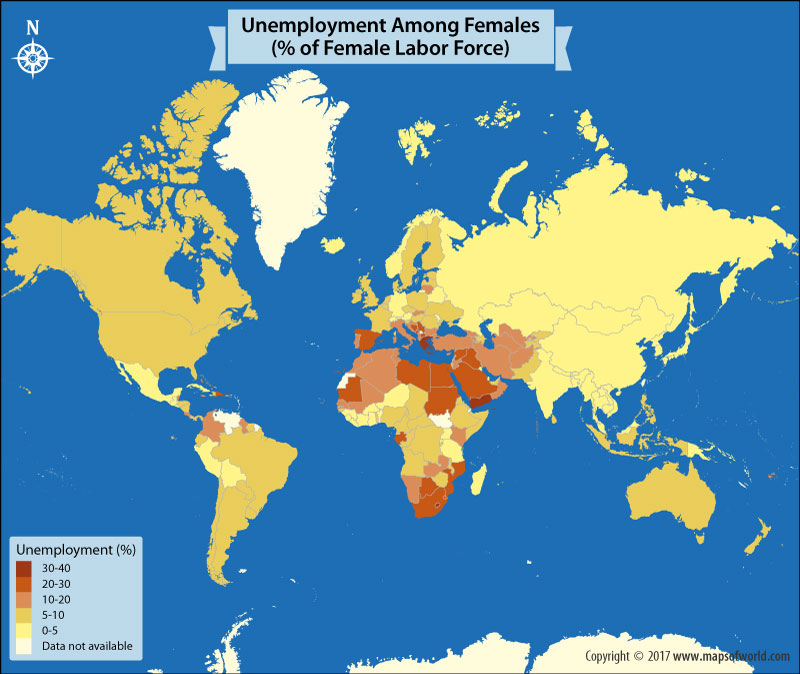 If you have a theme, we have a map.
Contact us for your custom mapping requirements
In 2014, 6.4 percent of females across the world were unemployed. This figure was down from the 6.7 percent that was reported in 1991. This percentage indicates the female labor force that is without work, but is available for employment.
According to the World Bank data, in 2014, the percentage of the unemployed female labor force was the highest in Yemen with 39.2 percent. Coming at the second spot was the African nation of Lesotho where 32.1 percent of the females were unemployed. The European nation of Greece was third on the list at 31.4 percent.
Some of the countries that reported more than 20 percent of unemployment among females included Bosnia and Herzegovina, Mauritania, Syria, Libya, South Africa, Spain, Serbia, Swaziland, Mozambique, Iraq, Sudan, Botswana and others.
Surprisingly, Rwanda had the lowest percentage of female unemployment in the world with 0.4 percent. Countries like India, Nepal and China recorded extremely low percentages of female unemployment with 4.0, 2.6 and 3.9 percent respectively. The United States and Canada also recorded lower levels of unemployment among the women. Here the unemployment rates stood at 6 and 6.5 percent respectively.
The overall percentage in South Asia stood at 4.7 with Maldives reporting the highest figure at 18.4 percent. The lowest percentage was in Nepal at just 2.6 percent. The European Union reported unemployment among females at 10.4 percentage of female labor force, while in Sub-Saharan Africa it was 9 percent. The table below provides country-wise data.
| Country | Percentage (2014) |
| --- | --- |
| Yemen, Rep. | 39.2 |
| Lesotho | 32.1 |
| Greece | 31.4 |
| Bosnia and Herzegovina | 29.8 |
| Mauritania | 29.5 |
| Syrian Arab Republic | 28.2 |
| Libya | 28.1 |
| Macedonia, FYR | 28.1 |
| Egypt, Arab Rep. | 27.8 |
| South Africa | 27.6 |
| Spain | 26.0 |
| Serbia | 25.9 |
| Gabon | 25.8 |
| Swaziland | 25.5 |
| Mozambique | 25.0 |
| Iraq | 24.1 |
| West Bank and Gaza | 23.9 |
| Dominican Republic | 23.4 |
| Sudan | 21.6 |
| Botswana | 21.5 |
| Arab World | 21.2 |
| Saudi Arabia | 20.2 |
| Montenegro | 20.1 |
| Namibia | 20.0 |
| Belize | 19.7 |
| Iran, Islamic Rep. | 19.6 |
| Jordan | 19.5 |
| Armenia | 18.8 |
| Maldives | 18.4 |
| Jamaica | 17.3 |
| Algeria | 16.8 |
| Croatia | 16.6 |
| Tunisia | 15.8 |
| Bahamas, The | 15.7 |
| Cyprus | 15.4 |
| Albania | 14.8 |
| Portugal | 14.4 |
| Barbados | 14.3 |
| Afghanistan | 14.0 |
| Guyana | 14.0 |
| Oman | 14.0 |
| Slovak Republic | 14.0 |
| Caribbean small states | 13.6 |
| Italy | 13.6 |
| Colombia | 13.3 |
| Senegal | 12.9 |
| Mauritius | 12.4 |
| Georgia | 12.3 |
| Puerto Rico | 11.9 |
| Zambia | 11.5 |
| Cabo Verde | 11.4 |
| Fiji | 11.2 |
| Mali | 11.2 |
| Costa Rica | 11.0 |
| Lebanon | 11.0 |
| Bulgaria | 10.9 |
| Morocco | 10.9 |
| Uzbekistan | 10.8 |
| Turkmenistan | 10.7 |
| Turkey | 10.7 |
| Kenya | 10.6 |
| Lithuania | 10.2 |
| Slovenia | 10.0 |
| Poland | 9.9 |
| Tajikistan | 9.9 |
| Argentina | 9.8 |
| Ireland | 9.8 |
| France | 9.7 |
| Venezuela, RB | 9.4 |
| Congo, Dem. Rep. | 9.4 |
| Latvia | 9.3 |
| Pakistan | 9.3 |
| Kyrgyz Republic | 9.1 |
| Uruguay | 9.1 |
| Malawi | 9.0 |
| Suriname | 8.9 |
| Brazil | 8.7 |
| United Arab Emirates | 8.6 |
| Belgium | 8.4 |
| Equatorial Guinea | 8.2 |
| Finland | 7.9 |
| Ethiopia | 7.8 |
| Haiti | 7.8 |
| Hungary | 7.8 |
| Central African Republic | 7.7 |
| Eritrea | 7.7 |
| Sweden | 7.7 |
| Czech Republic | 7.6 |
| Somalia | 7.6 |
| Burundi | 7.5 |
| Chad | 7.5 |
| Gambia, The | 7.4 |
| Guinea-Bissau | 7.4 |
| Angola | 7.3 |
| Chile | 7.3 |
| Nigeria | 7.3 |
| Togo | 7.3 |
| Indonesia | 7.2 |
| Comoros | 7.0 |
| Sri Lanka | 7.0 |
| Philippines | 7.0 |
| Congo, Rep. | 6.9 |
| Denmark | 6.9 |
| Luxembourg | 6.9 |
| Bahrain | 6.7 |
| Estonia | 6.7 |
| Netherlands | 6.6 |
| Canada | 6.5 |
| Timor-Leste | 6.5 |
| Ukraine | 6.5 |
| World | 6.3 |
| Israel | 6.3 |
| New Zealand | 6.3 |
| Romania | 6.3 |
| Ecuador | 6.2 |
| Malta | 6.2 |
| Azerbaijan | 6.1 |
| United States | 6.0 |
| Australia | 5.9 |
| United Kingdom | 5.8 |
| Panama | 5.6 |
| Paraguay | 5.6 |
| Zimbabwe | 5.4 |
| Nicaragua | 5.3 |
| Trinidad and Tobago | 5.3 |
| Cameroon | 5.1 |
| Honduras | 5.1 |
| Austria | 5.0 |
| Bangladesh | 5.0 |
| Mexico | 5.0 |
| Kazakhstan | 4.9 |
| Germany | 4.8 |
| Mongolia | 4.8 |
| Peru | 4.8 |
| Russian Federation | 4.8 |
| Switzerland | 4.7 |
| Iceland | 4.7 |
| Madagascar | 4.6 |
| Niger | 4.6 |
| Uganda | 4.6 |
| Belarus | 4.4 |
| Solomon Islands | 4.4 |
| El Salvador | 4.4 |
| Tanzania | 4.1 |
| Brunei Darussalam | 4.0 |
| India | 4.0 |
| China | 3.9 |
| Cuba | 3.9 |
| Liberia | 3.9 |
| Cote d'Ivoire | 3.7 |
| Myanmar | 3.6 |
| Bhutan | 3.4 |
| Japan | 3.4 |
| Bolivia | 3.3 |
| Norway | 3.3 |
| Korea, Dem. People's Rep. | 3.3 |
| Singapore | 3.3 |
| Korea, Rep. | 3.1 |
| Guatemala | 3.0 |
| Papua New Guinea | 3.0 |
| Hong Kong SAR, China | 2.7 |
| Moldova | 2.6 |
| Nepal | 2.6 |
| Vietnam | 2.5 |
| Ghana | 2.4 |
| Kuwait | 2.4 |
| Burkina Faso | 2.3 |
| Malaysia | 2.2 |
| Sierra Leone | 2.2 |
| Qatar | 1.9 |
| Guinea | 1.6 |
| Macao SAR, China | 1.4 |
| Lao PDR | 1.2 |
| Benin | 1.0 |
| Thailand | 0.9 |
| Cambodia | 0.4 |
| Rwanda | 0.4 |
(Data sourced from World Bank)
You may also like
Countries with Highest Unemployment
Recent Posts