Top Ten Cities with the Most Skyscrapers
Next Story
Maximum Speed Limit in the United States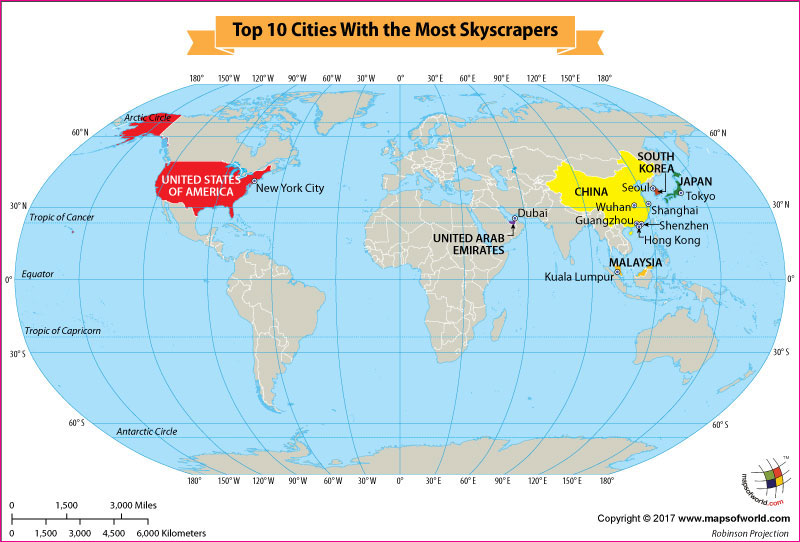 If you have a theme, we have a map.
Contact us for your custom mapping requirements
'Skyscraper' is a term used for buildings that are more than 100 meters tall. Currently, the Burj Khalifa, situated in Dubai, is the tallest skyscraper in the world. Standing tall at a height of 828 meters, Burj Khalifa is an architectural wonder and has been regarded as a megatall skyscraper.
However, skyscraper is not a 20th century concept. The term was used in the late 19th century, but at that time it was applied to buildings that just comprised 10 to 20 floors. The Home Insurance Building, built in 1885 in Chicago, Illinois was the first steel-frame skyscraper, built in 1885 in. Back then the building did amaze the general public due to its rather tall height, which was 42 meters with just 10 floors. But with the passage of time, buildings became taller, and today we have really extremely tall structures such as the above-mentioned Burj Khalifa, or the One World Trade Center, in New York, that is more than 100 stories tall, as well as many other buildings.
Today, every major city in the world has at least one tall building. But here are the top ten cities where the number of skyscrapers run in hundreds. Currently Hong Kong, the Special Administrative Region of China, has the most skyscrapers in the world. Hong Kong has a whopping 453 skyscrapers, the tallest of which is the International Commerce Centre. With a height of 484 meters/108 stories, the International Commerce Center is the tenth tallest building in the world.
There are 283 skyscrapers in Dubai, the tallest of which is the Burj Khalifa. The second tallest building is Marina 101, which has 101 floors. New York City is home to 262 skyscrapers. One World Trade Center, with 104 floors, is the tallest building in New York City, as well as the entire United States.
At the fourth spot is the South Korean City of Seoul, with 221 skyscrapers. Lotte World Tower, with a height of 554.5 meters and 123 floors is the tallest building in the city. The three Chinese cities of Wuhan, Shanghai, and Shenzen come at the fifth, sixth, and seventh spots. The three cities have respectively 208, 186, and 183 skyscrapers.
At the eight spot is Tokyo with 179 skyscrapers. Meanwhile, the Chinese city of Guangzhou, and the Malaysian city of Kuala Lumpur occupy the ninth and tenth spots. These two cities have respectively 169 and 167 skyscrapers.
Recent Posts