Top countries putting their waste to better use
Next Story
The World's Most Generous Nations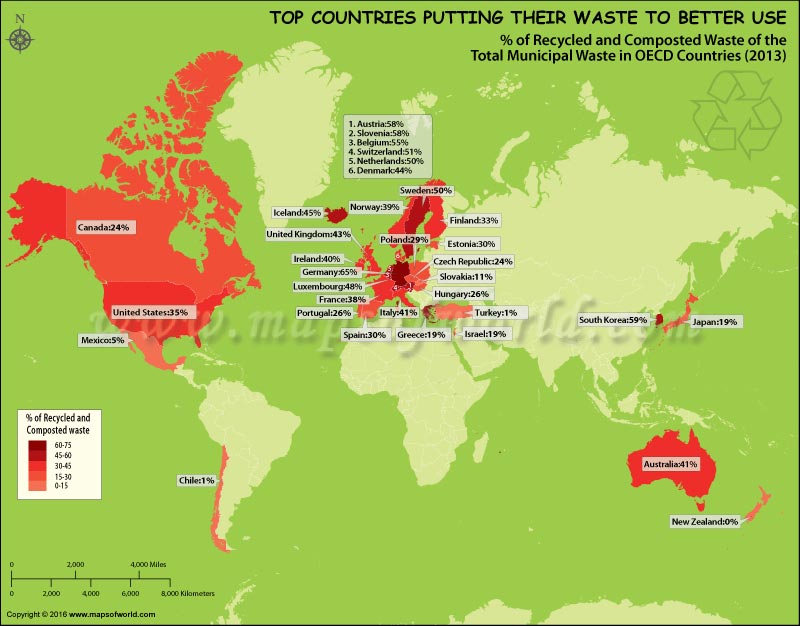 If you have a theme, we have a map.
Contact us for your custom mapping requirements
Garbage disposal is an arduous task. Every day tons of waste get piled up forcing the authorities to think of ways to dispose it in a better way. The statistics concerning the generation of waste is staggering. Around 1.3 billion tons of waste is generated by nations every year. It is estimated that by 2100, this figure will rise to four billion per year. These figures are alarming as mountains of garbage can lead to health hazards and can negatively impact the environment.
As nations struggle to find ways to dispose their garbage, many nations are resorting to recycling which seems to be a viable option. According to a recent data published by OECD, Germany is the top most country in the world which is recycling its waste. The data shows that in the year 2013, 65 percent of the municipal waste produced in the country was recycled and composted. According to a Eurostat report, in 2012, 353 million tons of waste was generated in Germany. Out of this amount, nearly half or 152.6 million was recycled. Coming up next is South Korea where 59 percent of the municipal waste was recycled and composed.
Barring South Korea, the countries where more than 50 percent of the municipal waste is recycled and composted are located in Europe. In both Slovenia and Austria, 58 percent of the municipal waste is recycled and composted, while in Belgium and Switzerland the figure is 55 and 51 percent respectively. In both Sweden and the Netherlands, 50 percent of the waste is recycled. The United States does not fare very well accounting for just 35 percent but its northern neighbor of Canada and the southern neighbor of Mexico are placed way behind it where just 24 and 5 percent of the municipal waste is recycled and composted. At the lowest rung are Turkey and Chile with a dismal score of 1 percent while at the bottom is New Zealand with 0 percent.
Recent Posts