USA Has The Most Scuba Diving Centers In The World
Next Story
Spring Festivals Celebrated Around the World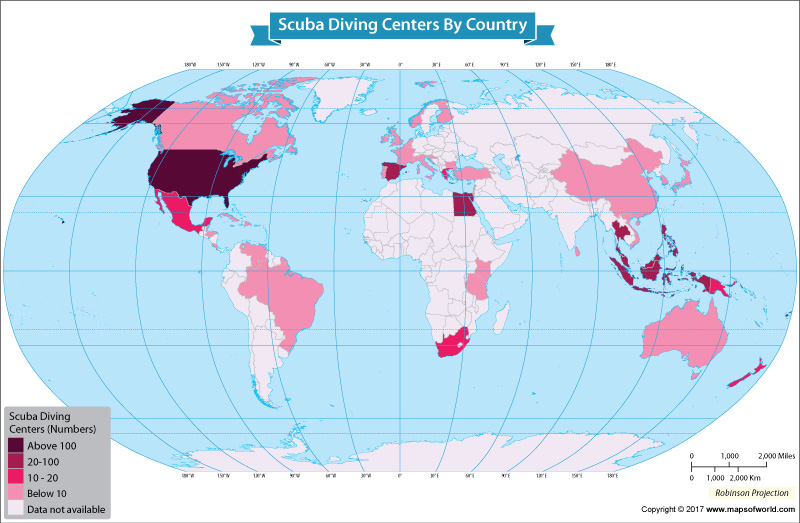 If you have a theme, we have a map.
Contact us for your custom mapping requirements
Have you ever wondered how it feels to be at the bottom of the ocean? If yes, then you should try your hands at scuba diving. It is basically underwater diving where the diver has a self-contained underwater breathing apparatus. It is this apparatus which is known as scuba. It is used in military, scientific as well as public safety occupations.
Scuba diving is also a very interesting hobby and acquaints you with marine life. But, if you feel a bit inhibited in going underwater, then you can consider joining one of the many scuba diving centers around the world, where certified coaches, or trainers ready you to become a perfect scuba diver.
There are hundreds of scuba diving centers spread across the world. If we take a look at the DMOZ data, then the United States is the perfect destination for those looking to train in scuba diving. According to the data, in the year 2015, there were 493 scuba diving centers in the United States. The country looked like a giant when compared with the Philippines and Thailand, which had the second most scuba diving centers in the world. In comparison to the United States' gigantic figure, the Philippines and Thailand had just 38 scuba diving centers each. Spain, Indonesia and Egypt had 34, 32 and 30 centers, while Malaysia and Fiji had 22 and 21 scuba diving centers, respectively.
Some countries where the number of scuba diving centers ranged between 10 and 20 were Papua New Guinea, New Zealand, Mexico, Malta, Greece and South Africa.
Brazil, Norway, Sri Lanka, South Korea, Portugal, Vietnam, Tanzania, Bulgaria, Cuba, Australia, China, Japan, France, and the United Kingdom were a few nations which had less than 10 scuba diving centers.
| Country | No. of Scuba Diving Centers |
| --- | --- |
| United States | 493 |
| Philippines | 38 |
| Thailand | 38 |
| Spain | 34 |
| Indonesia | 32 |
| Egypt | 30 |
| Malaysia | 22 |
| Fiji | 21 |
| South Africa | 17 |
| Greece | 16 |
| Malta | 16 |
| Cayman Islands | 13 |
| US Virgin Islands | 11 |
| Mexico | 11 |
| New Zealand | 10 |
| Papua New Guinea | 10 |
| Bahamas | 9 |
| British Virgin Islands | 9 |
| Turks and Caicos | 8 |
| Costa Rica | 8 |
| Honduras | 8 |
| Italy | 8 |
| Dominican Republic | 7 |
| Belize | 7 |
| Croatia | 7 |
| Cyprus | 7 |
| Turkey | 7 |
| Cyprus | 7 |
| Turkey | 7 |
| Ashmore and Cartier Islands | 6 |
| Aruba | 6 |
| France | 6 |
| Ireland | 6 |
| United Kingdom | 6 |
| Kenya | 5 |
| British Indian Ocean Territory | 5 |
| Japan | 5 |
| Jamaica | 5 |
| Trinidad and Tobago | 5 |
| Israel | 5 |
| Canada | 5 |
| Guam | 5 |
| Palau | 5 |
| Hong Kong | 4 |
| China | 4 |
| Maldives | 4 |
| Singapore | 4 |
| Barbados | 4 |
| Grenada | 4 |
| Saint Kitts and Nevis | 4 |
| Netherlands | 4 |
| Australia | 4 |
| Antigua and Barbuda | 3 |
| Cuba | 3 |
| Curaçao | 3 |
| Puerto Rico | 3 |
| Sint Maarten | 3 |
| Bulgaria | 3 |
| Tanzania | 2 |
| Vietnam | 2 |
| Caribbean Netherlands | 2 |
| Guadeloupe | 2 |
| Saint Lucia | 2 |
| Saint Vincent and the Grenadines | 2 |
| Portugal | 2 |
| Cook Islands | 2 |
| French Polynesia | 2 |
| Marshall Islands | 2 |
| Micronesia | 2 |
| New Caledonia | 2 |
| Solomon Islands | 2 |
| South Korea | 1 |
| Sri Lanka | 1 |
| Anguilla | 1 |
| Dominica | 1 |
| Belgium | 1 |
| Norway | 1 |
| Slovenia | 1 |
| Lebanon | 1 |
| Niue | 1 |
| Tonga | 1 |
| Vanuatu | 1 |
| Arctic Kingdom | 1 |
| Brazil | 1 |
| Venezuela | 1 |
| Galapagos Islands | 1 |
(Data sourced from DMOZ)
Recent Posts