Non-communicable Diseases Continue to Remain the Leading Killer
Next Story
Charges of Intellectual Property a Good Perspective Into Country's Intellectual Wealth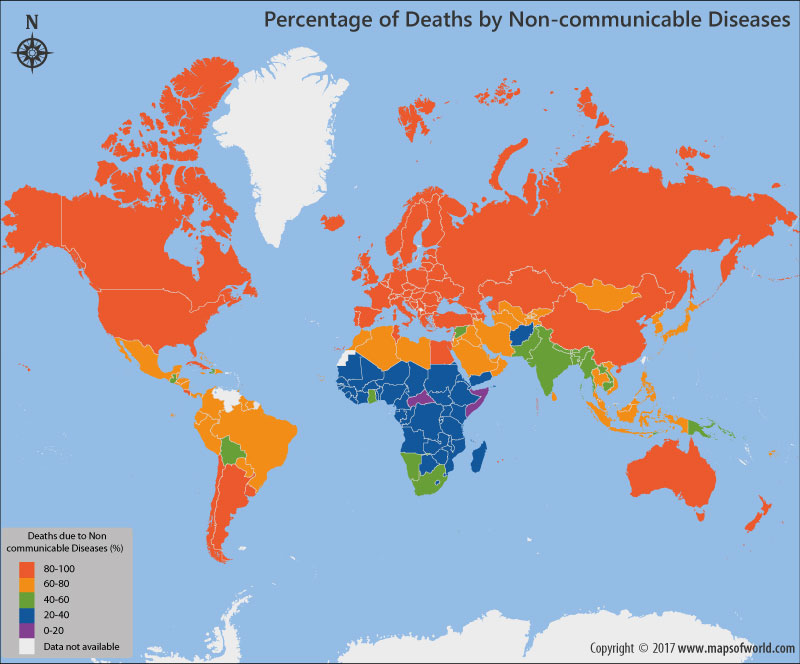 If you have a theme, we have a map.
Contact us for your custom mapping requirements
Non-communicable diseases are a major killer and accounted for some 68 percent of all deaths in 2012. Non-communicable diseases are digestive diseases, musculoskeletal diseases, skin diseases, diabetes mellitus, cardiovascular diseases, cancer and congenital anomalies.
The non-communicable diseases are on the rise due to change in the lifestyle, stress as well as factors like an unbalanced diet, harmful use of tobacco and alcohol, lack of physical activity, an increase in blood pressure, cholesterol, and blood sugar, and obesity.
According to a World Bank data, the high and upper middle income countries witnessed 88 and 81 percent of the population falling prey to non-communicable diseases, while in low and middle income countries the percentage stood at 64 and 68 percent respectively in 2012.
In South Asia, some 58 percent of the population succumbed to non-communicable diseases, in the European union it was as high as 90 percent. In Sub Saharan Africa, just 29 percent of deaths were reported due to non-communicable diseases.
The situation is alarming in the European continent, which is the most affected. Almost all of the European countries reported deaths in the range of 80 percent and above. The percentage is high in the North American countries of the United States and Canada as well as the nations of Australia and New Zealand, where it ranged from 87 to 91 percent.
In India, the non-communicable diseases claimed the lives of 60 percent of the population in 2012, while in China it was as high as 87 percent.
In the African nations, communicable diseases are the main killers, which accounted for more than 60 percent of all deaths. In 2012, Somalia witnessed just 19 percent of its population dying due to non-communicable diseases while South Africa was at the higher end reporting 43 percent of the deaths due to non-communicable diseases.
Among the South Asian nations, Afghanistan reported just 37 percent of deaths due to non-communicable diseases while Maldives reported a whopping 81 percent. In the Arab world, the percentage stood at 62 while in the Latin America and the Caribbean it was 73 percent.
(Data sourced from World Bank)
Recent Posts