Logistics Performance Index Around the World
Next Story
School Life Expectancy: What the World Can Learn From Belgium?
---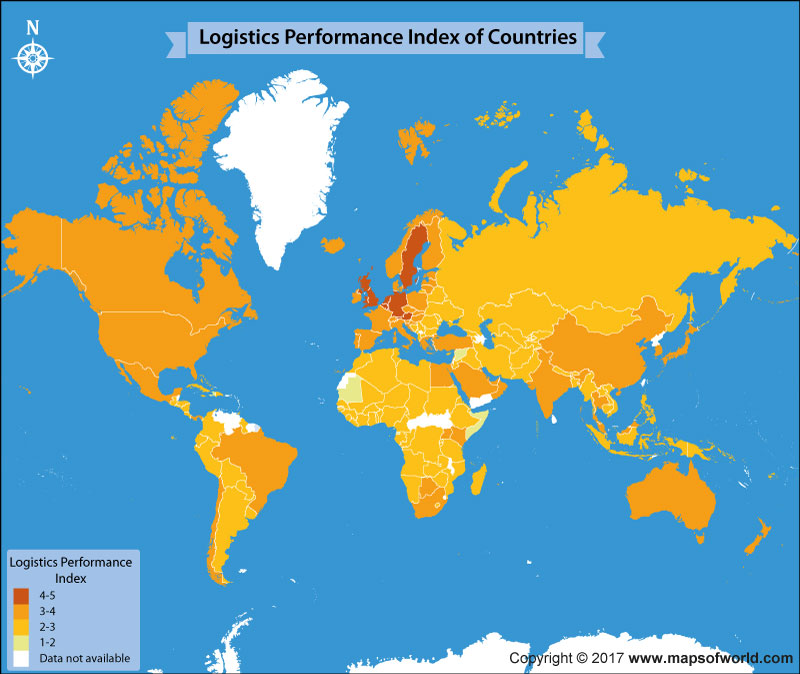 If you have a theme, we have a map.
Contact us for your custom mapping requirements
The Logistics Performance Index is a benchmarking tool enabling countries to pinpoint the challenges they face, as well as the opportunities that exist in their performance on trade logistics. This also helps them in improving their performance. The dimensions taken into account are efficiency of customs-clearance process, quality of trade and transport-related infrastructure, ease of arranging competitively-priced shipments, quality of logistics services, ability to track and trace consignments, and frequency with which shipments reach the consignee within the scheduled time. The index ranges from 1 to 5. The higher the score, the better the performance.
The European nation of Germany, which occupied the top spot, was the most efficient according to the 2014 World Bank Data. Coming at the second spot was Luxembourg. In fact, barring Singapore and Hong Kong (special administrative 'region' of China), all the other countries that had an index rate of more than four were located in Europe. The United States was also decently placed with an index of 3.99, while in Canada it was 3.93. China also ranked high with 3.66.
Among the South Asian nations, India occupied the top spot with an index of 3.42, while Bhutan was the lowest with 2.32.
The Sub-Saharan region's average was at 2.47. Among the African nations, South Africa was placed at the top with a Logistics Performance Index of 3.78. Other than South Africa, Kenya, Egypt, Botswana and Uganda were the only African nations which had a Logistics Performance Index of three and above.
Placed at the bottom of the World Bank list were nations such as Syria, which has been marred by civil war, Haiti, Somalia, Mauritania and Equatorial Guinea, which all rated poorly with an index of less than two percent.
(Data sourced from World Bank)
Recent Posts