Next Story
Monaco has the Largest Expanse of Terrestrial and Marine Protected Area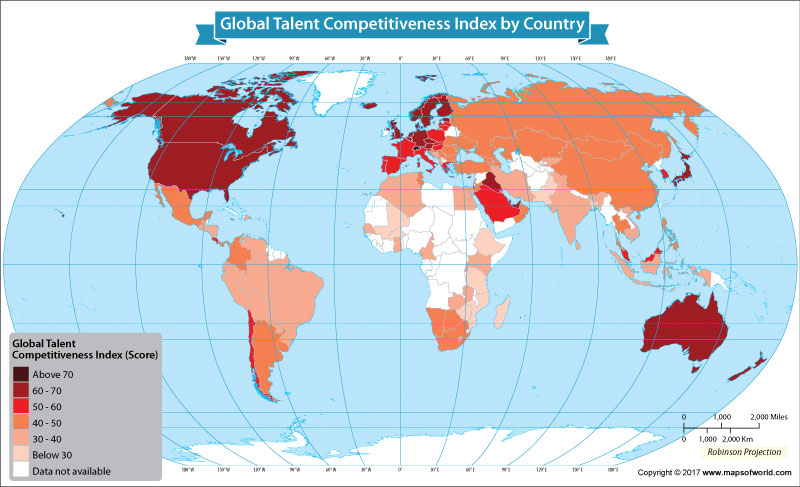 If you have a theme, we have a map.
Contact us for your custom mapping requirements
The Global Talent Competitiveness Index is a report released by INSEAD in partnership with Human Capital Leadership Institute of Singapore and Adecco Group. The report measures the nations' ability to compete for talent. The report also measures, how nations around the world grow, attract as well as retain talent. Countries that occupy the top slots in the table have certain characteristics in common. These are employment policies that support flexibility, good educational standards, mobility and entrepreneurship, among others.
The 2017 Global Talent Competitiveness Index, which is the fourth edition, places Switzerland at the top of the table with a score of 74.55. Singapore occupies the second spot with a score of 74.09. It is followed by the United Kingdom in the third place, which has a score of 69.4.
Apart from the United Kingdom, some other countries that score more than 60 are the United States, Sweden, Australia, Luxembourg, Denmark, Finland and others.
In fact, majority of the countries that have a score of 60 and above belong to Europe and all of them are high income economies.
BRICS, which are five major emerging national economies, do not fare very well on the 2017 Global Talent Competitiveness Index. The five nations China, Russia, South Africa, Brazil and India occupy the 54, 56, 67, 81, and 92 ranks with scores of 45.34, 45.03, 42.75, 38.99, and 35.65 respectively.
Portugal, France, Israel, Chile, Italy, Hungary, Saudi Arabia, and many others have scores between 50 and 60. Barring Costa Rica and Malaysia, which are upper-middle income countries, the rest belong to the high income category.
At the bottom of the scale and with scores of less than 30 are the nations of Ethiopia, Pakistan, Mali, Bangladesh, Tanzania, Mozambique, Zimbabwe, Burkina Faso, and Madagascar. All of these nations fall in the lower-middle income and low income category.
For a better understanding of the Global Talent Competitiveness score and rank of each nation, refer to the table below.
| COUNTRY | SCORE | OVERALL RANK | INCOME GROUP |
| --- | --- | --- | --- |
| Switzerland | 74.55 | 1 | High income |
| Singapore | 74.09 | 2 | High income |
| United Kingdom | 69.4 | 3 | High income |
| United States of America | 69.34 | 4 | High income |
| Sweden | 69.14 | 5 | High income |
| Australia | 69.06 | 6 | High income |
| Luxembourg | 68.66 | 7 | High income |
| Denmark | 68.59 | 8 | High income |
| Finland | 68.56 | 9 | High income |
| Norway | 68.01 | 10 | High income |
| Netherlands | 67.8 | 11 | High income |
| Ireland | 67.58 | 12 | High income |
| Canada | 67.16 | 13 | High income |
| New Zealand | 67.15 | 14 | High income |
| Iceland | 65.79 | 15 | High income |
| Belgium | 65.24 | 16 | High income |
| Germany | 64.94 | 17 | High income |
| Austria | 63.7 | 18 | High income |
| United Arab Emirates | 62.49 | 19 | High income |
| Estonia | 61.72 | 20 | High income |
| Qatar | 61.09 | 21 | High income |
| Japan | 60.72 | 22 | High income |
| Czech Republic | 60.17 | 23 | High income |
| France | 59.93 | 24 | High income |
| Israel | 58.53 | 25 | High income |
| Malta | 57.43 | 26 | High income |
| Slovenia | 56.41 | 27 | High income |
| Malaysia | 56.22 | 28 | Upper-middle income |
| Korea, Rep. | 55.89 | 29 | High income |
| Cyprus | 55.7 | 30 | High income |
| Portugal | 55.4 | 31 | High income |
| Latvia | 54.5 | 32 | High income |
| Lithuania | 54.42 | 33 | High income |
| Chile | 54.11 | 34 | High income |
| Spain | 53.9 | 35 | High income |
| Barbados | 53.53 | 36 | High income |
| Slovakia | 52.87 | 37 | High income |
| Poland | 52.32 | 38 | High income |
| Costa Rica | 52.14 | 39 | Upper-middle income |
| Italy | 51.51 | 40 | High income |
| Hungary | 51.27 | 41 | High income |
| Saudi Arabia | 50.36 | 42 | High income |
| Greece | 50.21 | 43 | High income |
| Montenegro | 49.72 | 44 | Upper-middle income |
| Croatia | 49.22 | 45 | High income |
| Mauritius | 49.15 | 46 | Upper-middle income |
| Bahrain | 48.7 | 47 | High income |
| Panama | 47.63 | 48 | Upper-middle income |
| Bulgaria | 47.56 | 49 | Upper-middle income |
| Macedonia, FYR | 47.42 | 50 | Upper-middle income |
| Uruguay | 47.28 | 51 | High income |
| Philippines | 46.42 | 52 | Lower-middle income |
| Kazakhstan | 45.43 | 53 | Upper-middle income |
| China | 45.34 | 54 | Upper-middle income |
| Romania | 45.09 | 55 | Upper-middle income |
| Russian Federation | 45.03 | 56 | Upper-middle income |
| Kuwait | 44.86 | 57 | High income |
| Jordan | 44.64 | 58 | Upper-middle income |
| Oman | 44.51 | 59 | High income |
| Serbia | 43.38 | 60 | Upper-middle income |
| Turkey | 43.16 | 61 | Upper-middle income |
| Lebanon | 43.02 | 62 | Upper-middle income |
| Botswana | 43 | 63 | Upper-middle income |
| Argentina | 42.89 | 64 | Upper-middle income |
| Armenia | 42.84 | 65 | Lower-middle income |
| Azerbaijan | 42.76 | 66 | Upper-middle income |
| South Africa | 42.75 | 67 | Upper-middle income |
| Jamaica | 42.74 | 68 | Upper-middle income |
| Ukraine | 42.34 | 69 | Lower-middle income |
| Georgia | 42.1 | 70 | Upper-middle income |
| Colombia | 41.63 | 71 | Upper-middle income |
| Mongolia | 41.53 | 72 | Lower-middle income |
| Thailand | 41.5 | 73 | Upper-middle income |
| Mexico | 41.11 | 74 | Upper-middle income |
| Moldova, Rep. | 40.79 | 75 | Lower-middle income |
| Namibia | 40.2 | 76 | Upper-middle income |
| Tunisia | 40.09 | 77 | Lower-middle income |
| Bosnia and Herzegovina | 39.81 | 78 | Upper-middle income |
| Ecuador | 39.13 | 79 | Upper-middle income |
| Albania | 39.12 | 80 | Upper-middle income |
| Brazil | 38.99 | 81 | Upper-middle income |
| Sri Lanka | 38.88 | 82 | Lower-middle income |
| Peru | 38.76 | 83 | Upper-middle income |
| Dominican Republic | 38.73 | 84 | Upper-middle income |
| Guatemala | 38.22 | 85 | Lower-middle income |
| Viet Nam | 38.13 | 86 | Lower-middle income |
| Kyrgyzstan | 37.94 | 87 | Lower-middle income |
| Egypt | 37.33 | 88 | Lower-middle income |
| Zambia | 37.05 | 89 | Lower-middle income |
| Indonesia | 36.81 | 90 | Lower-middle income |
| Rwanda | 36.76 | 91 | Low income |
| India | 35.65 | 92 | Lower-middle income |
| Honduras | 35.62 | 93 | Lower-middle income |
| Paraguay | 35.19 | 94 | Upper-middle income |
| El Salvador | 35.17 | 95 | Lower-middle income |
| Morocco | 35.09 | 96 | Lower-middle income |
| Kenya | 35.02 | 97 | Lower-middle income |
| Bhutan | 34.74 | 98 | Lower-middle income |
| Nicaragua | 34.29 | 99 | Lower-middle income |
| Senegal | 34.07 | 100 | Low income |
| Lesotho | 33.92 | 101 | Lower-middle income |
| Ghana | 33.89 | 102 | Lower-middle income |
| Iran, Islamic Rep. | 33.54 | 103 | Upper-middle income |
| Bolivia, Plurinational St. | 33.29 | 104 | Lower-middle income |
| Venezuela, Bolivarian Rep. | 32.94 | 105 | Upper-middle income |
| Uganda | 31.75 | 106 | Low income |
| Algeria | 31.57 | 107 | Upper-middle income |
| Cambodia | 31.1 | 108 | Lower-middle income |
| Cameroon | 30.68 | 109 | Lower-middle income |
| Ethiopia | 29.9 | 110 | Low income |
| Pakistan | 29.67 | 111 | Lower-middle income |
| Mali | 29.36 | 112 | Low income |
| Bangladesh | 29.12 | 113 | Lower-middle income |
| Tanzania, United Rep. | 28.95 | 114 | Low income |
| Mozambique | 28.06 | 115 | Low income |
| Zimbabwe | 27.45 | 116 | Low income |
| Burkina Faso | 27.45 | 117 | Low income |
| Madagascar | 26.55 | 118 | Low income |
Recent Posts