Gaming Market Revenues Continue to Grow Around the World
Next Story
Unemployment Plagues Women Around The World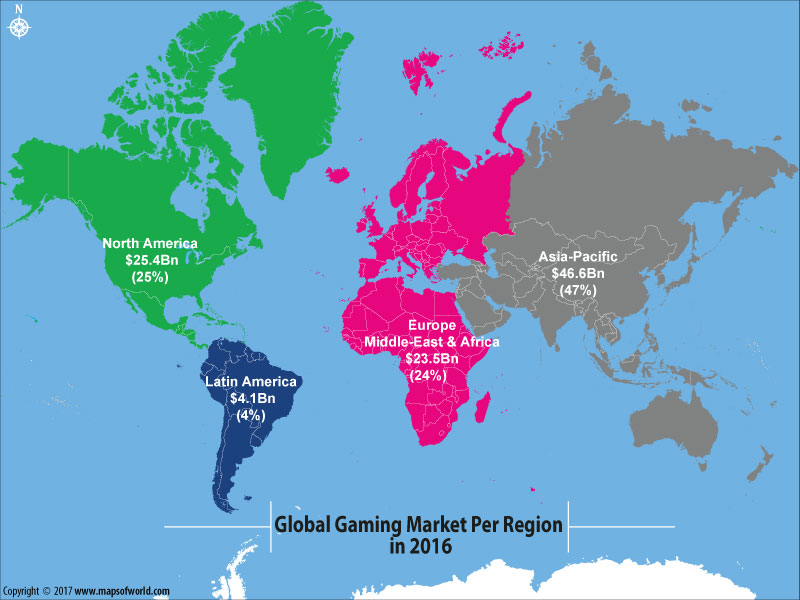 If you have a theme, we have a map.
Contact us for your custom mapping requirements
The gaming industry is witnessing a continuous, year-on-year growth both in the number of games created and the increase in overall gamer population around the world. The figures speak for themselves. According to a data released by Newzoo, an estimated US$99.6 billion in revenues was generated by gamers in the year 2016. This is an increase of 8.5 percent in comparison to what was generated in 2015.
However, in terms of regions, Asia Pacific was at the top. The region dominated the market accounting for a whopping 47 percent. However, it was China that had propelled the market in Asia Pacific. China accounted for US$24.4 billion. This figure indicated that China is the world largest game market and also the fastest growing in the world.
Coming in at the second spot was the North American region. According to the data, the estimated revenues in the region in 2016 stood at US$25.4 billion. However, the main driver of this growth was the mobile segment. However, in North America, the United States' expected revenue was US$23.5 billion.
Europe, Middle East and Africa together accounted for an estimated US$23.7 billion dollars. Latin America, which had witnessed falling exchange rates saw a growth in 2016. The expected revenues in the year amounted to US$4.1 billion.
(Data sourced from Newzoo)
Recent Posts