Countries with the Longest Life Expectancy
Next Story
Countries with the Shortest Working Hours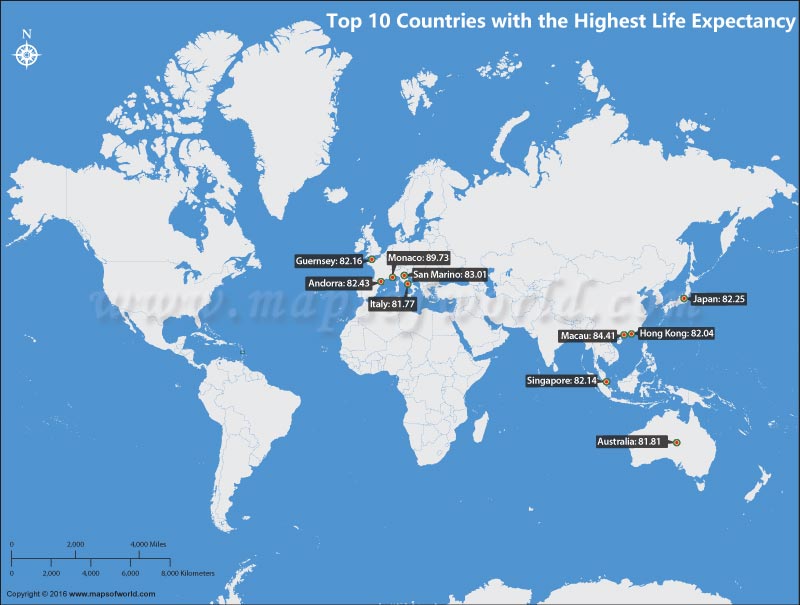 If you have a theme, we have a map.
Contact us for your custom mapping requirements
Science and medicine have not advanced far enough to bestow immortality upon us, but breakthroughs in medicine and improving healthcare standards have to a great extent increased our lifespan. Good healthcare facilities, superior diet, favorable climate and by and large a stress-free life has raised the life expectancy in many nations.
According to a list by the CIA, Monaco tops the charts with the longest life expectancy in the world. Though the country may be small covering an area of just 0.78 square miles, but it has the longest-life span in the world. As per the report, people here live till the age of 89.73 years. Coming next on the list is Macau, which is an autonomous region on the south coast of China. The average life expectancy of a person in Macau is 84.4 years.
Situated on the Italian Peninsula, San Marino is definitely the place where one would like to be born. As per the report, the average life expectancy in this nation which covers an area of just 24 square miles is 83.01. Located in southwestern Europe, Andorra is the continent's sixth smallest country but has one of the highest life expectancy. People here live till the age of 82.43 years. Japan is placed at the fifth spot. Noted for its top class healthcare facilities, the prosperous Asian nation boasts of a really long life expectancy which is 82.25 years. Guernsey and Singapore closely follow Japan at the sixth and the seventh spot with a life expectancy of 82.16 and 82.14 respectively. Hong Kong with a life expectancy of 82.04 years is placed at the eight spot.
It is not surprising that Australia finds a mention in the list. Here the life expectancy is 81.81 years. Occupying the 10th spot is Italy, which has an average life expectancy of 81.77 years.
Recent Posts