China and India Rank the Highest in Mobile Cellular Subscriptions
Next Story
Spring Festivals Celebrated Around the World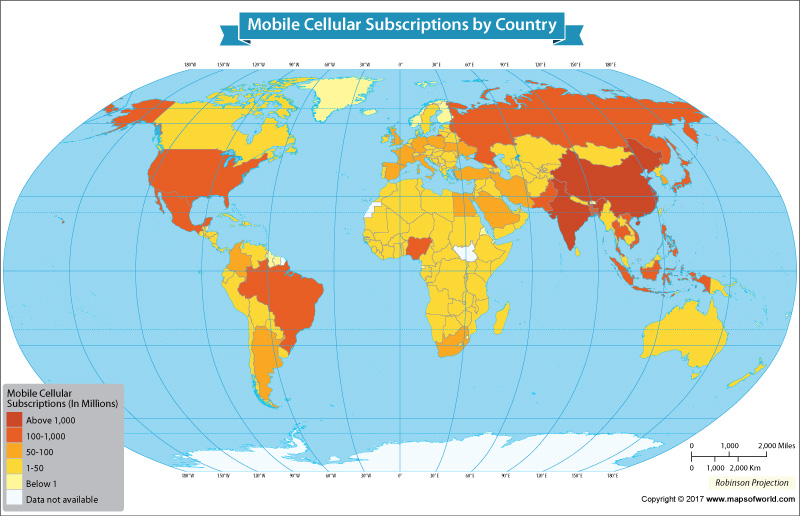 If you have a theme, we have a map.
Contact us for your custom mapping requirements
Life is today unimaginable without the mobile phone. But that was not always so. Some 30 years ago, people relied on a bulky black box which sat in the corner of every house. The good old telephone was the common property of the household and would never move out of the house. But advancing technology changed all that. Cut to the 21st century and you would find a mobile phone (or two, in some cases) with every person.
Today, the mobile phone has become an integral part of a person's life. It has made communication easier and ensures that a person would never be disconnected with his loved ones, provided he is not in an area where there is no service.
Over the years, the number of mobile cellular subscriptions has been rising at an exponential rate. However, the honors of having the most mobile cellular telephone subscriptions go to the two most populous countries of the world, China and India.
According to a data by the International Telecommunication Union, China, the most populous country in the world, witnessed 1,291,984,200 subscriptions in the year 2015. Following China was India, where mobile cellular telephone subscriptions in the year 2015 stood at 1,001,056,000.
The United States stood third with 382,307,000 mobile cellular telephone subscriptions. Apart from the United States, other nations that had witnessed more than 100 million subscriptions in the year 2015 were Indonesia, Brazil, Russian Federation, Japan, Nigeria, Bangladesh, Pakistan, Vietnam, Philippines, Mexico and Thailand.
Countries which reported less than one million subscriptions in 2015 were Fiji, Swaziland, Luxembourg, Maldives, Bhutan, Equatorial Guinea, Eritrea, San Marino, Monaco, and many other nations.
The table below provides information of mobile cellular subscriptions per country.
| Country | No. of mobile cellular telephone subscriptions (2015) |
| --- | --- |
| China | 1,291,984,200 |
| India | 1,001,056,000 |
| United States | 382,307,000 |
| Indonesia | 338,426,000 |
| Brazil | 257,814,274 |
| Russian Federation | 227,288,088 |
| Japan | 160,478,307 |
| Nigeria | 150,830,089 |
| Bangladesh | 131,375,724 |
| Pakistan | 125,899,638 |
| Vietnam | 122,000,000 |
| Philippines | 117,838,074 |
| Mexico | 107,690,021 |
| Thailand | 102,942,000 |
| Germany | 96,360,000 |
| Egypt | 94,016,152 |
| South Africa | 87,999,492 |
| Italy | 86,893,935 |
| United Kingdom | 79,250,793 |
| Iran (I.R.) | 74,218,815 |
| Turkey | 73,639,261 |
| France | 66,681,000 |
| Argentina | 61,842,011 |
| Ukraine | 60,720,073 |
| Korea (Rep.) | 58,935,081 |
| Colombia | 57,327,470 |
| Poland | 54,537,230 |
| Saudi Arabia | 52,796,066 |
| Spain | 51,067,770 |
| Malaysia | 44,104,000 |
| Algeria | 43,227,643 |
| Morocco | 43,079,696 |
| Ethiopia | 42,311,629 |
| Myanmar | 40,993,717 |
| Tanzania | 39,665,600 |
| Congo (Dem. Rep.) | 37,752,782 |
| Kenya | 37,715,944 |
| Ghana | 35,008,387 |
| Peru | 34,235,810 |
| Iraq | 33,559,000 |
| Australia | 31,770,000 |
| Canada | 29,765,000 |
| Taiwan, Province of China | 29,681,490 |
| Venezuela | 29,093,517 |
| Sudan | 27,938,507 |
| Nepal | 27,516,055 |
| Kazakhstan | 26,309,300 |
| Côte d'Ivoire | 25,407,610 |
| Sri Lanka | 23,899,642 |
| Chile | 23,206,353 |
| Romania | 23,120,000 |
| Mali | 22,698,915 |
| Uzbekistan | 21,783,300 |
| Cambodia | 20,850,543 |
| Netherlands | 20,809,054 |
| Uganda | 20,220,273 |
| Mozambique | 20,134,932 |
| Afghanistan | 19,709,038 |
| Guatemala | 18,121,390 |
| United Arab Emirates | 17,942,560 |
| Yemen | 17,359,000 |
| Cameroon | 16,806,894 |
| Hong Kong, China | 16,724,440 |
| Senegal | 14,959,477 |
| Tunisia | 14,595,875 |
| Burkina Faso | 14,446,897 |
| Syria | 14,312,271 |
| Angola | 13,884,532 |
| Jordan | 13,797,968 |
| Austria | 13,470,623 |
| Czech Republic | 13,272,566 |
| Ecuador | 12,943,791 |
| Belgium | 12,938,176 |
| Zimbabwe | 12,757,410 |
| Sweden | 12,638,827 |
| Greece | 12,566,649 |
| Hungary | 11,785,806 |
| Portugal | 11,714,693 |
| Zambia | 11,557,725 |
| Belarus | 11,448,281 |
| Switzerland | 11,243,210 |
| Guinea | 10,764,000 |
| Azerbaijan | 10,697,132 |
| Madagascar | 10,693,765 |
| Israel | 10,570,000 |
| Bolivia | 10,162,829 |
| Libya | 9,918,000 |
| El Salvador | 9,334,132 |
| Benin | 9,317,955 |
| Bulgaria | 9,194,633 |
| Serbia | 9,155,664 |
| Niger | 8,959,000 |
| Dominican Rep. | 8,797,247 |
| Rwanda | 8,759,619 |
| Tajikistan | 8,489,000 |
| Kuwait | 8,305,000 |
| Singapore | 8,233,100 |
| Honduras | 8,048,388 |
| Turkmenistan | 7,842,000 |
| Kyrgyzstan | 7,579,439 |
| Costa Rica | 7,535,599 |
| Paraguay | 7,411,986 |
| Finland | 7,396,200 |
| Haiti | 7,300,000 |
| Denmark | 7,266,365 |
| Nicaragua | 7,264,151 |
| Panama | 6,946,636 |
| Slovakia | 6,675,553 |
| Oman | 6,646,655 |
| Malawi | 6,566,707 |
| Somalia | 5,836,000 |
| Norway | 5,714,890 |
| Sierra Leone | 5,657,000 |
| New Zealand | 5,600,000 |
| Georgia | 5,550,730 |
| Uruguay | 5,495,186 |
| Chad | 5,465,797 |
| Congo (Rep.) | 5,216,000 |
| Burundi | 4,997,696 |
| Ireland | 4,902,009 |
| Togo | 4,855,206 |
| Lebanon | 4,657,651 |
| Croatia | 4,415,660 |
| Lithuania | 4,184,053 |
| Qatar | 3,740,469 |
| Lao P.D.R. | 3,727,162 |
| Moldova | 3,713,137 |
| Liberia | 3,652,000 |
| Mauritania | 3,644,483 |
| Papua New Guinea | 3,560,000 |
| Palestine | 3,531,000 |
| Botswana | 3,475,327 |
| Armenia | 3,464,490 |
| Bosnia and Herzegovina | 3,443,520 |
| Albania | 3,400,955 |
| Cuba | 3,335,346 |
| D.P.R. Korea | 3,240,000 |
| Puerto Rico | 3,204,993 |
| Jamaica | 3,137,213 |
| Mongolia | 3,068,156 |
| Gabon | 2,821,555 |
| Gambia | 2,715,672 |
| Latvia | 2,590,000 |
| Namibia | 2,549,817 |
| Bahrain | 2,519,055 |
| Slovenia | 2,353,926 |
| Lesotho | 2,140,141 |
| Trinidad & Tobago | 2,123,374 |
| TFYR Macedonia | 2,083,583 |
| Estonia | 1,903,545 |
| Macao, China | 1,896,097 |
| Mauritius | 1,762,300 |
| Timor-Leste | 1,376,669 |
| Central African Rep. | 1,242,494 |
| Guinea-Bissau | 1,238,493 |
| Cyprus | 1,111,123 |
| Montenegro | 1,007,890 |
| Fiji | 965,950 |
| Swaziland | 941,000 |
| Luxembourg | 806,800 |
| Suriname | 750,458 |
| Maldives | 739,790 |
| Bhutan | 675,747 |
| Cape Verde | 602,779 |
| Malta | 557,583 |
| Guyana | 542,598 |
| Equatorial Guinea | 533,336 |
| Eritrea | 475,000 |
| Brunei Darussalam | 463,384 |
| Comoros | 424,786 |
| Solomon Islands | 424,712 |
| Iceland | 383,919 |
| Barbados | 334,792 |
| Djibouti | 314,350 |
| Bahamas | 311,175 |
| French Polynesia | 268,334 |
| New Caledonia | 260,277 |
| Belize | 211,946 |
| St. Lucia | 187,741 |
| Vanuatu | 174,818 |
| Seychelles | 148,244 |
| Aruba | 141,000 |
| S. Tomé & Principe | 132,000 |
| Antigua & Barbuda | 126,000 |
| Samoa | 120,517 |
| Grenada | 119,767 |
| St. Vincent and the Grenadines | 113,371 |
| Cayman Islands | 93,244 |
| Dominica | 77,254 |
| Tonga | 73,493 |
| St. Kitts and Nevis | 73,009 |
| Andorra | 71,336 |
| Greenland | 61,000 |
| Faroe Islands | 53,213 |
| British Virgin Islands | 42,000 |
| Gibraltar | 41,441 |
| Kiribati | 41,000 |
| Liechtenstein | 40,950 |
| Bermuda | 38,000 |
| San Marino | 36,624 |
| Monaco | 34,020 |
| Anguilla | 26,000 |
| Micronesia | 22,505 |
| Marshall Islands | 15,500 |
| Montserrat | 5,000 |
| Falkland (Malvinas) Is. | 5,000 |
| Tuvalu | 4,000 |
| St. Helena | 1,267 |
(Data sourced from International Telecommunication Union)
Recent Posts