Get to Know How Nations Stand on the ICT Development Index
Next Story
An Insight Into the Number of Deaths From Skin Diseases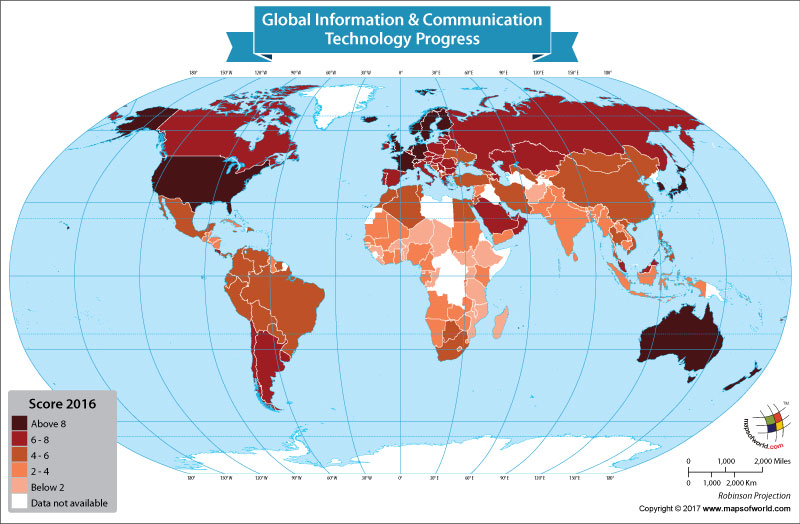 If you have a theme, we have a map.
Contact us for your custom mapping requirements
Every year the International Telecommunications Union publishes the ICT Development Index (IDI) which provides a comparison of the state of the ICT development among the various countries around the world. The report comprises 11 indicators. These are grouped in three sub-indices which are access, use and skill. The ICT Development Index is an important tool for governments, researchers, development agencies etc as it enables them to measure the digital divide or compare the ICT performance within their nation or across the world. The index has taken into account 175 countries which have scored between the range of 0 and 10. 0 is the worst, while 10 is the best.
The 2016 ICT Development Index was topped by South Korea. The Asian nation had a score of 8.84. Iceland and Denmark were the second and third best performing nations with scores of 8.83 and 8.74. Some other countries that had scores of more than 8 were Switzerland, the United Kingdom, the United States, New Zealand, Australia, France etc.
Singapore, Ireland, Belgium, Canada, Bahrain, Israel, UAE, Italy and other nations had scores ranging from 6 to 8. Among the five major BRICS economies, Russia stood at the top with a score of 6.95, while India was placed at the bottom scoring just 2.69.
Barring Afghanistan, rest of the countries that were placed at the bottom and had scores of less than 2 were African nations. Some of these were Mozambique, Madagascar, Tanzania, Ethiopia, Uganda, Chad and many other nations. Meanwhile Niger was placed at the bottom and had a score of only 1.07.
For a better understanding of how nations fare on the ICT Development Index, refer to the table below.
Economy
IDI 2016  Score
Korea (Rep.)
8.84
Iceland
8.83
Denmark
8.74
Switzerland
8.68
United Kingdom
8.57
Hong Kong, China
8.46
Sweden
8.45
Netherlands
8.43
Norway
8.42
Japan
8.37
Luxembourg
8.36
Germany
8.31
New Zealand
8.29
Australia
8.19
United States
8.17
France
8.11
Finland
8.08
Estonia
8.07
Monaco
7.96
Singapore
7.95
Ireland
7.92
Belgium
7.83
Austria
7.69
Malta
7.69
Canada
7.62
Spain
7.62
Andorra
7.61
Macao, China
7.58
Bahrain
7.46
Israel
7.4
Belarus
7.26
Czech Republic
7.25
Slovenia
7.23
St. Kitts and Nevis
7.21
Barbados
7.18
Greece
7.13
Italy
7.11
United Arab Emirates
7.11
Lithuania
7.1
Latvia
7.08
Croatia
7.04
Slovakia
6.96
Russian Federation
6.95
Portugal
6.94
Saudi Arabia
6.9
Qatar
6.9
Uruguay
6.79
Hungary
6.72
Bulgaria
6.69
Poland
6.65
Serbia
6.58
Kazakhstan
6.57
Kuwait
6.54
Cyprus
6.53
Argentina
6.52
Chile
6.35
Costa Rica
6.3
Azerbaijan
6.28
Oman
6.27
Romania
6.26
Malaysia
6.22
Montenegro
6.05
Brazil
5.99
Bahamas
5.98
TFYR Macedonia
5.97
Lebanon
5.93
Trinidad & Tobago
5.76
Moldova
5.75
Dominica
5.71
Turkey
5.69
Armenia
5.6
Georgia
5.59
Mauritius
5.55
Grenada
5.43
Antigua & Barbuda
5.38
Ukraine
5.33
Brunei Darussalam
5.33
St. Vincent and the Grenadines
5.32
Venezuela
5.27
Bosnia and Herzegovina
5.25
China
5.19
Thailand
5.18
Colombia
5.16
Suriname
5.09
Jordan
5.06
Maldives
5.04
Seychelles
5.03
South Africa
5.03
Iran (I.R.)
4.99
Mongolia
4.95
Albania
4.92
Mexico
4.87
Panama
4.87
St. Lucia
4.85
Tunisia
4.83
Morocco
4.6
Cape Verde
4.6
Ecuador
4.56
Jamaica
4.52
Egypt
4.44
Peru
4.42
Fiji
4.41
Algeria
4.4
Dominican Rep.
4.3
Viet Nam
4.29
Palestine
4.28
Philippines
4.28
Botswana
4.17
Paraguay
4.08
Uzbekistan
4.05
Bolivia
4.02
Ghana
3.99
Kyrgyzstan
3.99
Tonga
3.93
Indonesia
3.86
Sri Lanka
3.77
Bhutan
3.74
El Salvador
3.73
Belize
3.66
Namibia
3.64
Guyana
3.52
Syria
3.32
Guatemala
3.2
Gabon
3.12
Cambodia
3.12
Honduras
3.09
Vanuatu
3.08
Timor-Leste
3.05
Kenya
2.99
Samoa
2.95
Nicaragua
2.88
Côte d'Ivoire
2.86
Zimbabwe
2.78
Lesotho
2.76
Cuba
2.73
Swaziland
2.73
Nigeria
2.72
India
2.69
Sudan
2.6
Myanmar
2.54
Senegal
2.53
Nepal
2.5
Gambia
2.46
Lao P.D.R.
2.45
Bangladesh
2.35
Pakistan
2.35
Zambia
2.22
Cameroon
2.16
Mali
2.14
Rwanda
2.13
Mauritania
2.12
Kiribati
2.06
Solomon Islands
2.04
Angola
2.03
Yemen
2.02
Liberia
1.97
Uganda
1.94
Benin
1.92
Togo
1.86
Equatorial Guinea
1.85
Djibouti
1.82
Burkina Faso
1.8
Mozambique
1.75
Afghanistan
1.73
Guinea
1.72
Madagascar
1.69
Tanzania
1.65
Malawi
1.62
Ethiopia
1.51
Congo (Dem. Rep.)
1.5
Burundi
1.42
South Sudan
1.42
Guinea-Bissau
1.38
Chad
1.09
Niger
1.07
(Data sourced from International Telecommunications Union)
Recent Posts