Electricity Generation From Natural Gas by Country
Next Story
Nations with the Most Medals at AIBA World Boxing Championships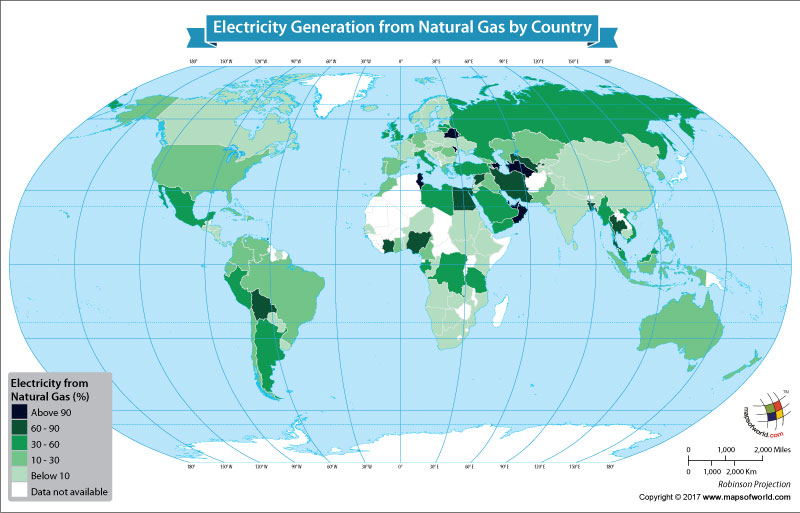 If you have a theme, we have a map.
Contact us for your custom mapping requirements
Natural gas is an important source of electricity and is much more environment-friendly when compared to coal. Due to low carbon content in methane, natural gas emits much less CO2. Moreover, the last few years have witnessed improvements being made to turbines, thereby leading to efficiency in gas-fired power stations. Though, a number of countries are still relying on coal, hydropower, nuclear power etc to generate electricity, many nations have come to depend increasingly on natural gas to generate electricity.
According to a data by the World Bank, Bahrain, Qatar, and Turkmenistan are the only three nations in the world where 100 percent of the total energy is being produced by natural gas. Trinidad and Tobago, Brunei, UAE, Belarus, Oman, Singapore, Tunisia, Azerbaijan, and Moldova, are the nations where more than 90 percent of the electricity is being produced by natural gas. Few countries where between 60 and 90 percent of electricity is produced by natural gas are Nigeria, Bangladesh, Egypt, Iran, Bolivia, Luxembourg, Uzbekistan etc.
In countries such as Belgium, the United States, Australia, Morocco, Spain, Germany, Portugal, the Philippines, Venezuela, and many others, the percentage of electricity produced from natural gas was not very significant. In these countries, between just 10 and 30 percent of electricity was produced from natural gas.
However, in many nations around the world coal and other forms of energy continued to be major sources of electricity generation rather than natural gas. In countries such as India, China, Switzerland, Sweden, Poland, Finland, Canada etc, less than 10 percent of the energy was generated by natural gas.
Meanwhile, some nations around the world are not relying on natural gas to generate electricity. Angola, Cambodia, Cyprus, Ethiopia, Iceland, Lebanon, Mongolia, Kenya, and some other nations don't generate electricity from natural gas.
For a better understanding of how much electricity is generated from natural gas in each nation, refer to the table below.
| Country | % of Total |
| --- | --- |
| Bahrain | 100 |
| Qatar | 100 |
| Turkmenistan | 100 |
| Trinidad and Tobago | 99.8 |
| Brunei Darussalam | 99 |
| United Arab Emirates | 98.4 |
| Belarus | 98 |
| Oman | 97.4 |
| Singapore | 95.3 |
| Tunisia | 94.2 |
| Azerbaijan | 93.9 |
| Moldova | 93.5 |
| Nigeria | 82.4 |
| Bangladesh | 82 |
| Egypt, Arab Rep. | 78.7 |
| Luxembourg | 76.2 |
| Uzbekistan | 74.2 |
| Iran, Islamic Rep. | 71.3 |
| Bolivia | 70 |
| Cote d'Ivoire | 69.9 |
| Thailand | 68.3 |
| Syrian Arab Republic | 64.4 |
| Mexico | 57 |
| Libya | 53.7 |
| Saudi Arabia | 51.2 |
| Russian Federation | 50.2 |
| Malaysia | 50.1 |
| Netherlands | 49.8 |
| Ireland | 49.6 |
| Israel | 48.4 |
| Turkey | 47.9 |
| Argentina | 47.7 |
| Lithuania | 47.2 |
| Peru | 45.9 |
| Latvia | 45.5 |
| Congo, Rep. | 45.3 |
| Armenia | 42.4 |
| Tanzania | 42.2 |
| Japan | 40.6 |
| Gabon | 38.9 |
| Yemen, Rep. | 38.6 |
| Myanmar | 35.2 |
| Italy | 33.7 |
| Kuwait | 33.7 |
| Vietnam | 33.5 |
| United Kingdom | 30 |
| Belgium | 27 |
| United States | 26.9 |
| Pakistan | 25.1 |
| Indonesia | 24.6 |
| Philippines | 24.2 |
| Korea, Rep. | 23.9 |
| Hong Kong SAR, China | 23 |
| Australia | 21.9 |
| Iraq | 21.9 |
| Dominican Republic | 21.5 |
| Georgia | 19.6 |
| Morocco | 19.5 |
| Kazakhstan | 19.2 |
| Ghana | 18.2 |
| Venezuela, RB | 17.7 |
| Spain | 17.2 |
| Chile | 16.9 |
| New Zealand | 16.3 |
| Colombia | 15.3 |
| Cuba | 14.4 |
| Hungary | 14.4 |
| Brazil | 13.7 |
| Greece | 13.5 |
| Ecuador | 13.3 |
| Portugal | 13.2 |
| Cameroon | 12.9 |
| Romania | 12.4 |
| Germany | 10 |
| Canada | 9.4 |
| Austria | 8.8 |
| Mozambique | 8.8 |
| Finland | 8.1 |
| Croatia | 7.5 |
| Jordan | 7.1 |
| Ukraine | 7 |
| Denmark | 6.5 |
| Slovak Republic | 6 |
| India | 4.9 |
| Bulgaria | 4.6 |
| Senegal | 4.2 |
| Macedonia, FYR | 3.6 |
| Poland | 3.4 |
| Tajikistan | 2.9 |
| France | 2.3 |
| Slovenia | 2.2 |
| China | 2 |
| Czech Republic | 1.9 |
| Norway | 1.8 |
| Kyrgyz Republic | 0.8 |
| Serbia | 0.7 |
| Switzerland | 0.7 |
| Estonia | 0.6 |
| Sweden | 0.3 |
| Bosnia and Herzegovina | 0.2 |
| Congo, Dem. Rep. | 0.1 |
| Angola | 0 |
| Benin | 0 |
| Botswana | 0 |
| Cambodia | 0 |
| Costa Rica | 0 |
| Curacao | 0 |
| Cyprus | 0 |
| El Salvador | 0 |
| Eritrea | 0 |
| Ethiopia | 0 |
| Guatemala | 0 |
| Haiti | 0 |
| Honduras | 0 |
| Iceland | 0 |
| Jamaica | 0 |
| Kenya | 0 |
| Korea, Dem. People's Rep. | 0 |
| Kosovo | 0 |
| Lebanon | 0 |
| Malta | 0 |
| Mauritius | 0 |
| Mongolia | 0 |
| Montenegro | 0 |
| Namibia | 0 |
| Nepal | 0 |
| Nicaragua | 0 |
| Niger | 0 |
| Panama | 0 |
| Paraguay | 0 |
| South Africa | 0 |
| South Sudan | 0 |
| Sri Lanka | 0 |
| Sudan | 0 |
| Suriname | 0 |
| Togo | 0 |
| Uruguay | 0 |
| Zambia | 0 |
(Data sourced from World Bank)
Recent Posts