Countries With the Most Nuclear Reactors in Operation; USA at the Top
Next Story
Modern Slavery: A Scourge of the World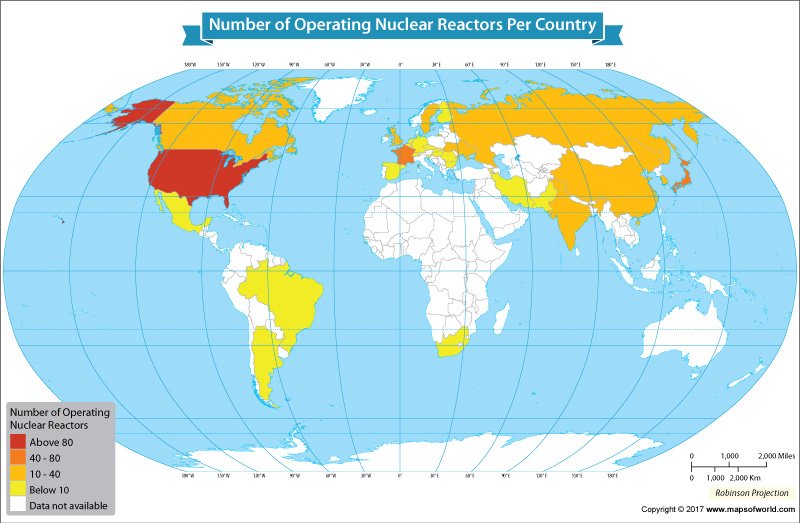 If you have a theme, we have a map.
Contact us for your custom mapping requirements
Currently, there are 442 nuclear reactors in operation in 30 countries around the world. These reactors are mainly responsible for the generation of electricity. Of these, the United States has the largest number of nuclear reactors in the world. According to a data by the International Atomic Energy Agency, the United States has 99 nuclear reactors in operation.
France has the second highest number of nuclear reactors at 58; though it is way behind the United State's astronomical number. These 58 nuclear reactors generate around 75 percent of the electricity of the country. Japan, which was severely affected by the Fukushima disaster of 2011, comes at the third place with 48 nuclear reactors in operation.
Russia has 35 operational nuclear reactors, earning it the fourth spot on the list. China, South Korea, and India, stand at the fifth, sixth, and seventh positions in the list of countries with the most nuclear reactors in operation. These three nations are aiming to expand their nuclear power capacities and currently have 31, 24 and 21 nuclear reactors respectively.
Canada, at the eighth place has 19 operational nuclear reactors. It is estimated that nuclear power provides for about 16 percent of the country's electricity. At the ninth and tenth spots are the United Kingdom and Ukraine, which have 16 and 15 reactors respectively.
At the bottom of the table are the countries of Iran, the Netherlands, Armenia, and Slovenia, which have one nuclear reactor in operation.
The table gives information on the number of nuclear reactors in operation in the 30 nations around the world.
| Country | Number of Nuclear Reactors in Operation |
| --- | --- |
| United States Of America | 99 |
| France | 58 |
| Japan | 48 |
| Russia | 35 |
| China | 31 |
| Korea, Republic Of | 24 |
| India | 21 |
| Canada | 19 |
| United Kingdom | 16 |
| Ukraine | 15 |
| Sweden | 10 |
| Germany | 9 |
| Belgium | 7 |
| Spain | 7 |
| Czech Republic | 6 |
| Switzerland | 5 |
| Slovakia | 4 |
| Hungary | 4 |
| Finland | 4 |
| Argentina | 3 |
| Pakistan | 3 |
| Bulgaria | 2 |
| Romania | 2 |
| Mexico | 2 |
| South Africa | 2 |
| Brazil | 2 |
| Slovenia | 1 |
| Armenia | 1 |
| Netherlands | 1 |
| Iran | 1 |
(Data sourced from International Atomic Energy Agency)
Recent Posts