Countries With the Highest Percentage of Smartphone Owners
Next Story
Analyzing the Global Gender Gaps in Economic Participation and Opportunity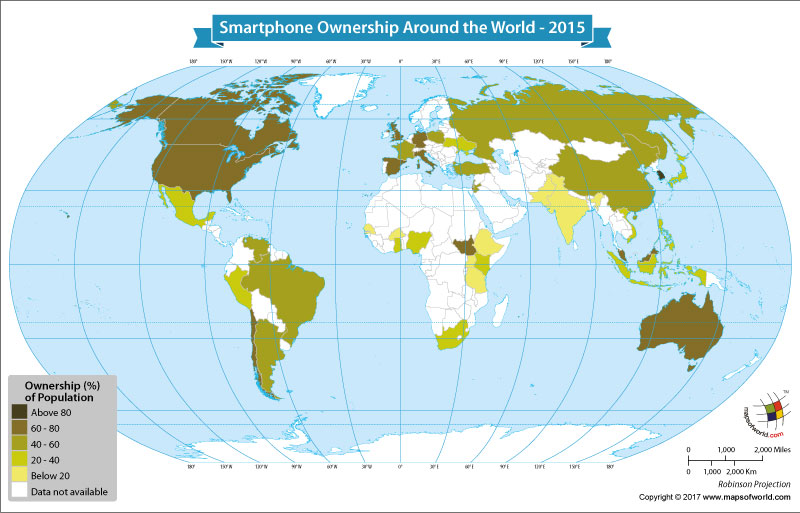 In today's world, smartphone has become an integral part of an individual's life. Apart from staying connected with family and friends, one can also indulge in a number of other activities on a smartphone such as browsing the internet, accessing Facebook, YouTube and a lot of other things. The past few years have witnessed an increase in the percentage of people using a smartphone and internet.
If you have a theme, we have a map.
Contact us for your custom mapping requirements
The Pew research Center conducted a survey about internet and smartphone usage in 2015. The survey was conducted in 40 nations and with 45,435 respondents. According to the report, South Korea had the highest smartphone ownership rate. Here some 88 percent of the respondents stated that they used a smartphone. Australia was at the second spot, where the smartphone ownership in 2015 stood at 77 percent. Interestingly, Israel was ahead of the United States in the use of a smartphone. In Israel, smartphone ownership stood at 74 percent, while in the United States it was 72 percent. Other nations where smartphone ownership stood between 60 and 80 percent were the United Kingdom, Canada, Malaysia, Chile, Italy etc.
Nations such as China, France, Russia, Poland, Brazil, Turkey, and a few others witnessed between 40 and 60 percent of its population owning a smartphone. Countries where smartphone ownership stood between 20 and 40 percent were Mexico, the Philippines, Indonesia, Ghana, and some other nations. Surprisingly, Japan was also placed in this category and saw just 39 percent of its population owning a smartphone.
Countries that occupied the bottom slots on the table and witnessed an ownership of less than 20 percent were Senegal, India, Burkina Faso, Pakistan, Tanzania, Ethiopia, and Uganda.
Recent Posts