Winners of the World Orienteering Championships
Next Story
Winners of the World Figure Skating Championships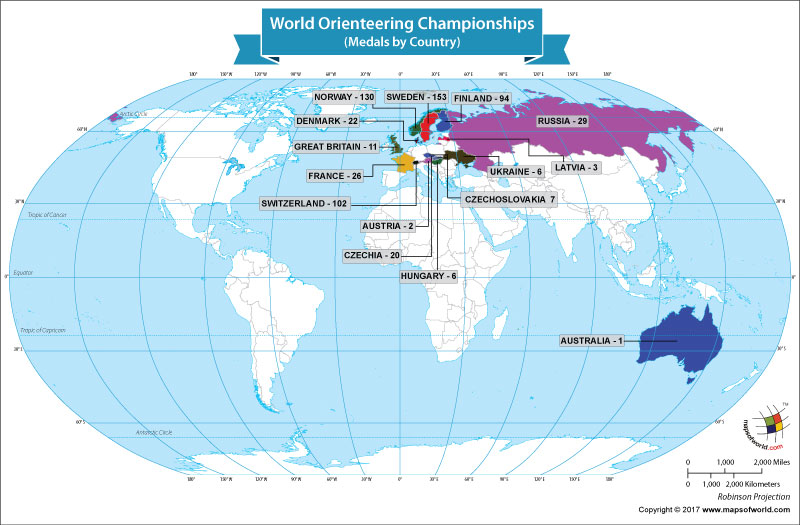 If you have a theme, we have a map.
Contact us for your custom mapping requirements
Orienteering is a sport that combines both navigation and race. Here participants have to rely on a map and compass to navigate trough terrain that is usually unfamiliar and diverse. The origin of the sport dates back to the late 19th century in Sweden where it was a military training in land navigation. Over time, it became a sport for military officers and finally came to be played by civilians as well.
Today, a number of championships are held and the prime among these is the World Orienteering Championships. First held in 1966, till 2003 the championships were a biennial tournament. From 2003 onward, the World Orienteering Championships became an annual tournament. There are five events at the World Orienteering Championships which are – Relay, Long Distance, Middle Distance, Sprint, and Sprint Relay.
Till now, Sweden has been the most successful nation in the World Orienteering Championships winning a total of 153 medals, which includes both the men and women categories. Norway and Switzerland have been the second and third most successful nations bagging 130 and 102 medals, respectively. Finland till now, has got 94 medals. France, Russia, Denmark, and the Czech Republic, have bagged 26, 29, 22, and 20 medals respectively.
The United Kingdom has till date received 11 medals. While Hungary and Ukraine have won six medals each, Latvia, Austria, and Australia have bagged 3, 2, and 1 medal respectively. Czechoslovakia, which existed from 1918 to January 1, 1993, had won seven medals at the World Orienteering Championships.
The table below will give a clear idea of the number of medals won by each nation at the World Orienteering Championships.
| Country | Medals |
| --- | --- |
| Sweden | 153 |
| Norway | 130 |
| Switzerland | 102 |
| Finland | 94 |
| Russia | 29 |
| France | 26 |
| Denmark | 22 |
| Czech Republic | 20 |
| Great Britain | 11 |
| Czechoslovakia | 7 |
| Hungary | 6 |
| Ukraine | 6 |
| Latvia | 3 |
| Austria | 2 |
| Australia | 1 |
Recent Posts