Winners of the FIVB Beach Volleyball World Championships
Next Story
DTP3 Immunization Coverage on the Rise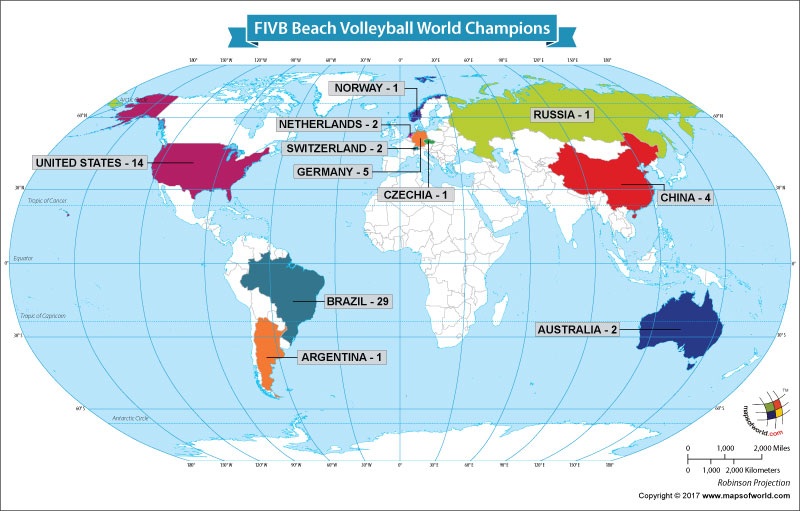 If you have a theme, we have a map.
Contact us for your custom mapping requirements
Volleyball is one of the most popular games played by a number of nations. There are many types of volleyball games such as indoor volleyball, beach volleyball, grass volleyball etc. While indoor volleyball is played on hard surface, beach volleyball is played on sand. Today, beach volleyball has become a global sport and has been played at the Olympics since 1996.
The International Volleyball Federation, which is the international governing body for indoor, grass and beach volleyball, organizes a number of international beach volleyball tournaments. One of the most popular among these is the FIVB Beach Volleyball World Championships. It is an international double gender championship and is organized every two years. The first edition of the Beach Volleyball World Championships was played in 1997 in Los Angeles. Since then a number of events have been held. The 2017 edition of the FIVB Beach Volleyball World Championships would be held from July 28 to August 6, in Vienna, Austria.
Brazil and the United States have been the two most successful teams winning the maximum number of medals from 1997 till 2015. Till now, Brazil has won a total of 29 medals in both the men's and the women's category, while the United States is the second most successful team winning a total of 14 medals.
Germany comes at a distant third with a total of five medals won, while China has till now won four medals. The Netherlands, Switzerland, and Australia have won two medals each. Countries that have won just one medal include Argentina, Russia, Czech Republic (Czechia), and Norway.
The table below provides information on the number of medals won by each nation.
| Country | Medals |
| --- | --- |
| Brazil | 29 |
| United States | 14 |
| Germany | 5 |
| China | 4 |
| Netherlands | 2 |
| Switzerland | 2 |
| Australia | 2 |
| Argentina | 1 |
| Russia | 1 |
| Czech Republic (Czechia) | 1 |
| Norway | 1 |
Recent Posts