Winners of the 100 Meters Race at the Olympics
Next Story
Winners of the World Hip Hop Dance Championships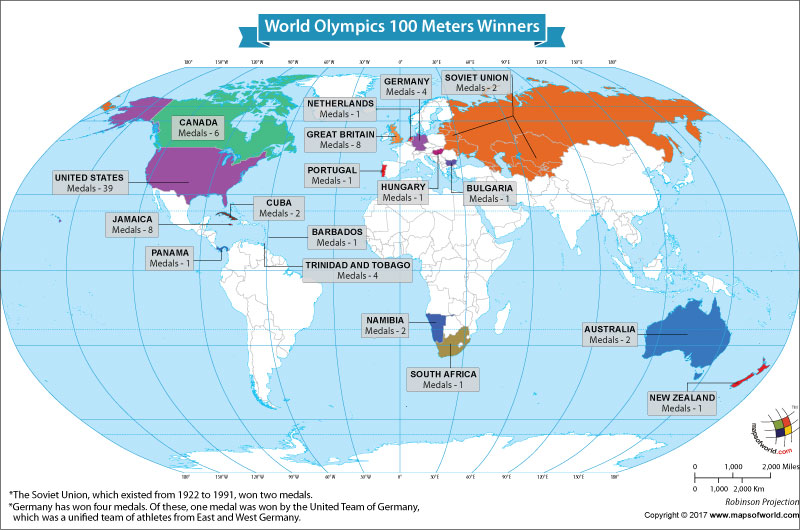 If you have a theme, we have a map.
Contact us for your custom mapping requirements
The 100 meters is one of the most high profile competitions that is played at the Summer Olympics. The competition has been a part of the Olympics, ever since the first tournament was held in 1896. The event is not only the most prestigious 100 meters race that is held at the elite level, but is also the Olympic' shortest sprinting competition.
American sprinter Thomas Burke was the first winner of the 100 meters competition at the inaugural Olympics tournament held in 1896.
Among the nations that have competed at the 100 meters competitions at the Olympics, the United States has been the most successful. Till now, the United States has won a total of 39 medals, which include 16 gold, 14 silver, and 9 bronze. Jamaica and Great Britain, have won a total of eight medals each, while both the nations have won three gold each, Jamaica has won four silver, while Great Britain has won 2. Jamaica has won one Bronze and Great Britain 3.
Canada comes at the fourth position with a total of six medals, while Trinidad and Tobago has won four. Germany has won a total of four medals. Of these three have been won by the unified Germany, while one medal has been won by the United Team of Germany, which competed in the 1956, 1960 and 1964 as a unified team of athletes from East and West Germany.
The Former Soviet Union has won two medals. Cuba, Namibia and Australia has also won two medals. A large number of nations have bagged just one medal. These are South Africa, Portugal, Barbados, Bulgaria, Hungary, the Netherlands, New Zealand, and Panama.
Recent Posts