Top Ten Winners of the Karate World Championships
Next Story
The Percentage of Widows Around the World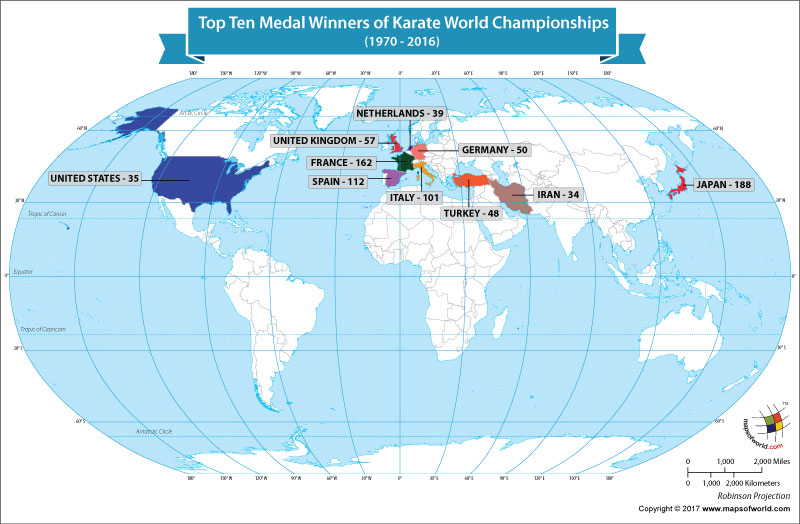 If you have a theme, we have a map.
Contact us for your custom mapping requirements
Karate is one of the most famous forms of martial arts which uses techniques such as punching, elbow strikes, knee strikes, open hand techniques etc. Karate is practiced by a large number of people around the world as a tool for self defense. Many movies have also been produced relating to martial arts which have played an important role in increasing its popularity. Over the years, karate has become a much loved sport and a number of karate championships are held around the world. Among these the Karate World Championships is the most prestigious tournament. It is also known as the World Karate Championships. Organized by the World Karate Federation, it is held every two years.
Japan has dominated the Karate World Championships. Among the top ten nations that have won the most medals in all three categories – Gold, Silver, and Bronze – at the Karate World Championships, Japan stands at the top. Since the first edition that was held in Tokyo in 1970 till the last one held in 2016 in Linz, Austria, Japan has won a total of 188 medals, making it the most successful nation till date. Coming at the second spot is France, which till now has won 162 medals. At the third spot is Spain with a total of 112 medals won till date. Italy, which is at the fourth spot is the only other nation with more than 100 medals. Till date, Italy has won 101 medals.
The United Kingdom has 57 medals in its kitty, while Germany till date has won 50 medals. The other four nations among the top ten champions in terms of the total medals won are Turkey, the Netherlands, the United States, and Iran. These nations have won 48, 39, 35, and 34 medals respectively.
The table below provides information on the top ten nations at the Karate World Championships.
| Country | Medals |
| --- | --- |
| Japan | 188 |
| France | 162 |
| Spain | 112 |
| Italy | 101 |
| United Kingdom | 57 |
| Germany | 50 |
| Turkey | 48 |
| Netherlands | 39 |
| United States | 35 |
| Iran | 34 |
Recent Posts