Top NBA Teams in the Past 25 Years
Next Story
Which Countries Have the Most Deaths from Heart Disease?
---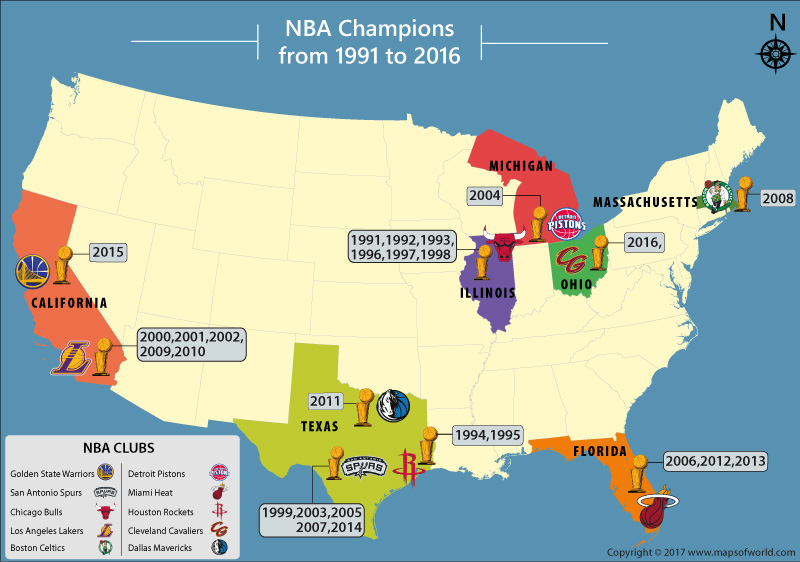 Disclaimer: The logo of Clubs are intellectual property of respective clubs and are used in this image in good faith, for information purpose only.
If you have a theme, we have a map.
Contact us for your custom mapping requirements
America's National Basketball Association (NBA) is one of the world's prominent professional basketball leagues. Since its inception on June 6, 1946, the sport has gained immense popularity in the US and around the world. Over the years, many NBA players have gained international fame. Michael Jordan, Kobe Bryant, Tony Parker and Shaquille O'Neal, etc are just some of the players who have become household names. In fact, NBA players are also the best paid sportspersons in the world.
NBA comprises 30 teams. Of these, 29 are located in the United States while one is in Canada. Over the years, NBA's popularity has surged and the tournaments are watched by people around the world. During the past 25 years, the Chicago Bulls have won the maximum number of tournaments. The team has won six championships, with three consecutive wins in 1991, 1992, 1993 and three other in 1996, 1997 and 1998. Both the Los Angeles Lakers and San Antonio Spurs have won five tournaments each in the past 25 years. Los Angeles Lakers won three consecutive championships in 2000, 2001, 2002, and then won twice in 2009, and 2010, while San Antonio Spurs won the championships in 1999, 2003, 2005, 2007 and 2014. Miami Heat has won the championship three times and Houston Rockets twice. The most recent tournament that was held in 2016 was won by Cleveland Cavaliers.
The table below provides details about teams and the years when they won the NBA finals.
| Year | Winning Team |
| --- | --- |
| 2016 | Cleveland Cavaliers |
| 2015 | Golden State Warriors |
| 2014 | San Antonio Spurs |
| 2013 | Miami Heat |
| 2012 | Miami Heat |
| 2011 | Dallas Mavericks |
| 2010 | Los Angeles Lakers |
| 2009 | Los Angeles Lakers |
| 2008 | Boston Celtics |
| 2007 | San Antonio Spurs |
| 2006 | Miami Heat |
| 2005 | San Antonio Spurs |
| 2004 | Detroit Pistons |
| 2003 | San Antonio Spurs |
| 2002 | Los Angeles Lakers |
| 2001 | Los Angeles Lakers |
| 2000 | Los Angeles Lakers |
| 1999 | San Antonio Spurs |
| 1998 | Chicago Bulls |
| 1997 | Chicago Bulls |
| 1996 | Chicago Bulls |
| 1995 | Houston Rockets |
| 1994 | Houston Rockets |
| 1993 | Chicago Bulls |
| 1992 | Chicago Bulls |
| 1991 | Chicago Bulls |
Recent Posts